Looking for an amazing shrimp cups recipe? Once you taste this shrimp appetizer recipe, you are going to be amazed at how easy it is and how fantastic it tastes. Make this easy shrimp wonton recipe for your next party, get together or for game day. Only 1 Weight Watchers Points each!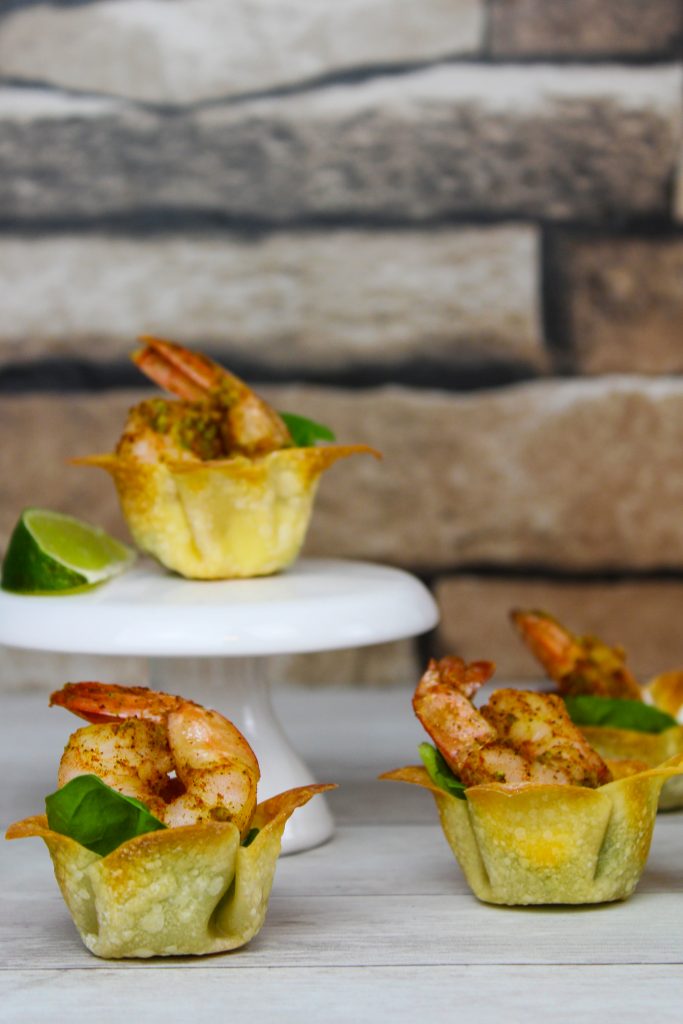 Shrimp Cup Appetizer
Shrimp is so versatile for so many occasions. We make it for dinner as Roasted Asian Shrimp and Garlic Parmesan Shrimp and it always a hit. My son always asks for this shrimp wonton recipe whenever he comes to visit.
What to Serve with a Wonton Cup Appetizer?
When looking for things to serve with this Wonton cup appetizer, you can make some of our other amazing party appetizers. Whenever we have a party, I like to serve:
If you are looking for some cocktail ideas, try:
Or check out the Holiday Cocktails to find one that is perfect for an upcoming holiday.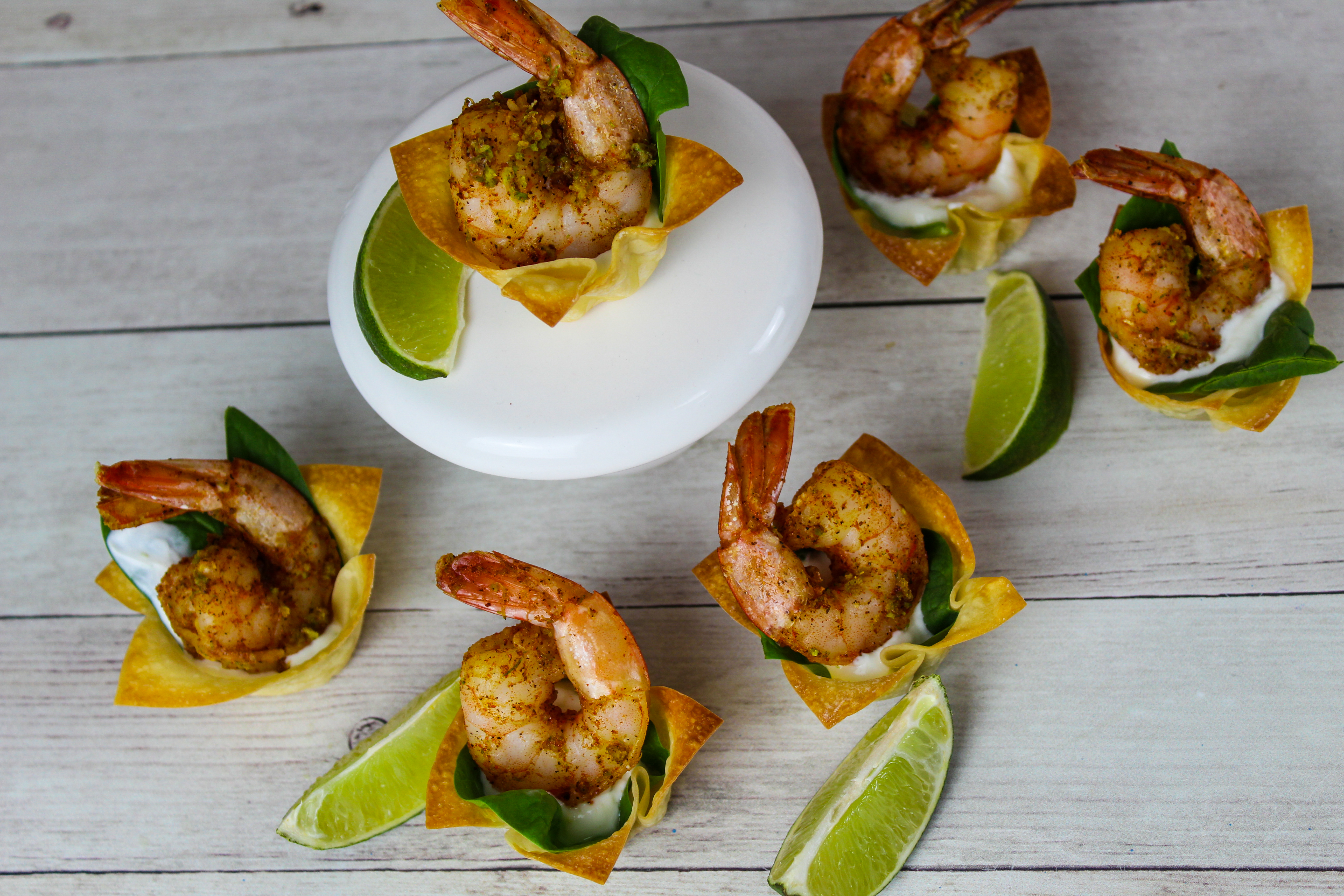 Can I Make Shrimp Cups Ahead of Time?
You can make these shrimp cups ahead of time. You can serve them warm from the oven or cold.
How to Store Shrimp Appetizer
If you have made this shrimp appetizer before it is needed, or if you have leftovers, you will want to store it in the refrigerator. Because of the shrimp and dairy in this recipe, you want to make sure it is not left out at room temperature for too long.
How to Make Shrimp Cups
The base of this shrimp cup recipe is the cup. You are making a cup using the wonton wrappers. When you shape the wonton into the shape in the muffin tin, once it bakes, this becomes a cup perfect for these shrimp cups.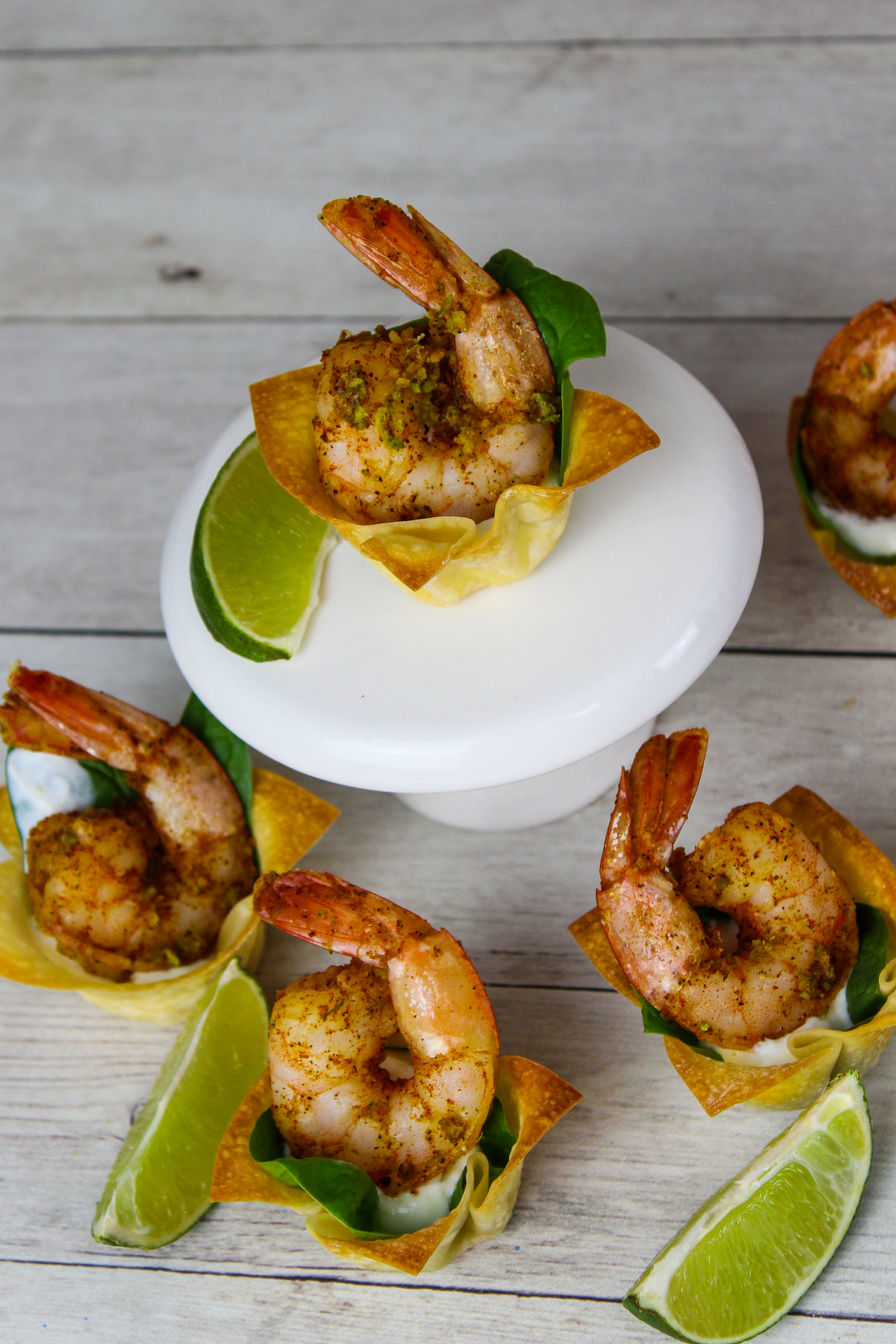 How Many Weight Watchers Points in this Shrimp Appetizer Recipe?
This Shrimp appetizer comes out to 1 point per cup which is low point way to enjoy this wonton appetizers.
Want More Weight Watchers Recipes?
Looking for more recipes and support? Join our Winning with Weight Watchers Facebook Group.
More Weight Watchers Help
Need Help Staying on Track? Try these ideas: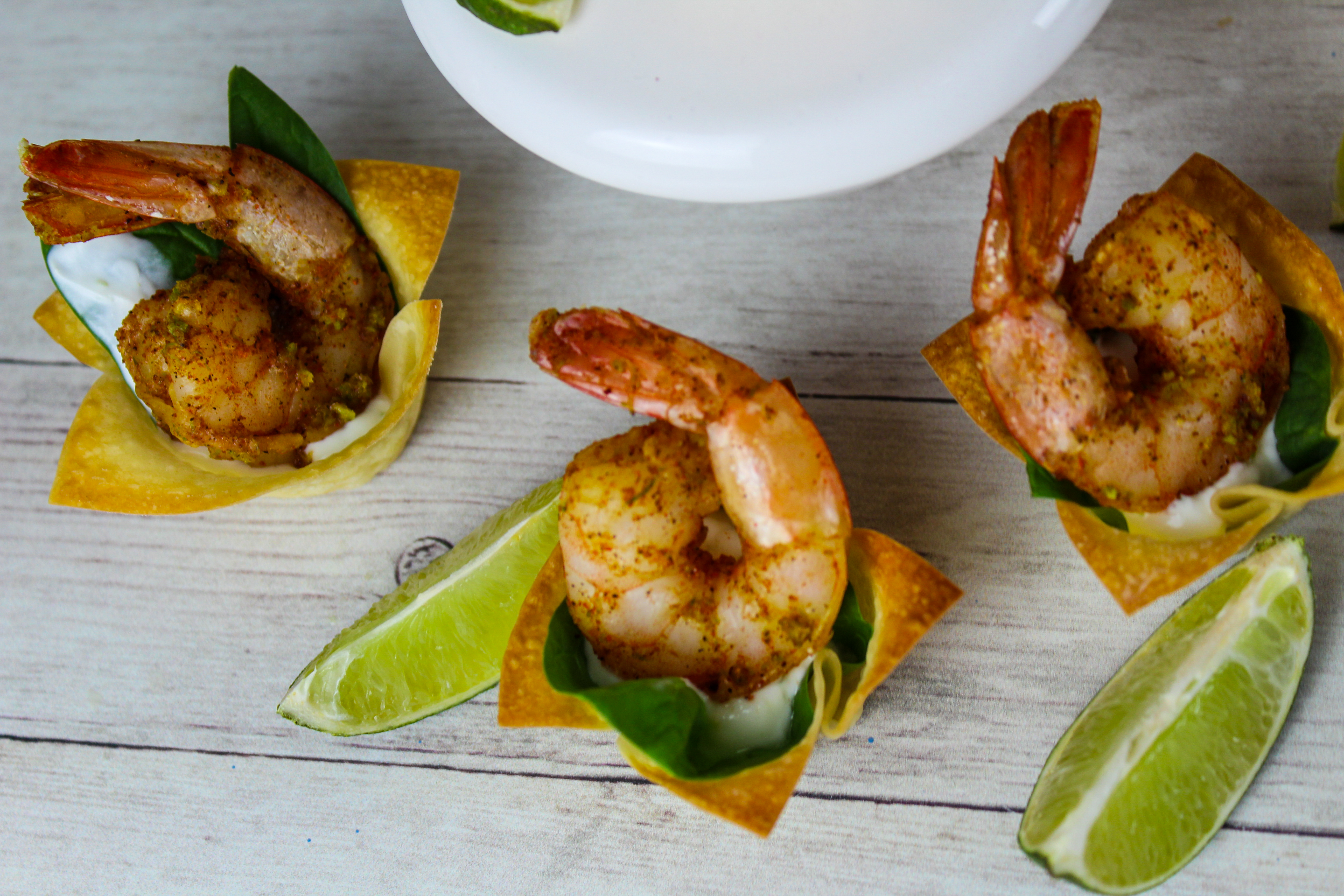 Ingredients in Cajun Shrimp Cups – A Shrimp Wonton Recipe
Makes 12 shrimp cups
Wonton wrappers – Egg roll wrappers cut into 4 work also
Olive oil spray
Cajun Seasoning
12 large shrimp, peeled and deveined
lime
Baby spinach leaves
sour cream – Weight Watchers use Fat Free
lime juice
Lemon Zest, separated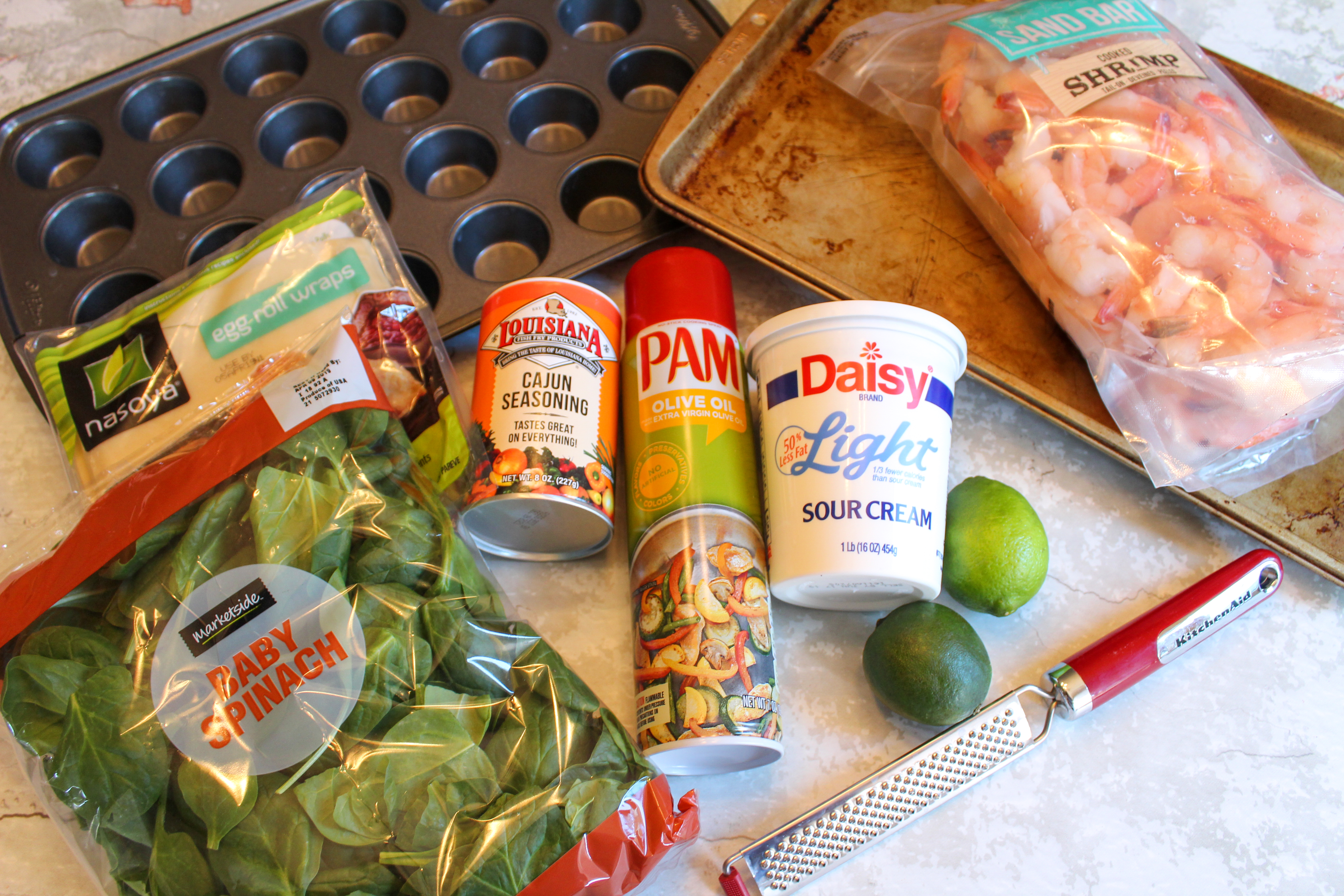 Equipment Needed
How to Make Cajun Shrimp Cups
Heat oven to 350 degrees F.
Using a mini muffin pan, press the wonton wrappers down into the cups. Make sure they go to the bottom of the pan and then push back the corners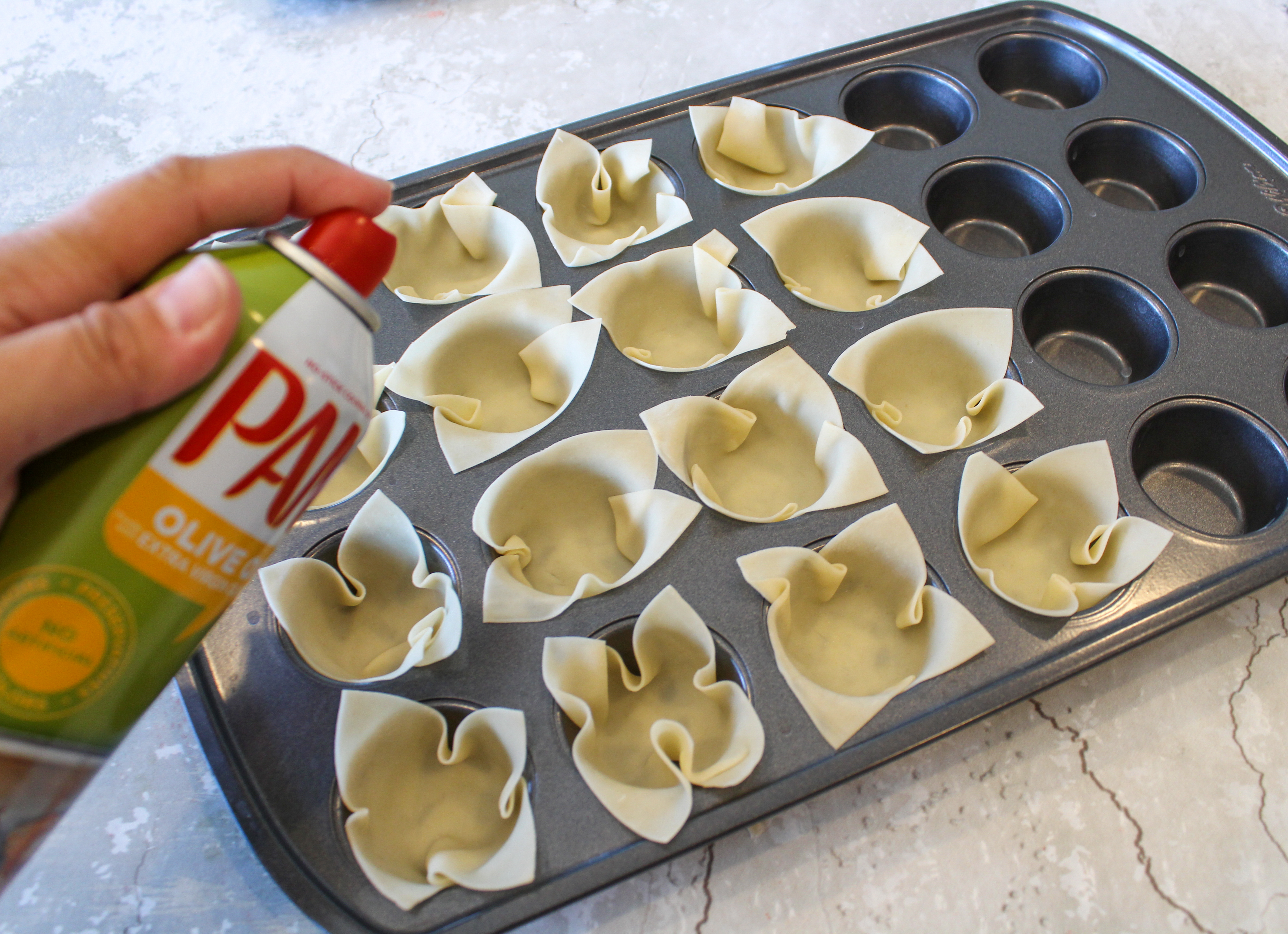 Cook for 8 mins until browned. Cool on wire rack.
Zest the lime and set aside for serving.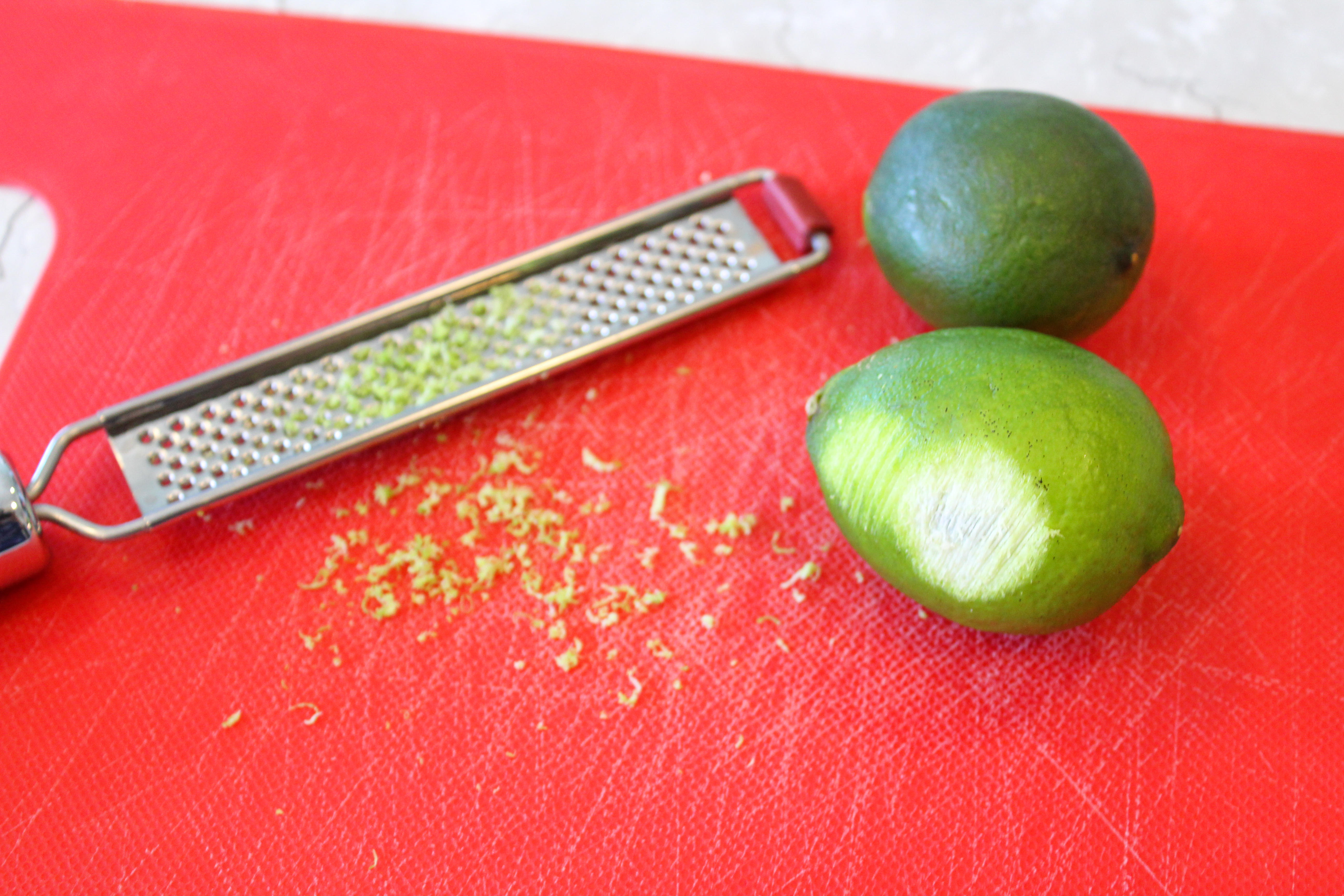 Mix the Cajun seasoning, shrimp and lime zest in a small mixing bowl.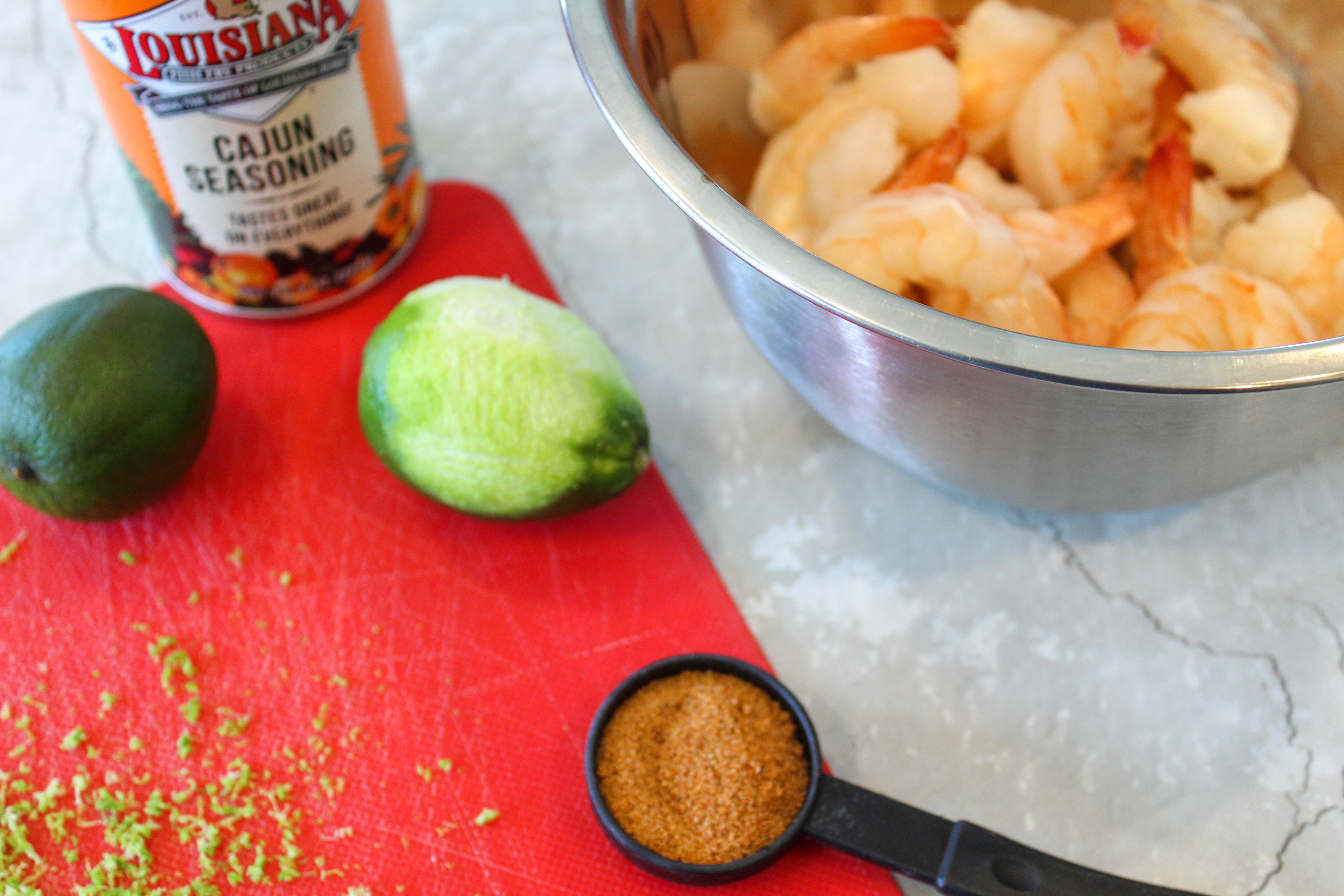 Once well coated lay out on a baking sheet and bake for 8-10 minutes until shrimp are cooked through.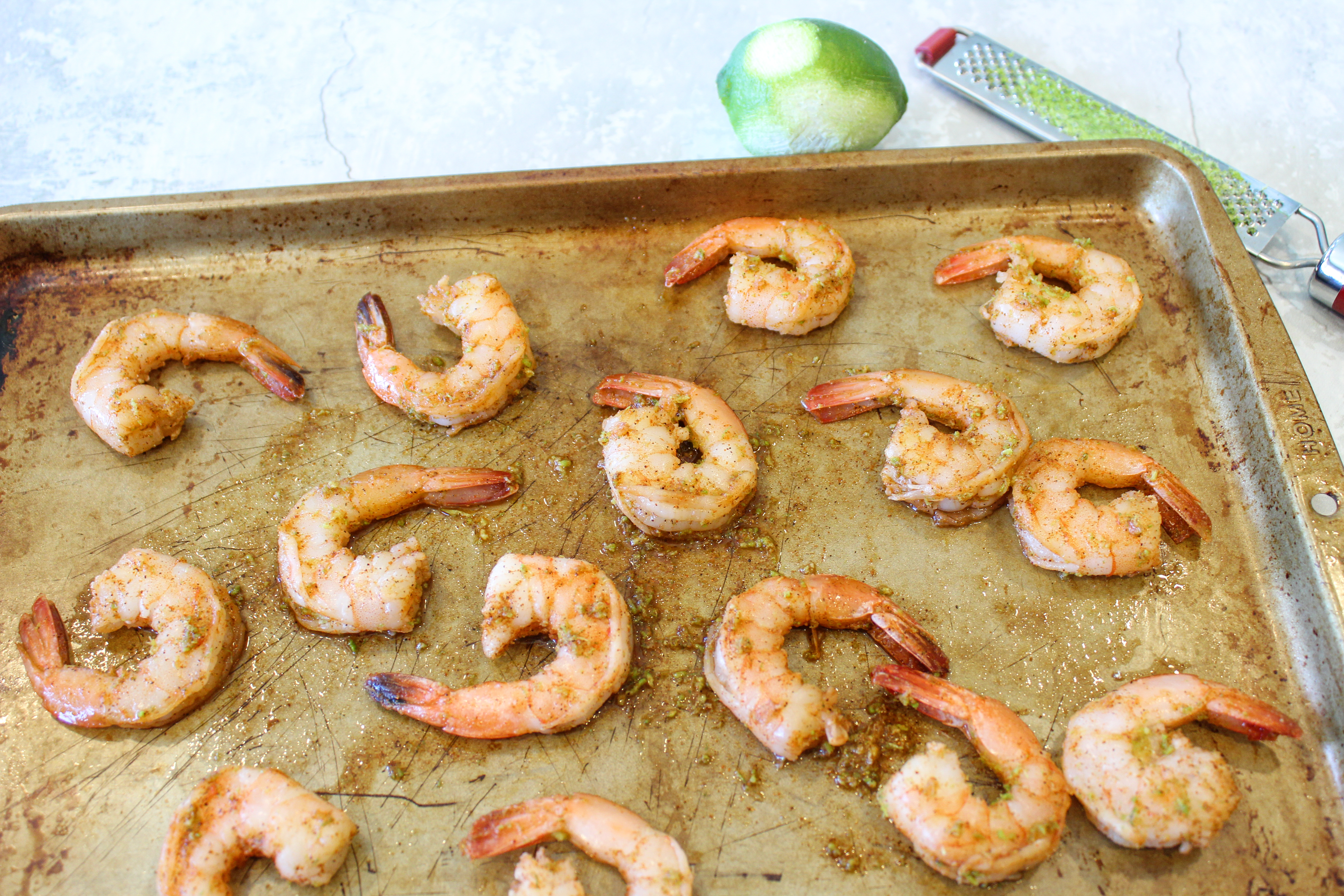 In a small bowl, stir the sour cream, lime juice, and zest together.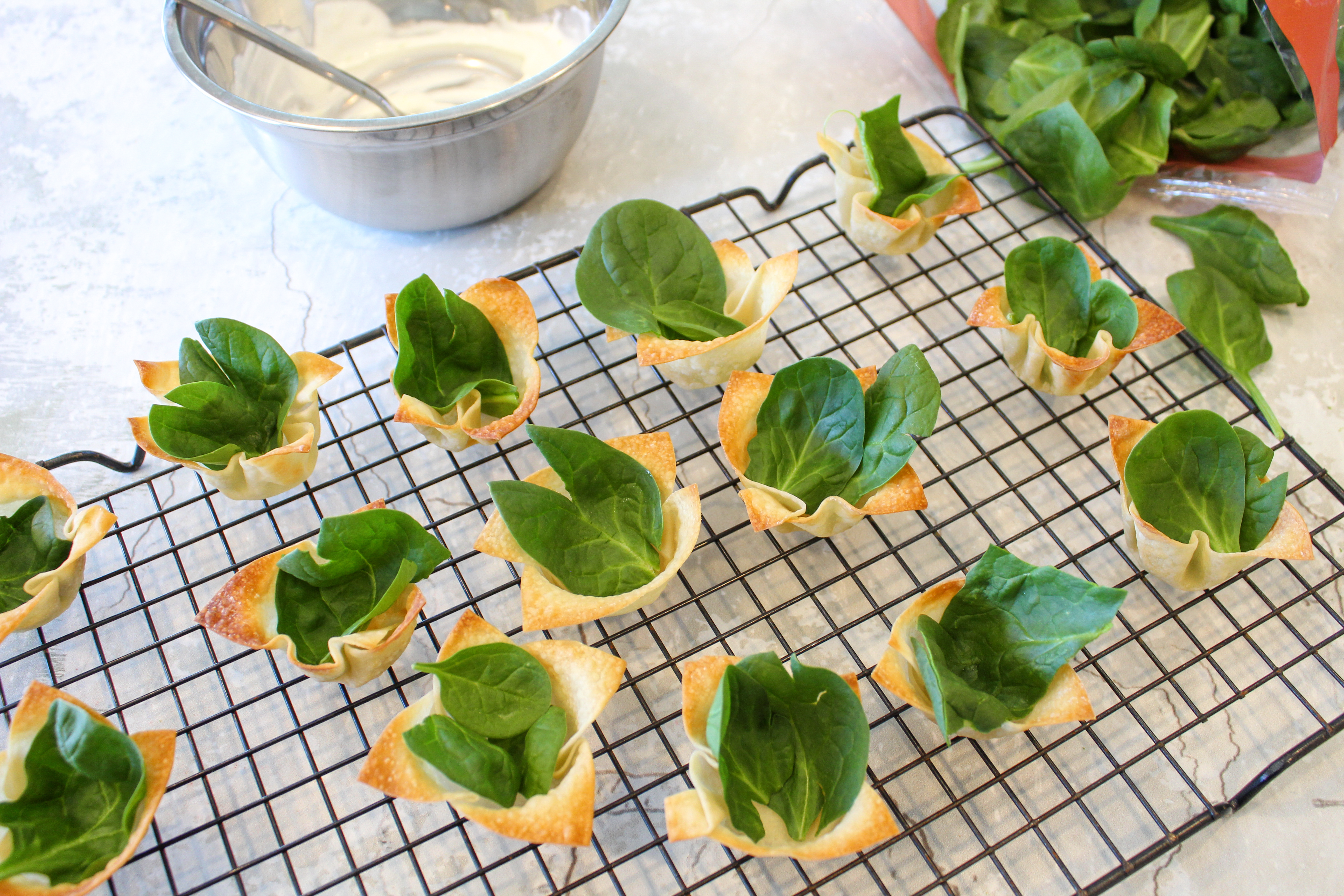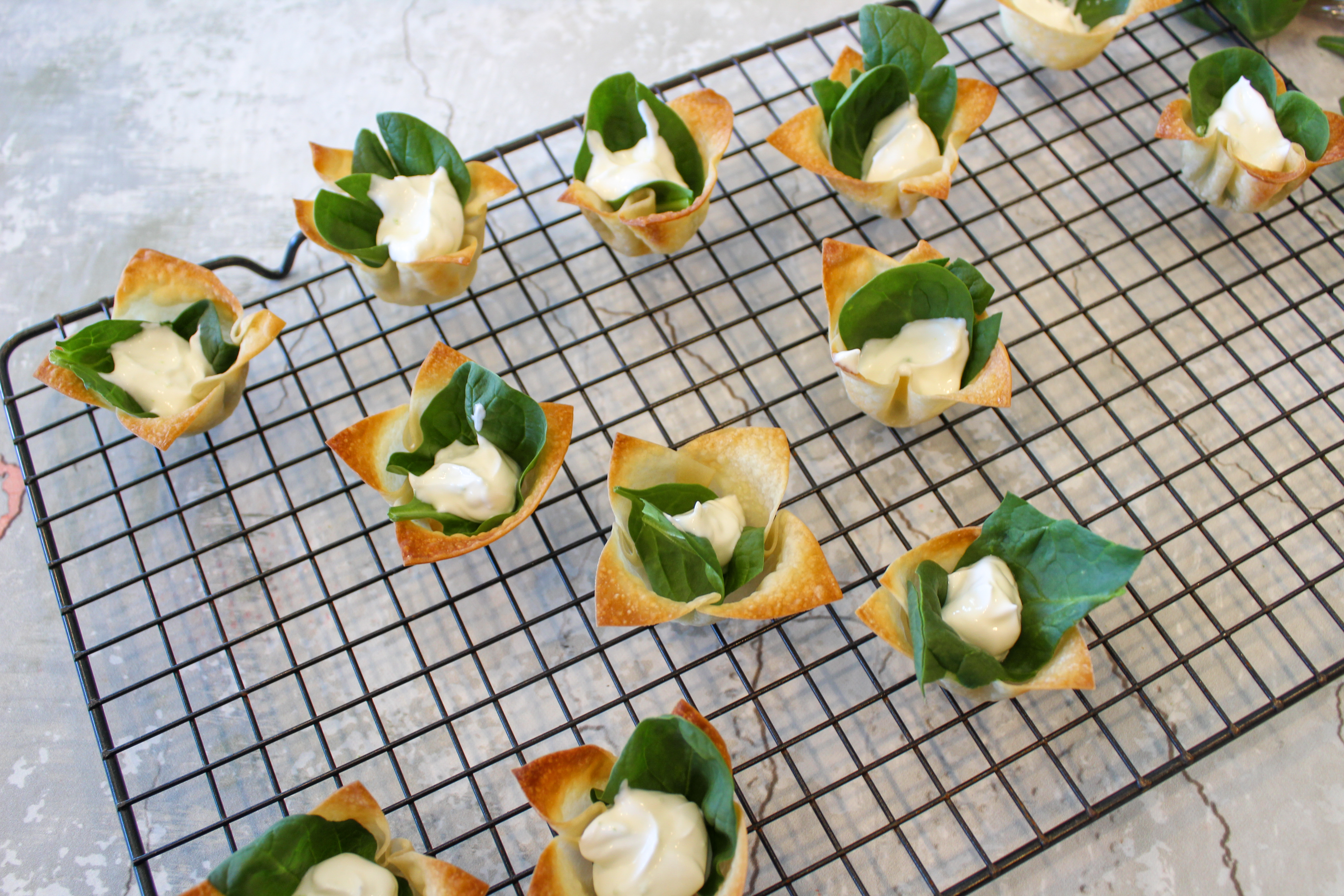 Place 1-2 baby spinach leaves in each wonton cup.
Add a small dollop of the sour cream mixture in each cup and top with a single cooked shrimp.