Are you in need of a healthy and filling smoothie recipe? This Blueberry Banana Smoothie is filled with sweet and tangy flavor and is great by itself or with your morning breakfast.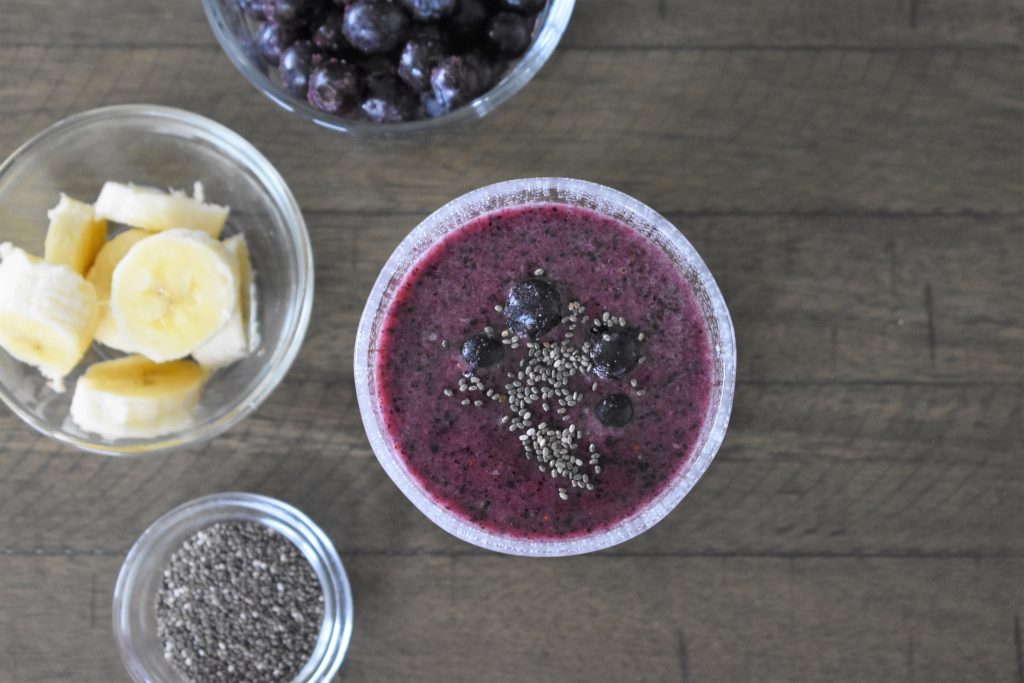 Banana Blueberry Smoothie with Coconut Water
This Coconut Water Smoothie takes away all that excess sugar and dairy products to make a delicious smoothie in minutes. A Blueberry Banana Smoothie is filled with blueberries and bananas along with chia seeds and honey to give you a lovely and flavor-packed smoothie. This recipe takes about 10 minutes to make, so if you are a part of the morning rush, this is the perfect recipe for you!
Are Blueberry Banana Smoothies Good For You?
Absolutely! This smoothie is filled with fiber, antioxidants, and nutrients from the fruit. You can also add in greek yogurt to add more healthy fat and protein. This is a great drink to have before or after a workout to keep you full of energy.
Are Banana Smoothies Fattening?
No, banana smoothies are not fattening. In fact, bananas are actually low in fat and you can even use low-fat ingredients to reduce the fat content even more.
Can You Drink A Blueberry Banana Smoothie Every Day?
You can have a smoothie daily as long as you use the right ingredients. Some smoothies can contain tons of sugar that could lead to health issues if you have too many.
Do Bananas Go Well With Blueberries?
Yes! Bananas and blueberries are the perfect matches. Since both fruits are naturally sweet, you won't need any added sweetener in this banana and blueberry smoothie.
What Is A Good Combination With Blueberries?
If you're looking for a different combination of fruits than blueberries and bananas, you can try using these other options that will blend very well with blueberries:
Strawberries
Pineapple
Mango
Have you joined the Mama Loves to Eat Facebook Group yet? Get loads of delicious recipes. Share you favorites and find new ones.
What Berries Go Well With Bananas?
Besides blueberries, there are tons of berries that work really well with bananas. You can pair bananas with:
Raspberries
Strawberries
Blackberries
How Do You Thicken Smoothies?
Two ways to thicken a smoothie is by using ice or frozen fruit. One of the best fruits to use when thickening a smoothie is bananas. Now, you can use ice with fresh fruit, however, the consistency will be different.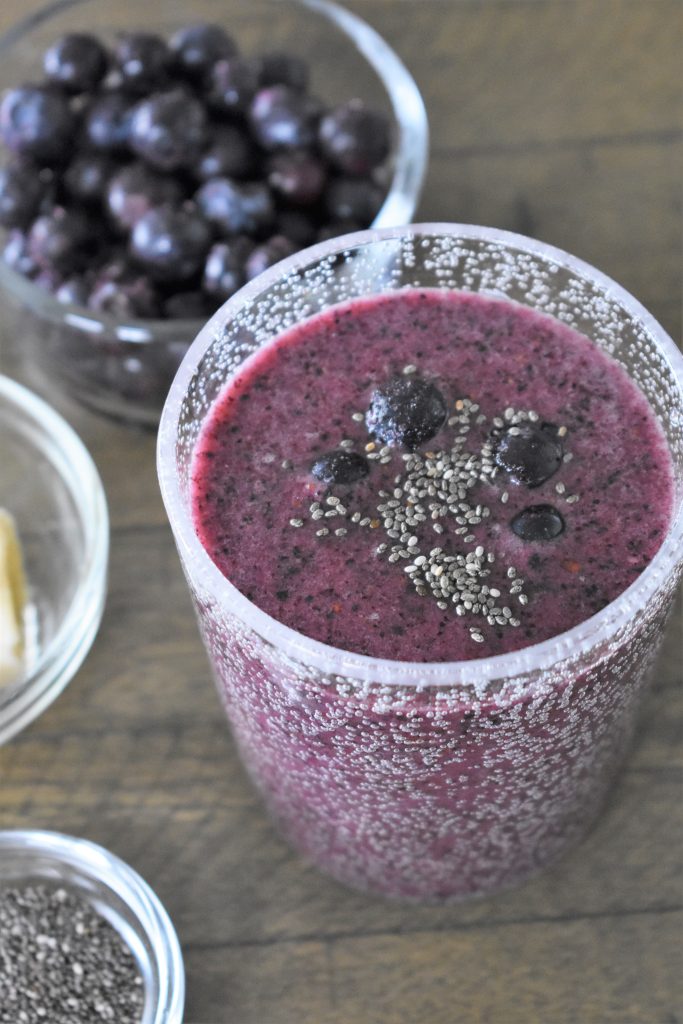 Do You Put Ice In Smoothies?
It is typical to use frozen fruit in smoothies, so ice is not normally needed. Frozen fruit is not only easier to use, but helps keep that thicker consistency we all know and love. Fresh fruit is ok to use, however, if you want the thickness, we highly recommend using frozen fruit.
Can I Make This With Yogurt?
I love this smoothie as a dairy-free option, but if you want to add yogurt to your chia seed smoothie, you can. Adding yogurt can make this recipe smooth and creamy. You can add other things like greek yogurt or dairy-free yogurt.
How To Add Protein To A Smoothie
This smoothie is all fruit and water, so if you want to use it as a meal replacement or want to just add more protein, then you will want to follow these steps.
Greek Yogurt: This is an ingredient that will give you a bit of protein and probiotics. You will want to mix 1/4 cup to 1/2 cup into your mixture. To get it to easily blend together, you can add a few splashes of water.
Almond Butter/Cashew Butter works way better than peanut butter. Mix in a tablespoon or 2 for a potent flavor.
Note: When you add these ingredients they will become lighter in coloring depending on how much you add.
How To Meal Prep This Smoothie In Advance
A great way to save time in the morning is by meal prepping. This will not only save you a ton of time, but it will get you a quick and filling snack in no time. The steps to meal prepping are simple, you will first want to lay out all of your smoothies ingredients besides the liquid into small freezer bags.
When the time comes to make your smoothie, you will add the liquid and your ingredients into the blender and combine on high. That's all you have to do!
What Goes With A Blueberry Banana Smoothie?
You can pair a smoothie with almost anything. You can enjoy your breakfast, lunch, and even your dinner. And, given that smoothies are packed with healthy fats and sometimes protein, you can have it by itself! Smoothies can be paired with things like: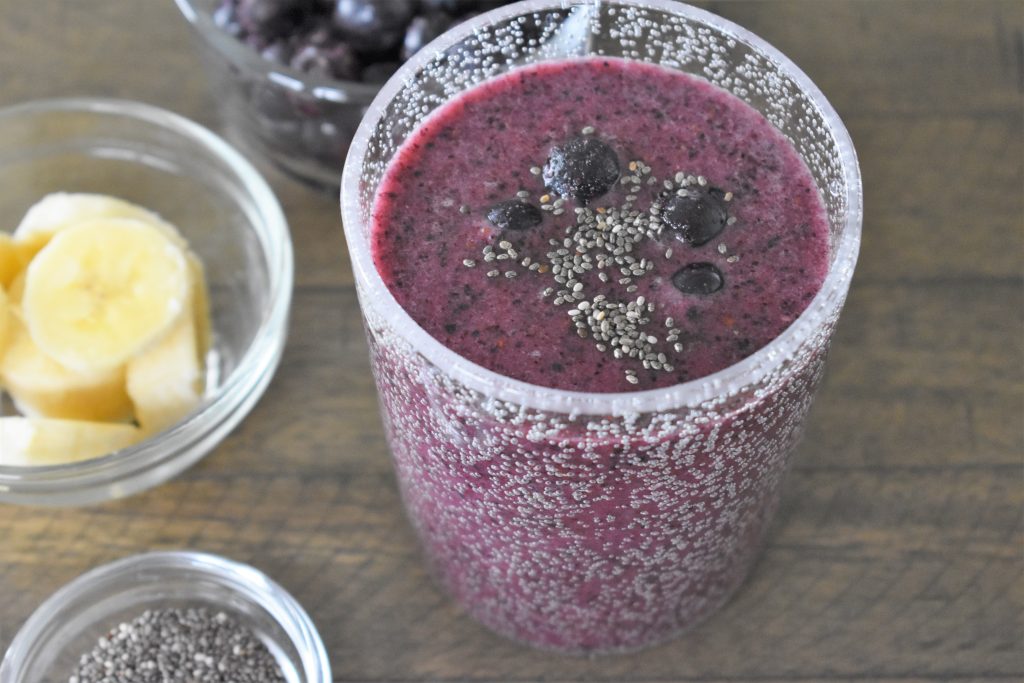 Ingredients You'll Need
Get the full list of ingredients, with measurements, and step-by-step directions at the bottom of the post in the printable recipe card.
Blueberries
Banana
Coconut Water
Raw Honey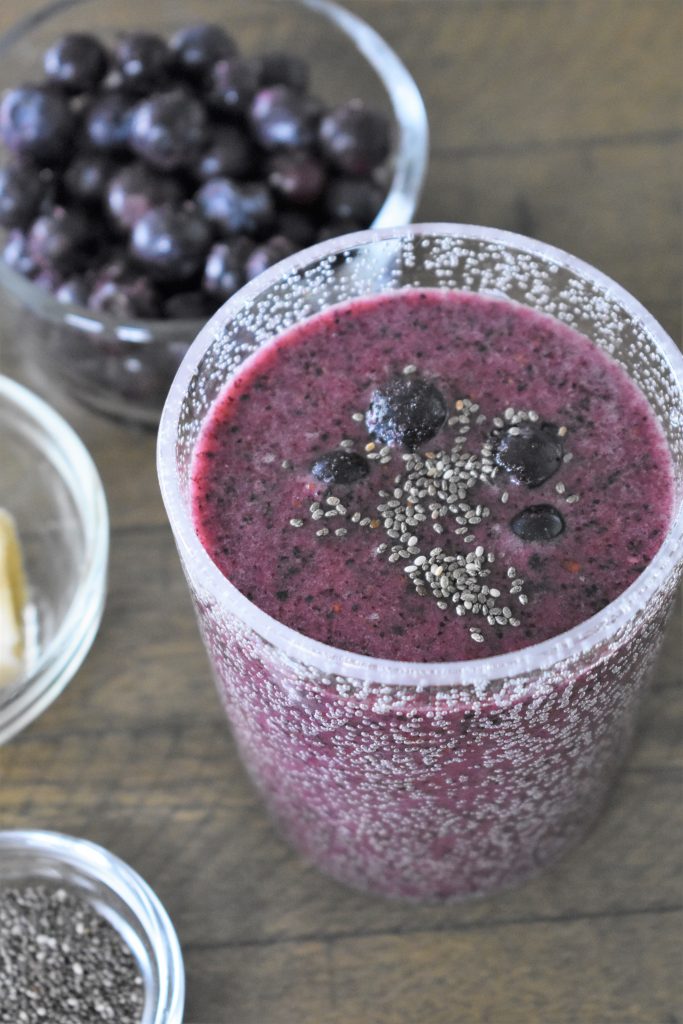 How To Make Blueberry Banana Smoothie
This is the easiest and most simple way to get the best smoothie you will ever have. Follow these quick steps to get you the perfect smoothie in minutes.
Step 1. Combine the ingredients in a blender.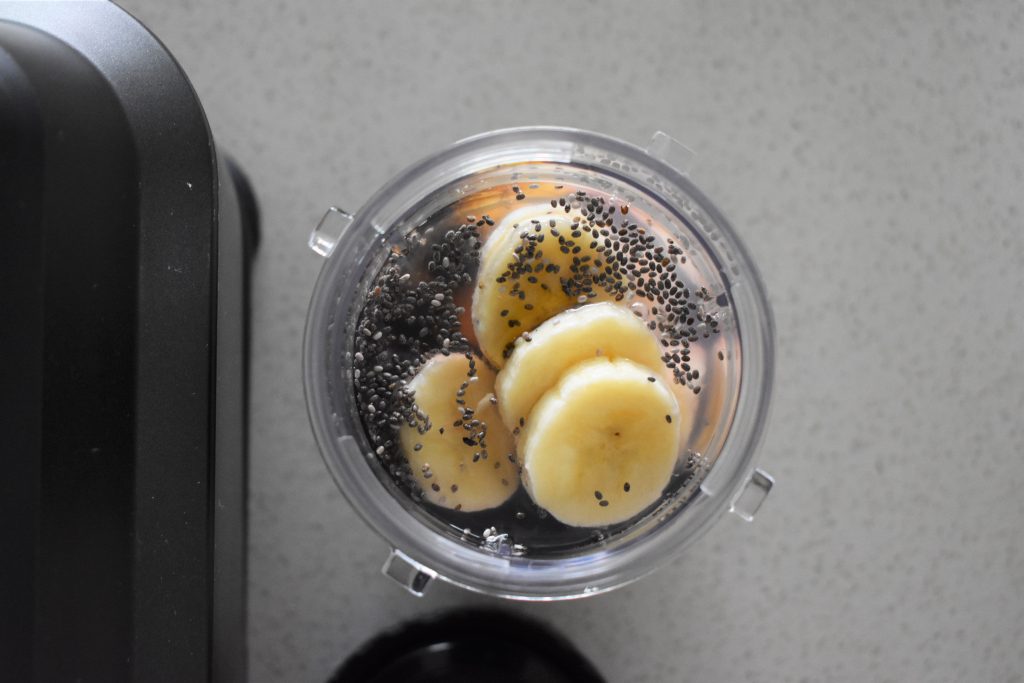 Step 2. Pour in coconut water.
Step 3. Blend.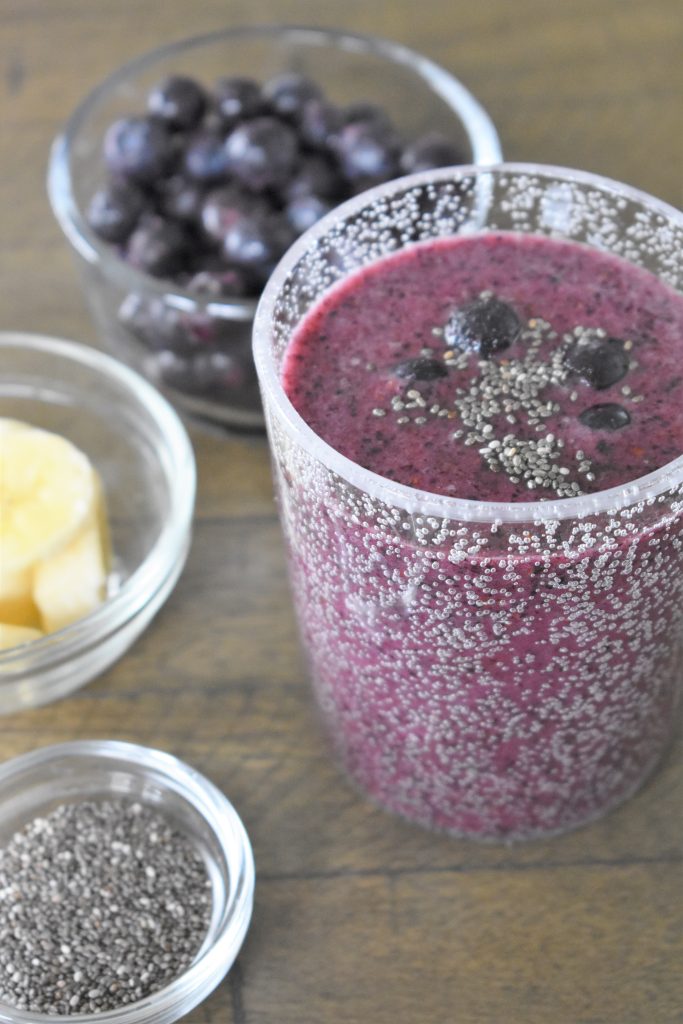 More Delicious Smoothie Recipes: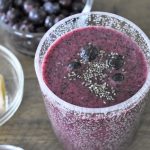 Banana Blueberry Smoothie with Coconut Water
Are you in need of a healthy and filling smoothie recipe? This Blueberry Banana Smoothie is filled with sweet and tangy flavor and is great by itself or with your morning breakfast.
Ingredients
1 1/2

C

blueberries – frozen

1/2

banana – frozen

1

C

coconut water

1/2

tbsp

chia

1

tbsp

raw honey
Instructions
In a blender, add in the blueberries, chia seeds, and raw honey and blend until combined.

Pour the coconut into the blender.

Combing the ingredients until fully incorporated and enjoy!