Having a child that is a picky eater may not sound like a big deal; after all, many kids are fussy about what they eat. But, when your child is exceptionally picky about what they eat, this can impact the entire family and make mealtimes a stressful event every day and that's why we put together these Tips for Picky Eaters.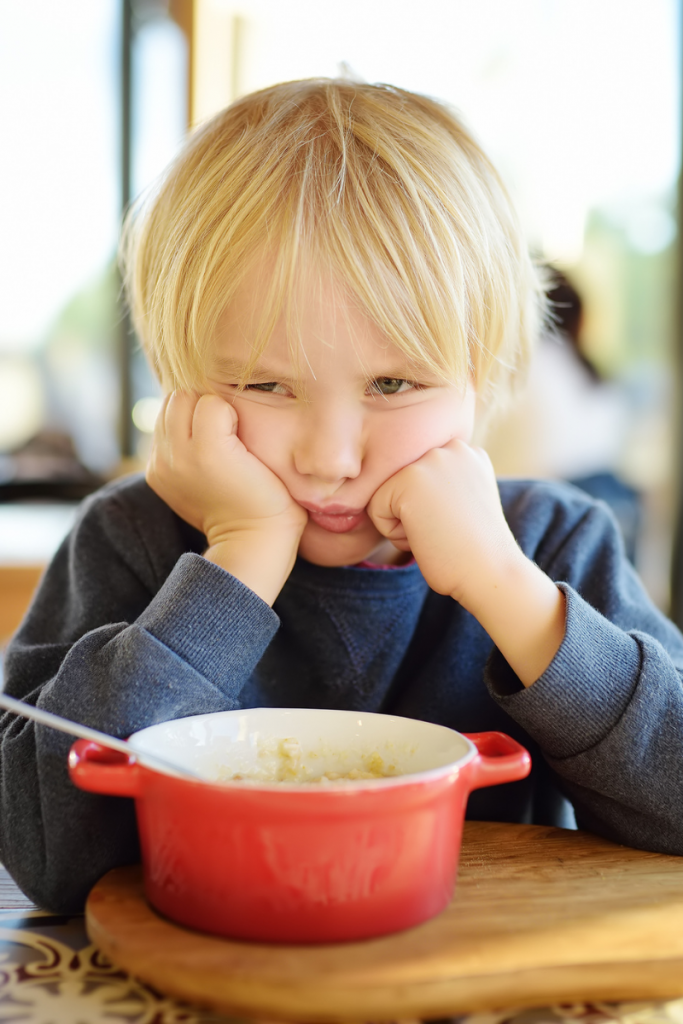 Jump to:
Needing to battle with your child to eat every time you sit down for a family meal can take all the joy out of this special time of day.
Sitting together to eat as a family and sharing food is one of the most important bonding activities you can enjoy. Family mealtimes provide an opportunity to bond by chatting about your days, talking about what you are eating, and simply being able to relax in each other's company.
But, when you have a child that refuses to participate in the meal or even try the food, no one in the family can enjoy their food. When mealtimes become a battle to get your child to eat anything, all the joy can disappear from mealtimes, which can be frustrating when you have spent a long time preparing the food for everyone to enjoy. 
To stop family mealtimes from becoming a battleground and ensure your child eats something to get the vitamins and nutrients they need to stay healthy is a must. But, finding solutions to this issue is not only important from a nutritional viewpoint; it is also vital.
Otherwise, you could find yourself trying to cook multiple meals to keep everyone happy.  
Get Off to a Strong Start
While this idea may not be possible to implement if your child is older, it is a helpful way to prevent babies from becoming fussy eaters. When your baby moves on from milk and begins to experiment with eating solid food, you have the opportunity to establish healthy eating habits that can stay with them throughout life.
One excellent way to get weaning off to a good start is to avoid giving sweet-tasting foods straight away. Introducing savory flavors, to begin with, is advantageous as it stops kids from getting used to the taste of sweet foods, which they will naturally prefer.
So skipping the chocolate puddings to start with is a good idea because once they taste these, they are unlikely to find the vegetables you prepare for them as appealing.
Try introducing smooth and refreshing smoothies to them. Start with something sweet, like a Strawberry Mango one. You could use a spoon to give it to them or let them enjoy some out of their sippy cup.
Introduce Flavors from Around the World
It is helpful for slightly older children to try and expand their palate by introducing them to various flavors rather than sticking with bland-tasting foods. An excellent way to broaden their palate is to serve them food from around the world so that they get used to the different flavor combinations used in international cooking.
Developing a sophisticated palate can help kids create a genuine love of eating delicious foods and open them to the joy this brings to life. Kids that are willing to try different flavors are more likely to continue this behavior into adulthood, so a positive start is crucial.
To start introducing flavors from around the world, it is a good idea to seek out plenty of recipe inspiration so that you can recreate authentic dishes.
You could introduce them to something like our Southwest Chicken and Rice Soup. If they don't like the liquid, just strain out the liquid for them.
Model Positive Behavior
As a parent, it is easy for your opinions and behavior to be picked up by your child and for them to then copy them. Your relationship with food is a prime example of this. If you are a fussy eater yourself, the chances of your child becoming a picky eater are higher. This is because they are likely to copy your own eating habits and adopt the same attitude towards food.
To be a positive role model to your child, it is a good idea to be mindful of the way you discuss different foods in front of your child, as they will pick up on any negative associations that you make.
Start this routine by making yourself a smoothie to enjoy while they are enjoying theirs. Our Good Morning Coffee Banana Smoothie is a delicious way to get your nutrition but to also show the kids you drink them.
Let the Kids Help
One final way to help ensure that your kids do not become fussy eaters is to get them involved in the cooking process. Letting kids help out with cooking and allowing them to get stuck into following recipes and completing age-appropriate cooking tasks is an excellent way to encourage them to try different flavors.
When your child has made the meal themselves, they are far more likely to eat it, so cooking with your kids is definitely worth trying.