Caramel Apple Dip is like the crispiness and sweet flavor of a caramel apple in dip form. This delicious dip can easily become one of the best desserts you will bring to any party. It may also just become your go-to snack like it is mine.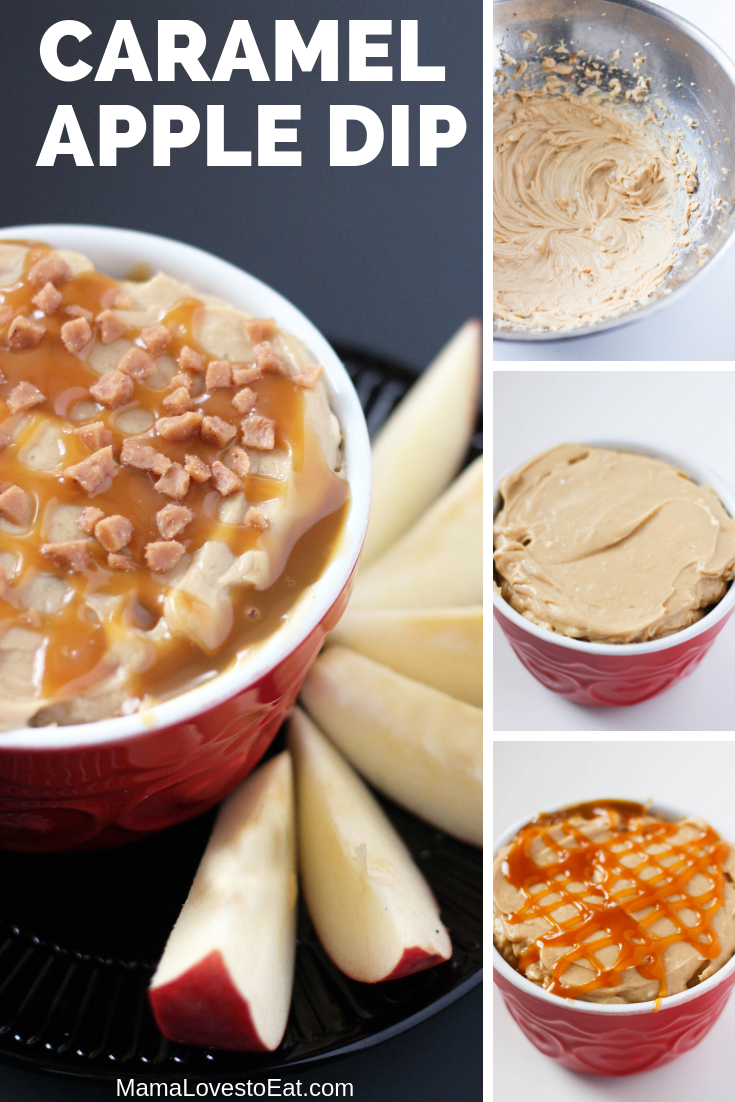 When it comes to simple and easy foods, this one takes the cake. This dip is so easy to make and only needs 4 ingredients. This whips up so fast and is hassle-free for anyone needing a quick snack or last-minute party food. This is one of the best dips you will ever try! The smooth cream cheese, caramel sauce, and toffee bits pair incredibly with the crunchy and sweet apple dipper. Make this recipe for any occasion and everyone will surely be asking for this tasty recipe.
Why Is This Caramel Apple Dip The Best?
Caramel and apples have been a duo of flavor for many years! This pair is the batman and robin of desserts. And, what makes this recipe even better is the cream cheese! It gives the dip a smooth texture that just melts in your mouth. You also can't forget the caramel sauce and toffee bits which add to the flavor and blend so well together. Since this recipe takes only 5 minutes to prepare, you can be eating away in no time. Finally, you can dip just about anything into this! Check out some great dipping options below.
Is Caramel Apple Dip Easy To Make?
This easy apple dip could not be easier to make. With only a few ingredients, it comes together in no time. While dips always taste better if given a little bit of time to meld in the refrigerator, this dip can go from being made to being eaten right away.
We have a love affair with different types of dips around here. We make fruit dips all the time. Some of our favorite sweet dips are Peanut Butter Cookie Dough Dip, Creamsicle Fluff Fruit Dip, and Cherry Cheesecake Dip. These dips, including the easy apple dip, are often asked for by name when we go to a picnic or get-together. And they never last. It is one of the first things that gets eaten. At least that means everyone is eating their fruit right?
Can I Use Any Other Types Of Chips?
With this caramel apple dip recipe, you are able to change out the toffee chips for anything you like. Chocolate chips, peanut butter chips, or even butterscotch chips all taste great with this apple dip. My daughter particularly likes the peanut butter chips since we often snack on apples and peanut butter.
Recipe Variations:
Apples: Use any kind of apples, the more you use the more festive it looks. If you leave washed and uncut apples in the fridge, they will last a couple of weeks. Cut apples will need to be kept in a storage container and placed in the fridge for up to 5 days.
Yield: This will make about 2 cups of dip or 32 tbsps. You will need 4 apples for serving if you cut each one into 8 slices. This means 1 slice per tbsp.
Storage: Always store in airtight containers!
Cinnamon: You can add additional flavor by adding 1 teaspoon of ground cinnamon.
Have you joined the Mama Loves to Eat Facebook Group yet? Get loads of delicious recipes. Share you favorites and find new ones.
Recipe Tips
Apples: To keep them from browning, soak the apples in a mixture of 2 cups of water and ¼ teaspoon of salt for 5 minutes, then wash, and store. When serving, squeeze a bit of lemon on, so the apples don't brown while eating.
Cream Cheese: Make sure to use cream cheese that has been softened to room temperature. It will mix easier and give it a creamier texture.
If Using Thick Caramel: Place in a heat-safe bowl in the microwave for 15-20 seconds.
Caramel Apple Dip: Lower Sugar Version
You would be surprised to know after years of baking, that you can enjoy your favorite desserts with lower sugar content. Most of the time, you won't even notice a difference.
How Much Sugar Did I Remove?
I removed half of the sugar, and to no surprise of mine, my family didn't even notice. I even told them and they couldn't believe it. Although the dip isn't as creamy as it was before, it doesn't bother me!
What Do You Serve With Cream Cheese Caramel Apple Dip?
The best part about recipes like this is that they can be eaten with so many different things! I absolutely adore this recipe with red apples, you can look at the list below to try out a few different things:
Pretzels (chocolate covered as well)
Peaches
Graham Crackers
Bananas
Ginger Snaps
Animal Crackers
Pears
Cookies/Wafers
Strawberries
Nuts
Biscotti
Chocolate Sticks
What Apples Can I Use For Dipping?
Strong and sweet is the way to go with this dessert. Pink Lady, Granny Smith, Honeycrisp, and Gala apples are the best kinds to use! If I'm serving this dessert for a party I like to mix up the colors for a more festive approach.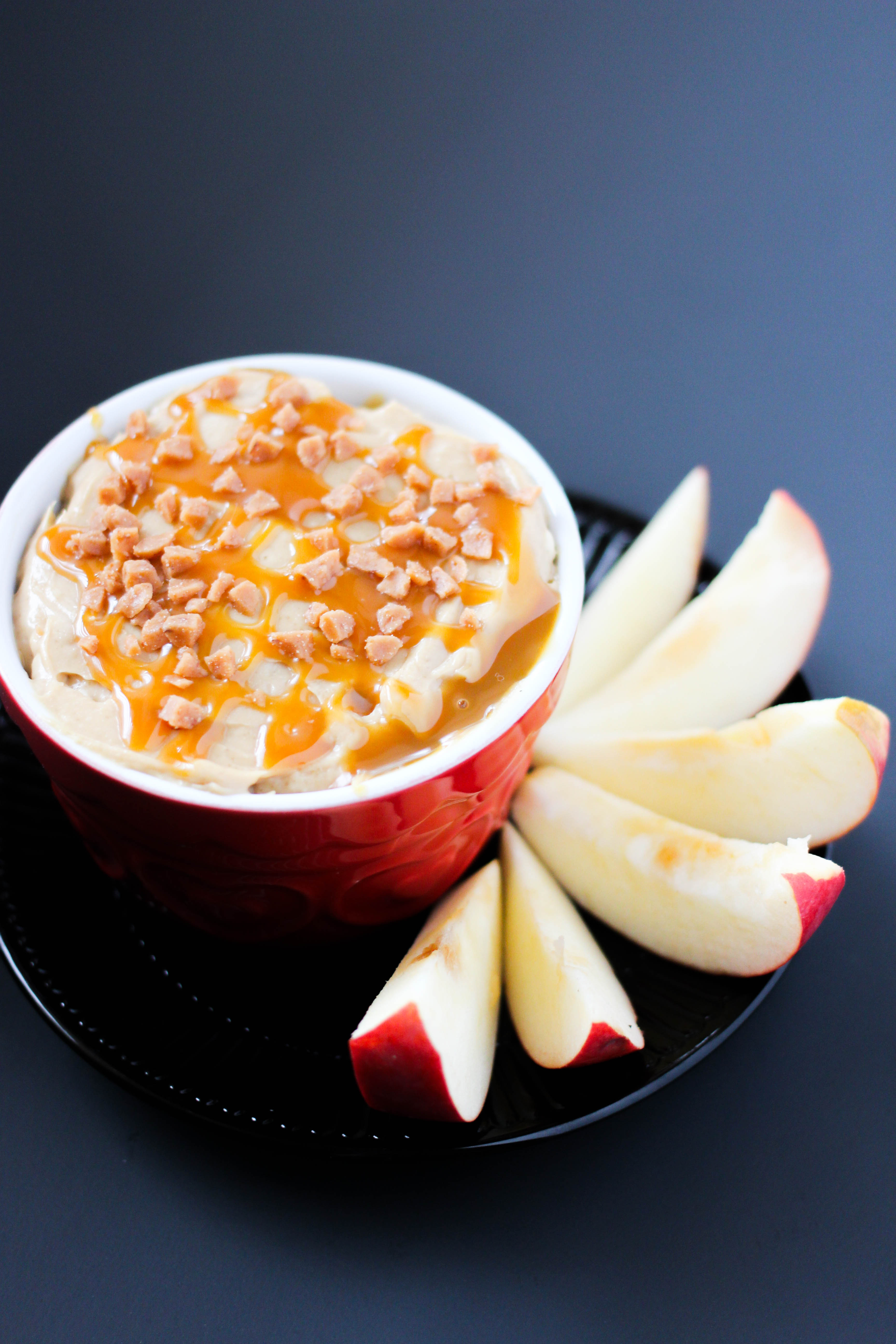 Will This Recipe Work For Caramel Dipped Apples? Will It Harden Enough?
I haven't tried this yet, but it will stiffen when placed in the fridge, so it could work. It would need to be kept cold, though.
What Caramel Sauce Is Best?
I love using a thick caramel sauce for this recipe. I prefer to use a can of dulce de leche. However, the store-bought plastic bottles of caramel work just as well.
Do I Have To Cook Caramel Apple Dip?
While I have seen some recipes for caramel apple dip that needs to be cooked to make the caramel, this apple dip recipe uses premade caramel sauce, because honestly, I want to get back to fun as fast as I can, and that means getting the snacks ready fast.
How Long Does Caramel Apple Dip Last?
Caramel apple dip will last a few days in the refrigerator. If you want are making this for a get-together, I recommend making a larger batch. Whenever we made this easy apple dip recipe for a crowd, it was gone fast. When we make it at home it lasts about 2 days.
How Long Can You Leave Caramel Apple Dip At Room Temperature?
It's best to leave the dip out no longer than two hours at room temperature. Once you hit the two-hour mark, it will need to be placed in an airtight container and placed in the fridge.
Can You Freeze it?
Yes! As long as this recipe is kept in a freezer-safe container, you can keep it for up to 3 months!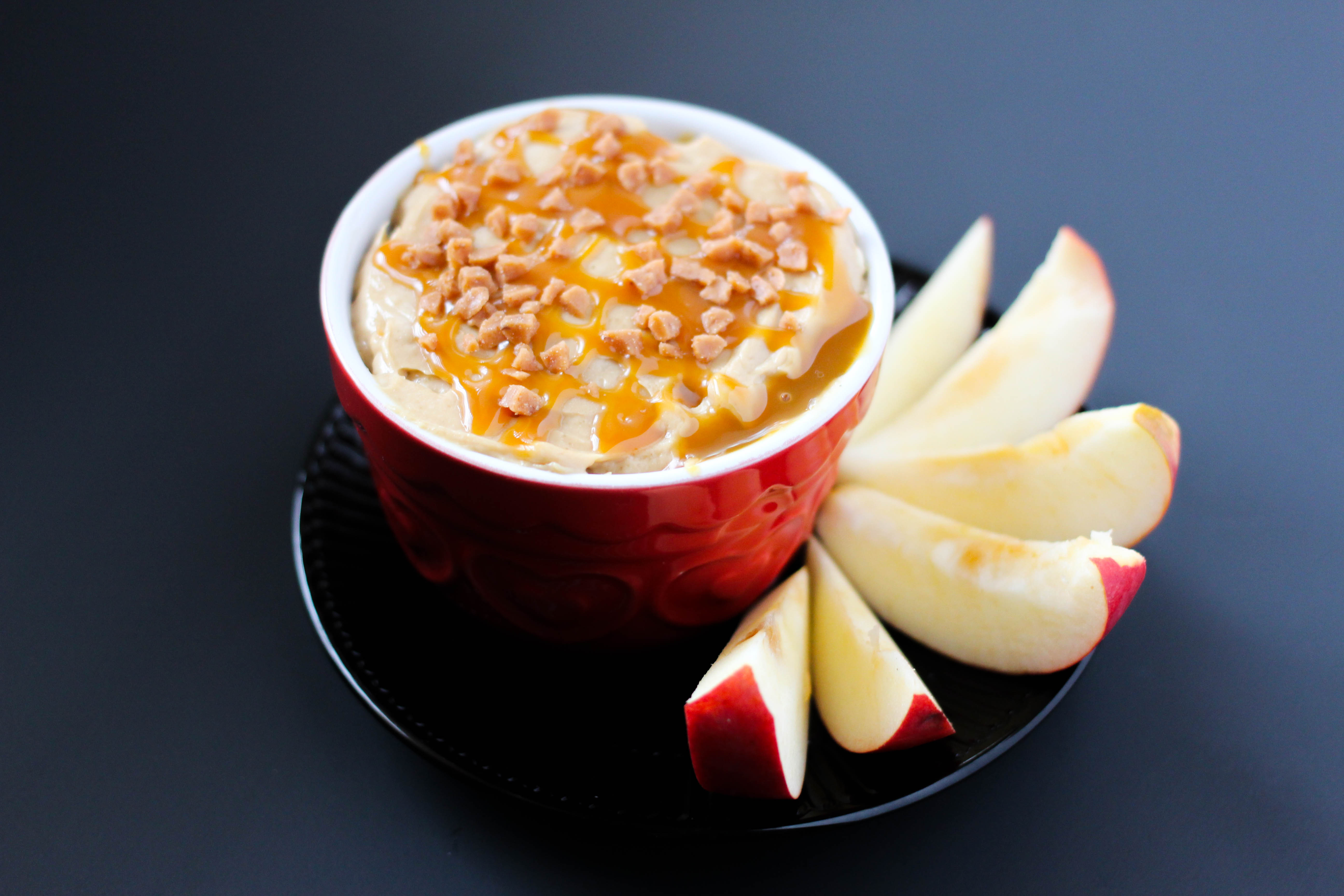 Can You Make Caramel Apple Dip Ahead Of Time?
If you are making caramel apple dip for a special occasion or even just for later, you can make it ahead of time. I often make my apple dip about 4 hours early so it can blend the flavors together while it sits. This recipe will hold up well in the refrigerator for at least 2 days if you need to make it ahead of time.
Can You Make This The Night Before And Send It To School?
Yes! As long as your child has a way to heat the dip before enjoying it, it can be brought to school.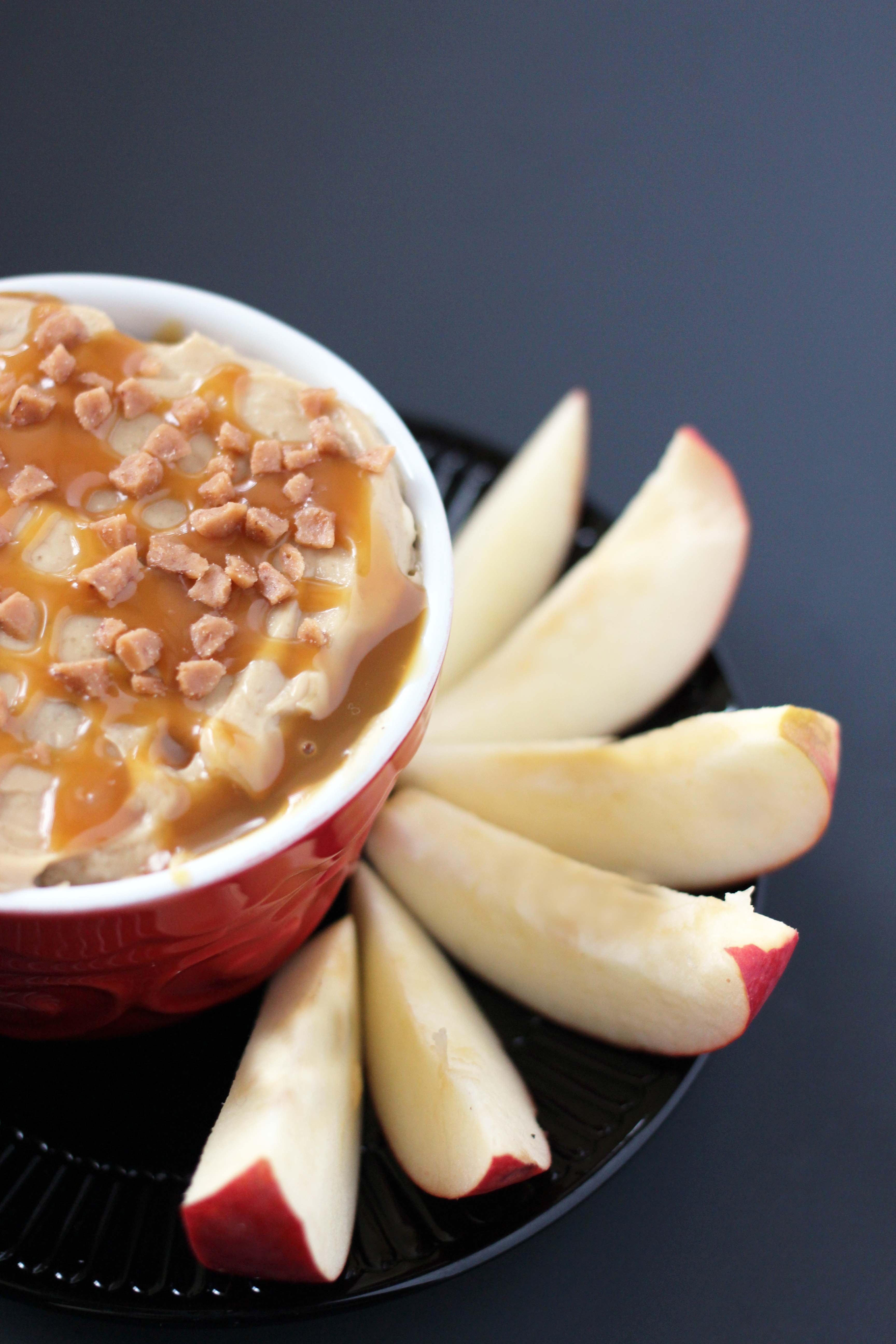 Key Ingredients You'll Need
If you want to make apple dip a little lighter you can switch to fat-free cream cheese and use a little less brown sugar. It still tastes fantastic and then it is a little healthier too.
Cream Cheese
Brown Sugar
Caramel Sauce
Toffee Baking Bits or Mini Chocolate Chips
How To Make Caramel Apple Dip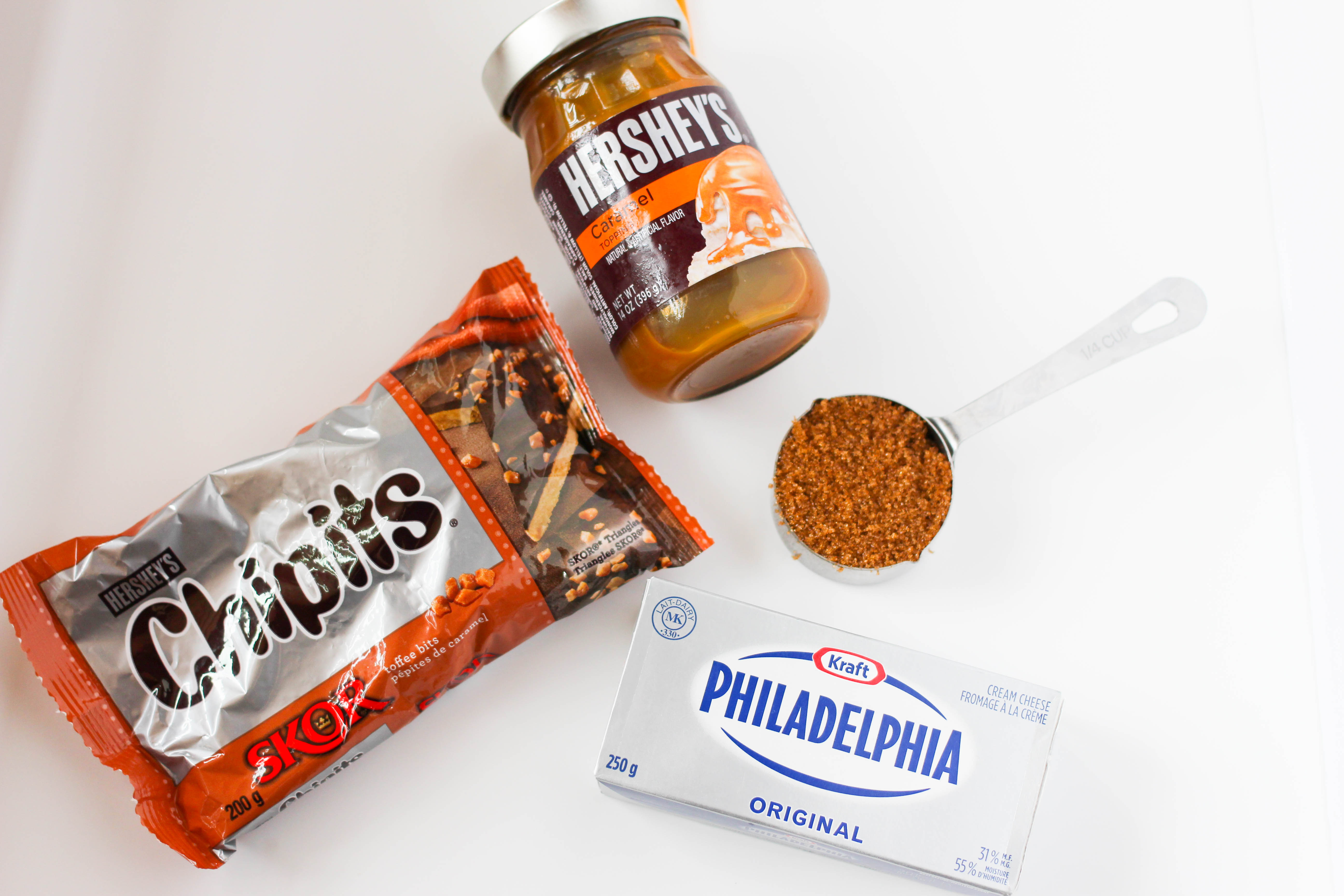 Step 1. In a bowl, combine the cream cheese and brown sugar.
Step 2. Add in ¼ cup of caramel and mix.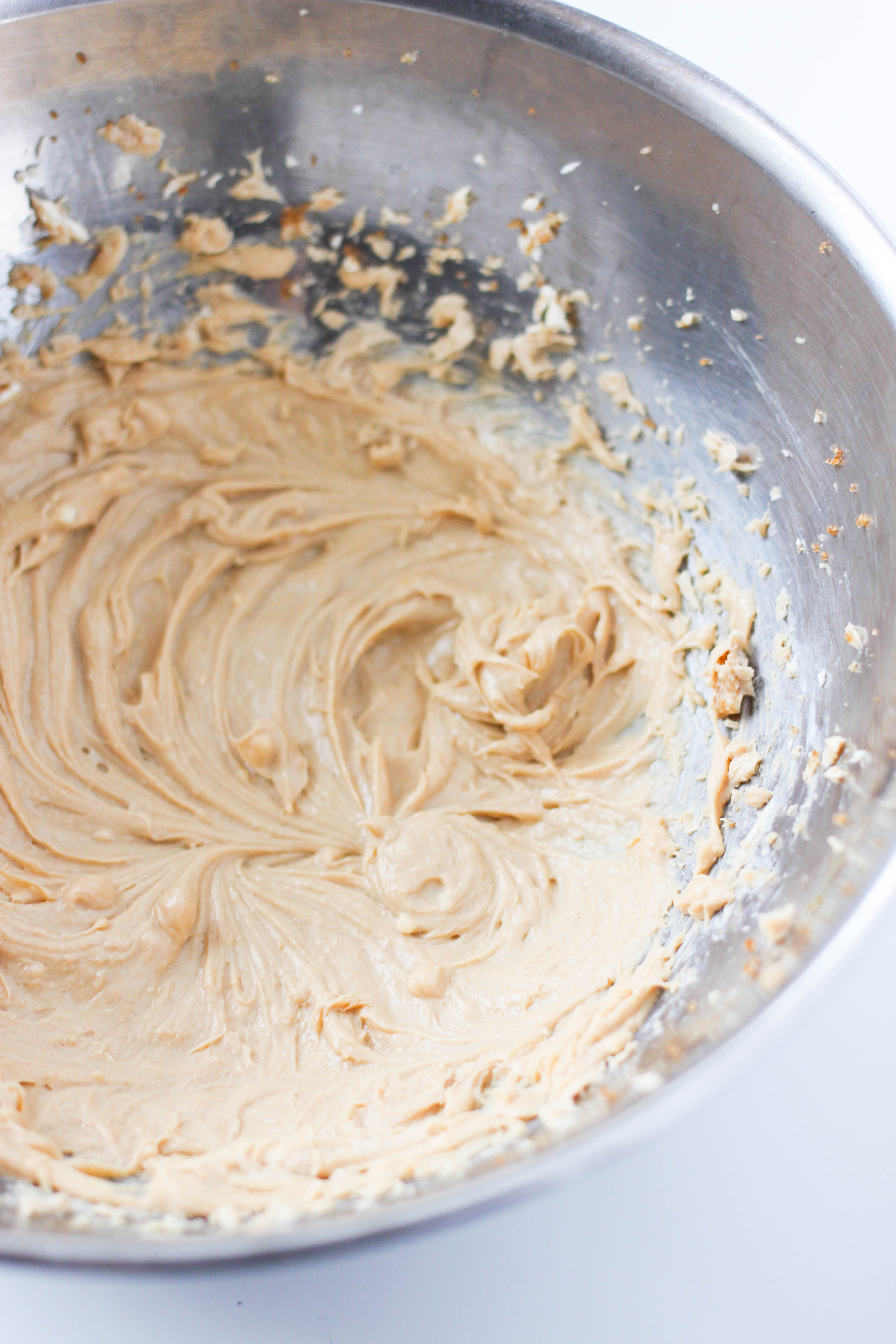 Step 3. Put half the mixture into a serving dish and top with caramel and toffee bits. Put the rest of the mixture on top.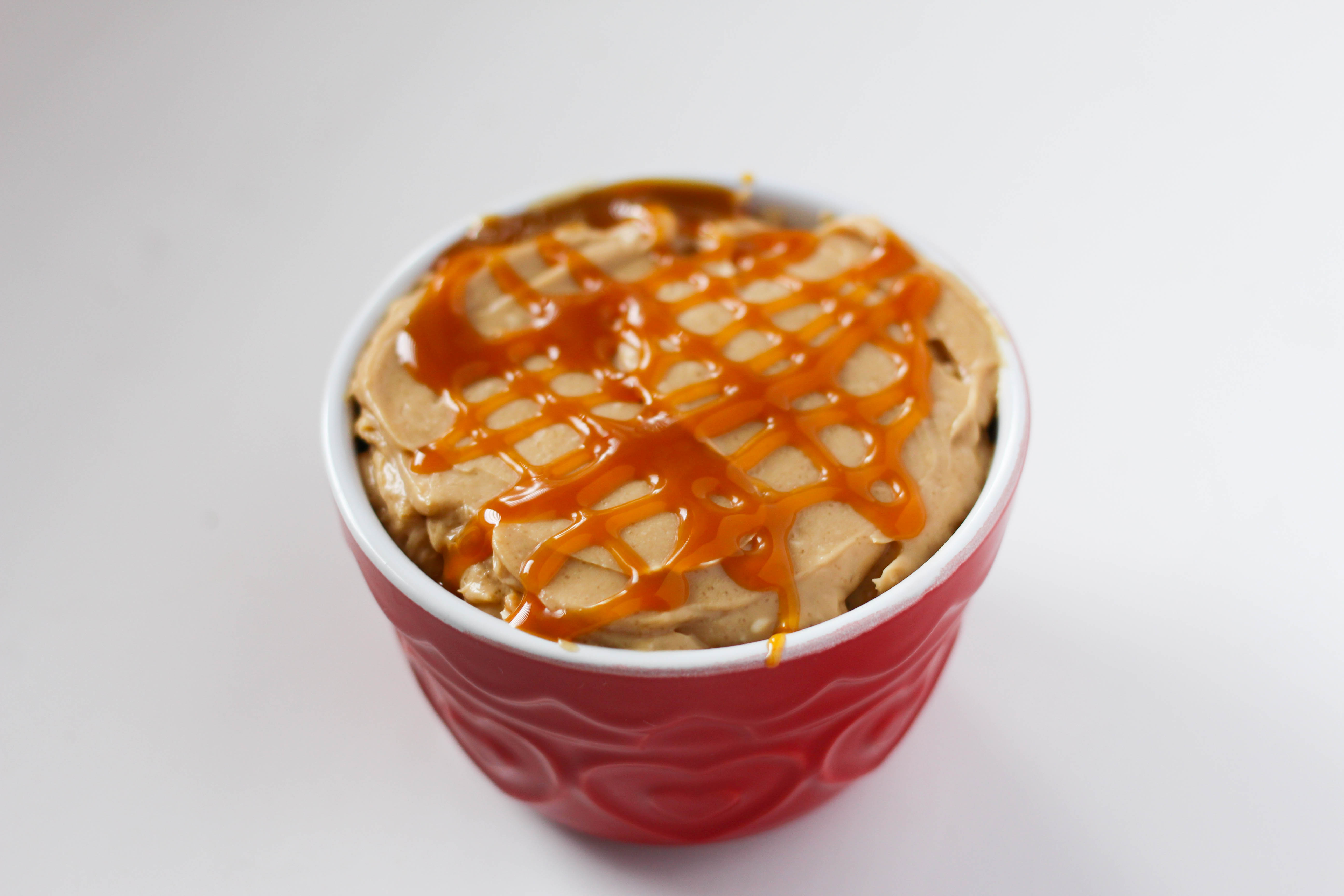 Step 4. Store in the fridge until you are ready to eat.
More Amazing Desserts: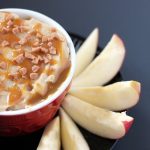 Caramel Apple Dip
Caramel Apple Dip is like the crispiness and sweet flavor of a caramel apple in dip form. This delicious dip can easily become one of the best desserts you will bring to any party. It may also just become your go-to snack like it is mine.
Keyword:
Caramel Apple Dip
Ingredients
1-8

oz

cream cheese

package

¾

cup

brown sugar

½

cup

caramel sauce

½

cup

toffee baking bits

or mini chocolate chips
Instructions
In a medium bowl, add in the cream cheese and brown sugar and combine using an electric mixer until smooth.

Put in ¼ cup of the caramel sauce and combine again until fully incorporated.

In the serving dish, add in half of the prepared mixture and drizzle with caramel sauce. Use the toffee bits to garnish the dessert and add the recipe of the mixture on top, if desired.

Place the dessert in the fridge to chill if you aren't going to serve it right away. Enjoy!