This rich and decadent chocolate cake is super soft and moist it will just melt in your mouth. This simple-to-make chocolate cake is perfect for any occasion!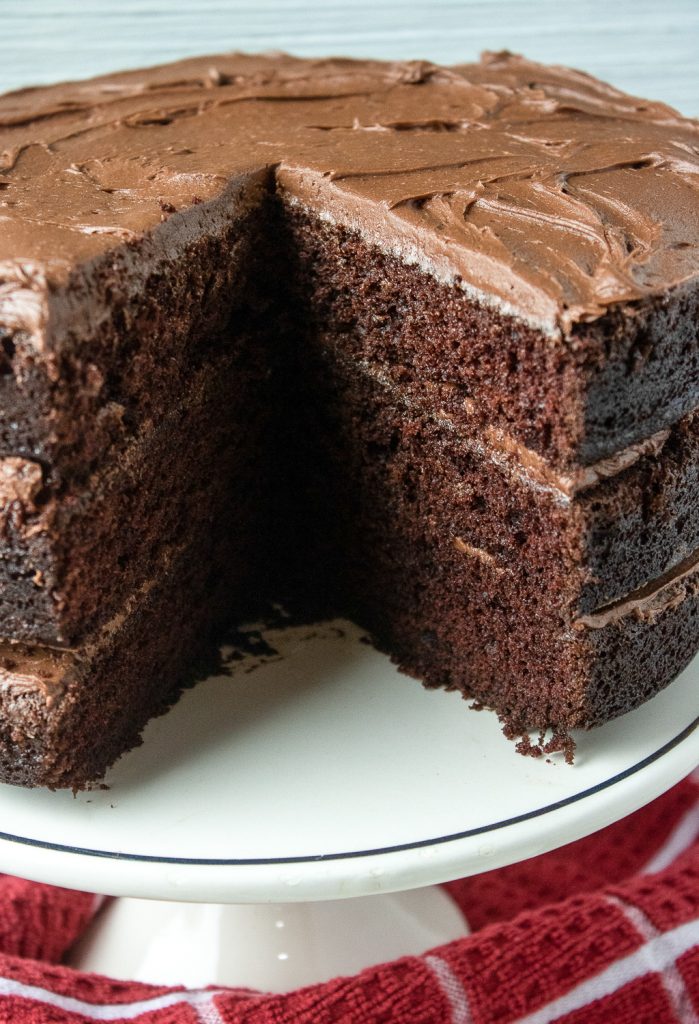 Simple And Delicious Chocolate Cake
This chocolate cake recipe is by far one of my favorites because of the taste and texture. The flavor comes out super rich and chocolatey whereas the texture is light, soft, and fluffy. This is topped and layered with a to die for chocolate buttercream frosting. The frosting adds more chocolate and that's what everyone needs in their life!
What Makes This Chocolate Cake So Good?
I have had my fair share of chocolate cake in my life and this is hands down one of my favorite go-to recipes. Here are a few reasons why:
Simple to make because you only need to dirty one bowl!
Easy list of ingredients you may already have in your kitchen.
Rich chocolate flavor with a moist and fluffy texture.
Covered in a delectable chocolate buttercream frosting that melts in your mouth!
Is This A Chocolate Suicide Cake?
No, although this chocolate cake is a decadent treat, it is not a suicide cake. In a chocolate suicide cake, the recipe normally features a fudge cake mix, chocolate pudding, and chocolate chips.
Decadent Chocolate Cake Variations:
One Layer Cake: Grease 9 x 13-inch pan and add the batter. Bake for 35-40 minutes at 350 degrees. Cool thoroughly and frost.
Cupcakes: Line the cupcake pan and fill ⅔ of the way full. Bake for 22-25 minutes. Cool thoroughly and frost. This can make about 24-30 cupcakes.
Bundt: Grease and lightly flour pan and bake for 50-55 minutes. Allow cooling for 15 minutes before placing on a wire rack and frosting.
Gluten-Free: In place of the regular flour use Bob's Redmill Gluten-Free Flour at a 1:1 ratio.
Have you joined the Mama Loves to Eat Facebook Group yet? Get loads of delicious recipes. Share you favorites and find new ones.
Best Frosting For Decadent Chocolate Cake:
Here is a list of some of my favorite frosting for decadent chocolate cake:
Pro Tips For A Great Cake:
Here are a few pro tips that I use to make my decadent chocolate cake:
Room Temperature Eggs
Makes fluffier cake and a better batter that rises correctly.
Trick: Run under hot water for about a minute or allow them to sit in a bowl of warm water for 5 minutes.
Buttermilk
Makes the cake extra moist and delicious.
Trick: If you don't have buttermilk, you can use 1 teaspoon of lemon juice or vinegar into 1 cup of milk and let sit for a few minutes to slightly curdle.
Lining Pan
Make sure to line the pan with parchment paper to avoid the cake sticking to the pan.
Trick: Spray the bottom of the paper and the sides of the pan lightly with baking spray to allow the parchment to stick but not the cake.
Can This Decadent Chocolate Cake Be Made With Agave Instead Of Sugar?
I have not been lucky enough to give agave a try as a substitute for sugar. However, I have known a few people that use it for their chocolate cakes. If you would like to try it out, I would be super excited to know how it went for you.
Can I Make This A Gluten-Free Chocolate Cake Recipe?
Yes! If you are needing an easy gluten-free chocolate cake, you can make this recipe into one. All you need to do is use gluten-free flour in the same measurements.
Can I Make This A Dairy-Free Chocolate Cake Recipe?
You don't need to worry if you are lactose intolerant or prefer a dairy-free cake. This amazing chocolate cake is dairy-free without any substitutions.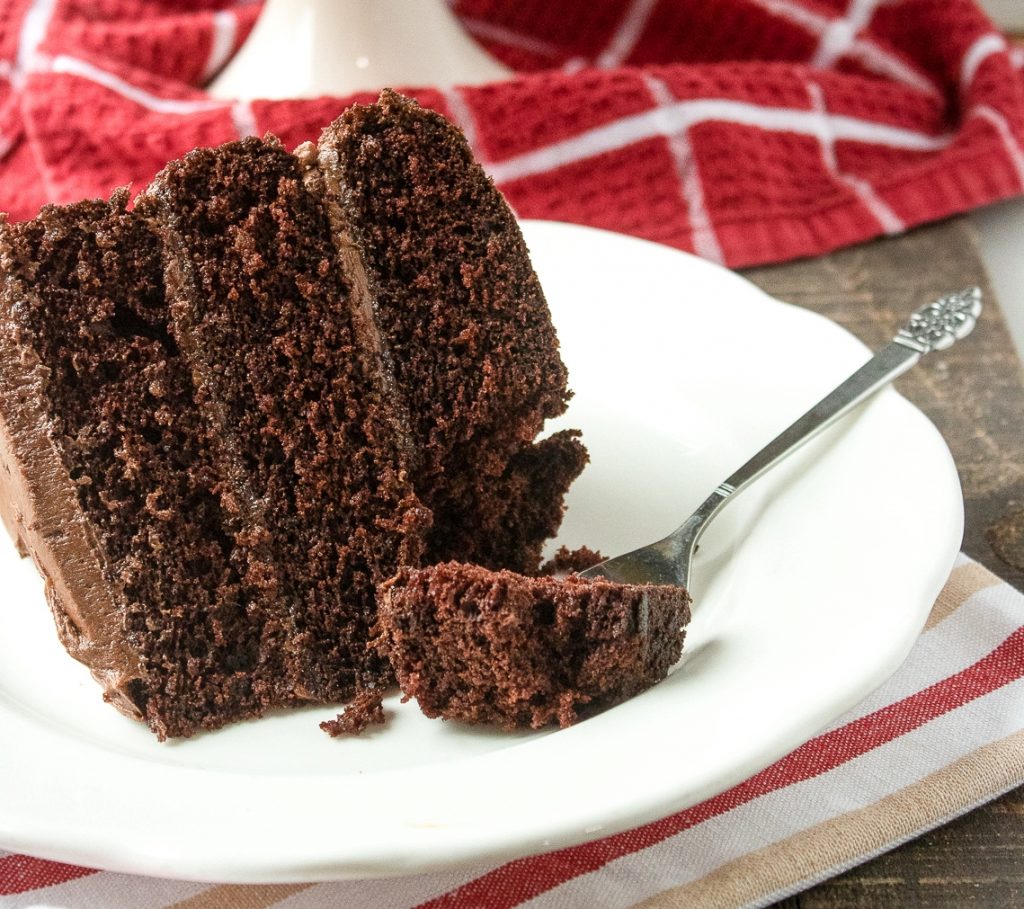 Can I Make This An Eggless Chocolate Cake Recipe?
Yes! There are tons of ways for you to make this incredible chocolate cake recipe eggless. Here are a few options that work the best:
¼ cup: Plain Yogurt per Egg.
1 Tbsp: Vinegar plus 1 teaspoon Baking Powder whisked together per Egg.
¼ cup: Mashed Banana per Egg.
¼ cup: Unsweetened Applesauce per Egg.
What Kind Of Cocoa Powder Does This Use?
I prefer using unsweetened Hershey's Cocoa Powder for this chocolate cake. This cocoa powder is the most available choice for you. I also love using higher-quality brands for better and stronger flavors.
What Makes Decadent Chocolate Cake Moist?
Getting your chocolate cake to be super moist is always best and making sure to know the steps to get a moist cake is important. Here are a few great tips for a super moist cake:
Cake flour is always a better option than all-purpose, but it works just fine too.
Adding sour cream to your recipe can help lock in moisture.
Overmixing the butter/cream in the recipe is a no-no.
Baking soda or baking powder is great for a moist cake.
Adding oil.
Make sure to mix your ingredients carefully!
Do not overbake!
How To Make Ahead And Store Homemade Chocolate Cake?
One thing I love about recipes like this one is that they can be made ahead! Chocolate cake and chocolate frosting can be made ahead and stored for later use. You will first want to let the cake cool thoroughly before wrapping it in plastic wrap and putting each layer in separate gallon Ziploc bags. You can also store the cake at room temperature. I like to keep my cakes under a cake dome to make sure it stays fresh. If you have frozen your chocolate frosting, simply thaw it out in the fridge, then frost your cake.
Can You Freeze Decadent Chocolate Cake?
Yes! This chocolate cake can be frozen. If stored in an airtight container or Ziploc bag, it can last for up to 1 month in the freezer.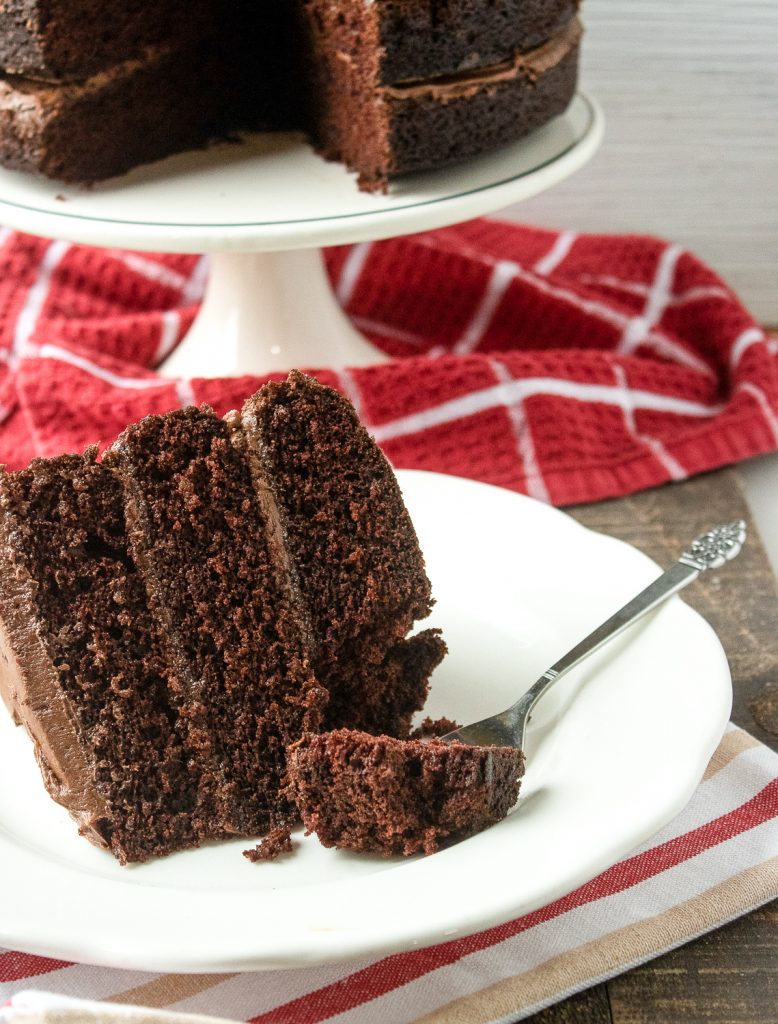 Key Ingredients You'll Need
Get the full list of ingredients, with measurements, and step-by-step directions at the bottom of the post in the printable recipe card.
Butter
Sugar
Eggs
Vanilla
Flour
Baking Soda
Baking Powder
Salt
Cocoa Powder
Hot Water
How To Make Decadent Chocolate Cake
This is the easiest and most simple way to get the best cake you will ever have. Follow these quick steps to get you the perfect cake in minutes.
Step 1. Set the oven and grease your pans as well as a line with parchment paper. Add the wet ingredients into a large mixing bowl and combine Combine the flour, baking soda, baking powder, and salt into a bowl. In a medium bowl, combine the cocoa powder and hot water. Alternate between the flour mixture and cocoa mixture and add to the butter mixture on low speed.
Step 2. Put into the prepped pans and bake for 22-28 minutes or until a toothpick comes out clean. Take out and allow it to cool on a wire rack for the specified time before frosting.
Frosting The Cake
Step 1. Cut the rounded tops of the cakes and begin layering. Add ⅓ of the frosting for the third layer before placing the second cake on top. Add another ⅓ of the frosting before adding the final 3rd layer. Top with the remaining frosting and coat the sides of the cake as well.
Step 2. Decorate the cake and cut it into 2-inch pieces. Enjoy right away!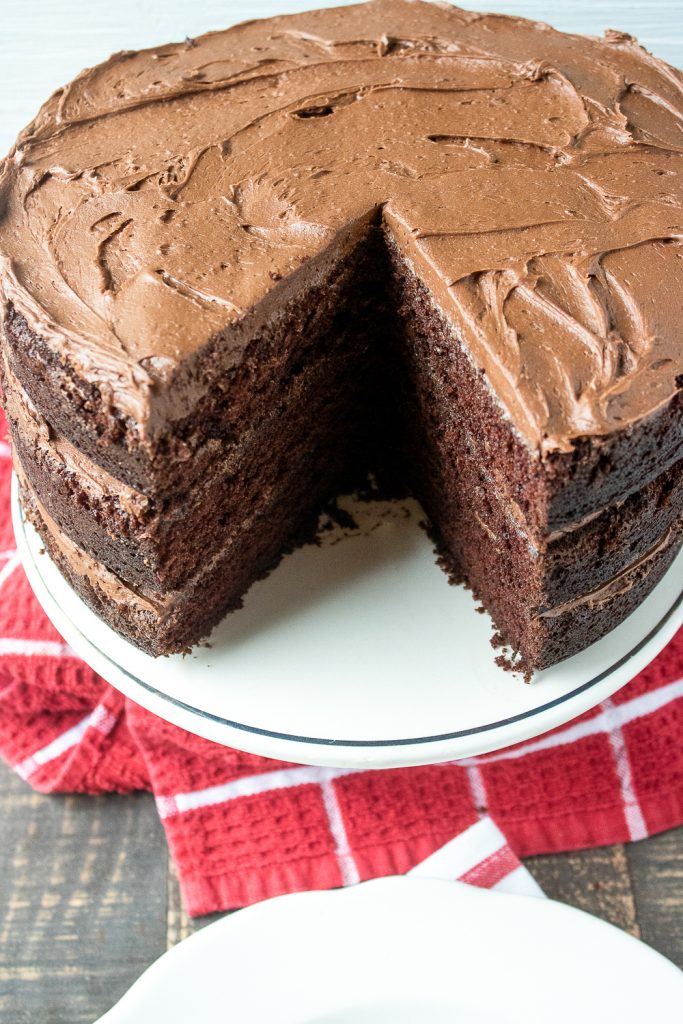 More Amazing Cake Recipes: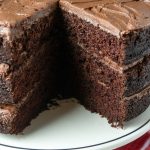 Decadent Chocolate Cake
Ingredients
1

cup

butter

unsalted, softened to room temperature

2½

cup

granulated sugar

4

large eggs

room temperature

2

teaspoon

real vanilla extract

3

cup

all-purpose flour

2

teaspoon

baking soda

1

teaspoon

baking powder

½

teaspoon

salt

1

cup

cocoa powder

unsweetened

2¼

cup

boiling water
Instructions
Set the oven to 350 degrees and use non-stick baking spray to grease three 8-inch round cake pans. Use parchment paper to line the bottom of the pan.

In a large mixing bowl, add the butter and sugars and combine. Put in the eggs and vanilla and combine again until fully incorporated.

Add the flour, baking soda, baking powder, and salt into another big mixing bowl and combine.

In a medium bowl, add the cocoa powder and hot water and combine until smooth.

Gradually combine the wet and dry ingredients. Alternated between the dry ingredients and wet mixture into the butter mixture until combined on low speed.

Portion out the batter evenly in the prepared cake pans and bake for 22-28 minutes or until a toothpick is placed in the middle and combines out clean.

Take out and cool for about 10 minutes before placing on a wire rack to cool thoroughly for 10-15 minutes. Make sure the cakes are completely cool before frosting.
Frosting The Cake
Use a cake leveler to cut off the domes of the cakes and place the level side down on a cake plate. Place ⅓ of buttercream on the opposite side of the cake and spread evenly.

Place the top side down of the second layer and frost with another ⅓ of the buttercream. Make sure to work the frosting from the center of the cake to the edges. Repeat the final layer following the same steps with the rest of the frosting. Use the edges of the cake to grab some frosting and add a thin layer on the sides of the cake. Slice into 2-inch pieces and serve right away. Enjoy!