This decadent Chocolate Mug Cake is a warm, moist, and chocolatey dessert that is keto-friendly and simple to make.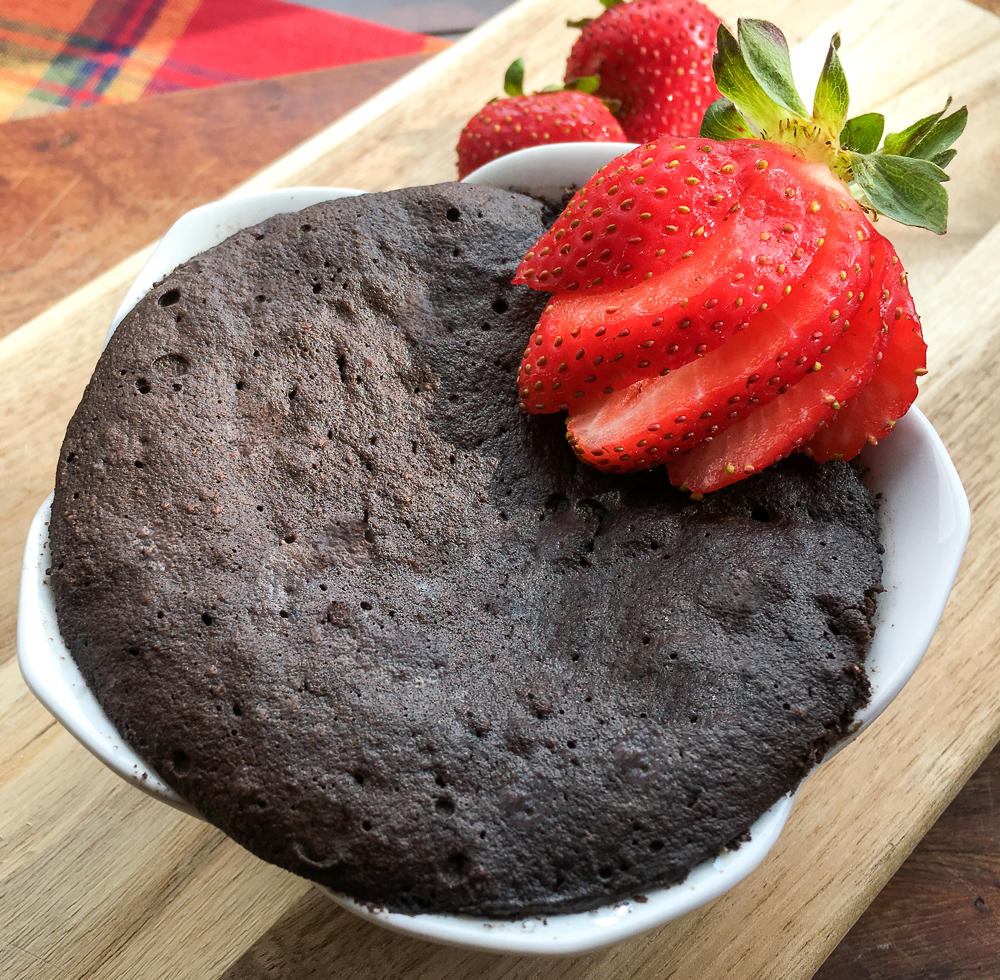 Low Carb Chocolate Mug Cake Recipe
This keto mug cake is so delicious and easy to make! This amazing mug cake can be ready in minutes! You can enjoy this quick recipe any time you need a sweet and tasty treat.
What Is A Mug Cake?
A mug cake is as exactly as it sounds! It is a cake that is made in a mug. You combine all your ingredients together and heat it in the microwave to cook it! This is one of my favorite recipes to make if I want a quick and simple dessert.
Tips & Tricks For Making A Low Carb Mug Cake:
I love this chocolate mug cake because there is really nothing to it! Just mix your ingredients and it can be ready in under a minute. But, there are always ways to help make this recipe the best, so here are a few tricks to getting the best mug cake.
Here are a few tips for making the best mug cake in no time!
First, you don't want to skimp out on the baking powder because this is used as a leavening agent to make the cake rise. If you would, skip this step or even do not put enough in, it will cause the cake to become spongey and flat. We want our cake to be deliciously fluffy and springy!
You don't want that mug to have any chips or cracks in it when you use it, and you want the mug to be large enough. I like to use a rather large mug for this recipe and I only fill it about ⅔ of the way full because this will keep it from overflowing and becoming messy.
To cook this recipe to perfection, you want to start with the lowest cooking time and add more time as you go, as needed. You want the cake to be firm in the center, but make sure not to go over a minute. You will want to keep in mind that cooking times can vary depending on the amount you have, the size of the mug, and even your microwave. So, just make sure to watch while it cooks.
I like to use a low-carb sweetener like Lakanto Monkfruit or So Nourished Blend. Just make sure you know how to cook with it and that it tastes good with this recipe.
Time Tips For Microwaving Your Keto Mug Cake:
So, as I said before, the microwave you have may have a different cooking time compared to mine. However, I have some time tips to make sure you have a warm mug cake in no time. One of the best ways to start baking a recipe like this is to check the power of your microwave. You want your microwave to have the power of 900W. If your microwave is any higher than that, you will want to reduce the cooking time and heat in 10-second increments until fully cooked. If the power is less than 900W, you will need to increase the cooking time to about 90 seconds and add more time if need be. Once the cake is set and the top is set, you can stop cooking.
Have you joined the Mama Loves to Eat Facebook Group yet? Get loads of delicious recipes. Share you favorites and find new ones.
Can I Bake This In The Oven?
Maybe you want to make this recipe in the oven or you don't own a microwave. It is a quick recipe when made in the microwave, but it can be quick in the oven as well. All you need to do is follow the instructions down below and pour it into an oven-safe mug or ramekin. You will need to bake the recipe for 8-10 minutes at 350 degrees or until the top is firm.
Can I Double This Chocolate Mug Cake Recipe?
Yes! One of the simplest ways to double your recipe is by splitting the batter in two. You can do this by using two mugs and portioning two even amounts of batter into the mugs and there you go!
What Are Sugar Substitutes To Use For Chocolate Mug Cake?
Here is a list of some excellent sweeteners you can use:
Stevia
Erythritol
Monk Fruit Sweetener
Xylitol
Nativa - This is a blend of Stevia and Erythritol
Swerve
Yacon Syrup
What Can I Use Instead Of Heavy Cream?
A great substitute for heavy cream whether you don't have it or need a dairy-free option is coconut milk. Coconut milk has a thinner consistency, so to make it thicker, you can let it simmer on low heat on the stove.
What Can I Substitute For Dairy In This Chocolate Mug Cake?
If you're looking to make substitutions to make this keto mug cake into a dairy-free dessert, you can use these few options. Instead of butter, you can use vegan or dairy-free butter. Another option is to use coconut oil, but make sure that you keep in mind that using this could change the texture of the mug cake slightly.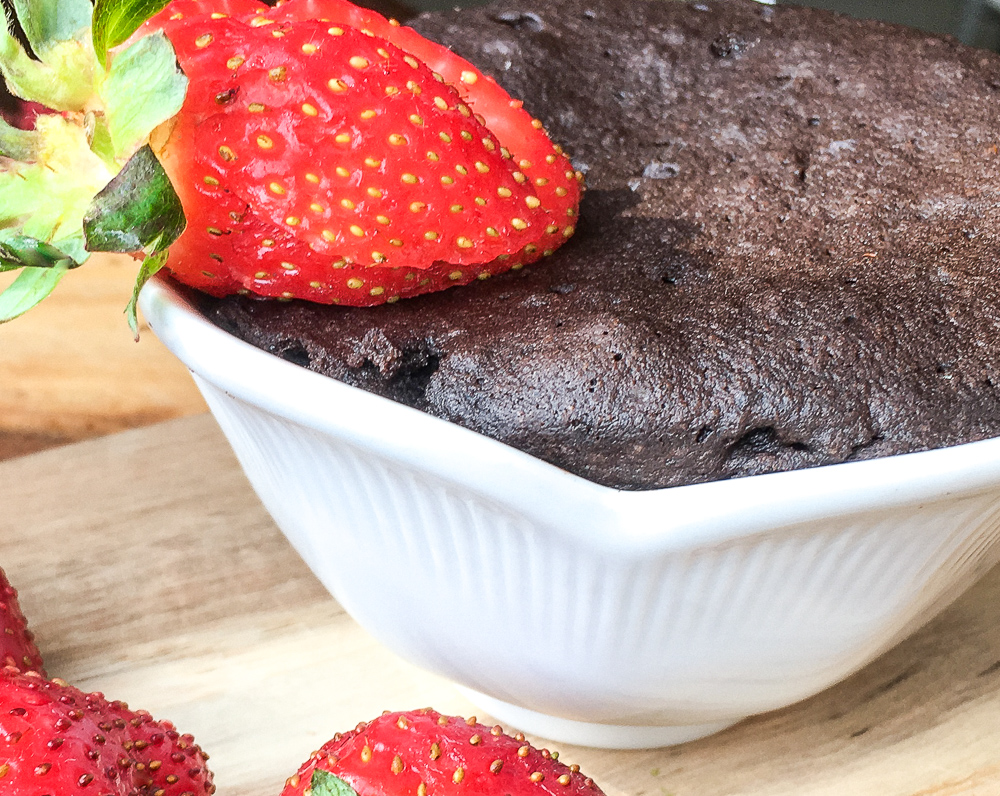 Can I Use Almond Flour?
For this recipe, you will not be able to use almond flour. Coconut and almond flour is not a one-to-one substitution, so I don't recommend using it.
Working With Almond And Coconut Flour:
These are just a couple of tips for working with almond and coconut flour:
Make sure both of these flours are at room temperature before using, so that the liquid ingredients will absorb more into it.
Make sure to not pack the measuring cups or spoons. If you do this, you will end up using too much and your cake will become too dry and crumbly.
What Can I Add To This Low Carb Mug Cake?
To make this chocolate mug cake even more delicious, I love to add things to it. I like to add a tablespoon of my favorite low-carb chocolate chips and top it off with some sugar-free whipped cream!
What To Serve With Keto Chocolate Mug Cake?
This keto mug cake goes so well with a few different things. I like to either top it with some whipped cream or top with some fresh sliced berries or both! You can also enjoy it with some keto-friendly ice cream!!
How Many Net Carbs Are In This Keto Dessert?
This delicious chocolate mug cake comes out to just 6g of net carbs. However, if you do decide to enjoy it with some whipped cream or fresh fruit, this will change the carb amount.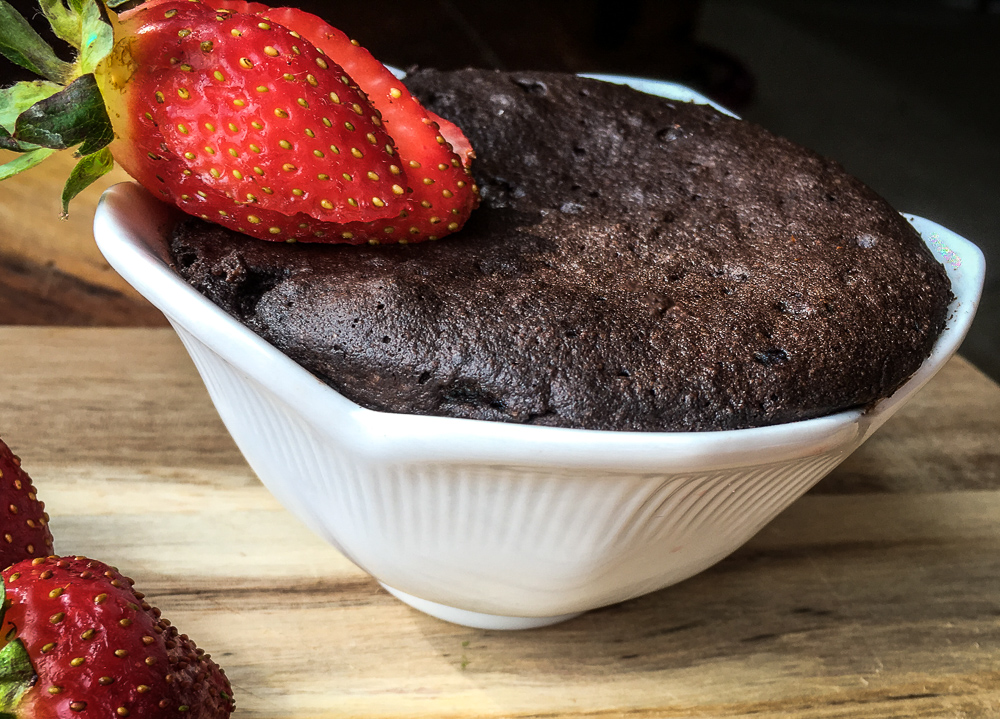 Key Ingredients You'll Need
Get the full list of ingredients, with measurements, and step-by-step directions at the bottom of the post in the printable recipe card.
Coconut Flour
Baking Powder
Unsweetened Cocoa Powder
Butter
Low Carb Sweetener
Egg
Heavy Cream
Vanilla
Salt
Fresh Strawberries
How To Make Chocolate Mug Cake
This is the easiest and most simple way to get the best chocolate cake you will ever have. Follow these quick steps to get you the perfect chocolate cake in no time.
Step 1. In a small mixing bowl, add the first three ingredients and combine. Melt the butter.
Step 2. Put in the sweetener and combine until it dissolves. Add in the egg, heavy cream, vanilla, and salt and combine.
Step 3. Combine the wet and dry ingredients. Pout the batter into a mug and cook for 1 minute in the microwave.
Step 4. Serve immediately and enjoy with fresh sliced strawberries.
More Delicious Dessert Recipes: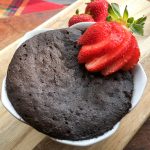 Chocolate Mug Cake
This decadent Chocolate Mug Cake is a warm, moist, and chocolatey dessert that is keto-friendly and simple to make.
Keyword:
Chocolate Mug Cake
Ingredients
1½

tablespoon

coconut flour

½

teaspoon

baking powder

1¾

tablespoon

cocoa powder

unsweetened

2

tablespoon

butter

unsalted

1½

tablespoon

low carb sweetener

of choice

1

egg

2

tablespoon

heavy cream

¼

teaspoon

pure vanilla extract

¼

teaspoon

salt
Optional:
strawberries

Fresh sliced to serve
Instructions
In a small mixing bowl, add in the flour, baking powder, and cocoa powder and whisk to combine.

Place the butter into a heat-safe bowl and melt in the microwave for a few seconds to melt.

Put in the low-carb sweetener and combine into the mixture until dissolves.

Put in the egg, heavy cream, vanilla, and salt into the prepared mixture and combine using a whisk until fully incorporated.

Gradually add the prepared wet ingredients into the dry mixture and stir until fully combined.

Using a mug or small heat-safe container, pour in the prepared cake batter.

Place the mug into the microwave to cooker for 1 minutes on high.

Take the mug out of the microwave and serve right away with fresh sliced fruit like strawberries, if desired, and Enjoy!