This Classic Yellow Cake recipe is so delicious with a soft and moist cake topped with a tasty chocolate buttercream that just adds to the amazing flavor and texture.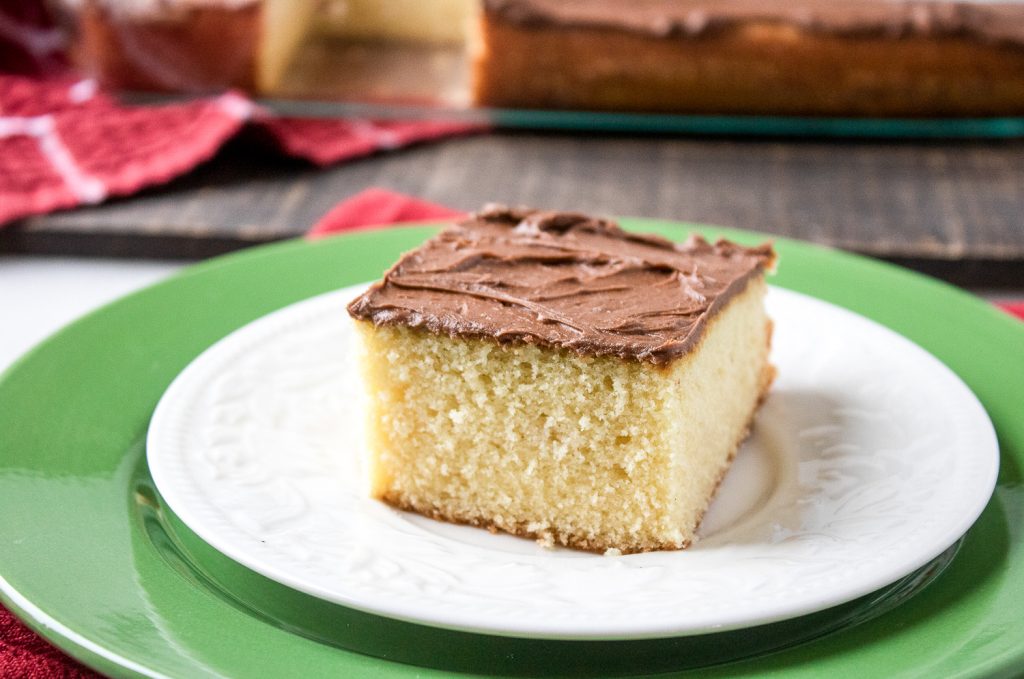 Yellow Sheet Cake With Chocolate Frosting
This yellow cake is so good and simple to make with only a few steps. This cake is perfect for any occasion where you need a quick and easy recipe that can feed a crowd of people. Classic Yellow Cake can be used as a base for any dessert you need a cake mix for. I love making this cake and could eat it with the smooth and creamy buttercream frosting all day every day.
The Many Benefits Of Sheet Cakes:
Sheet cakes are one of my go-to cake recipes because they are simple and can feed a crowd. The process of prepping and baking is rather quick and it cools pretty quickly as well. You don't need anything fancy t put it together and decorating is not required. You are free to use any size pan you want for a recipe like this and it can be turned into other desserts as well.
What Makes A Cake A Yellow Cake?
To get that ultra-rich yellow color, the recipe calls for egg yolks and whites. The yellow yolks blend throughout the batter to create a bright yellow color.
Expert Tips:
Tip 1: I like to use a pan with at least a 1-inch rim so there's more room for the batter and it doesn't overflow while baking.
Tip 2: Make sure to measure your ingredients exactly as needed and follow the directions as accurately as possible.
Baking Tips:
Tip 1: When baking your cake, place the oven rack in the center position in the oven to cook evenly.
Tip 2: Make sure not to overbake your recipe. The cake should become light brown on top and spring back when touched. If your cake starts to become brown too fast, create a foil tent to place on top.
How Does Homemade Cake Compare To A Boxed Mix?
Let's start by saying I am all for homemade, semi-homemade, and boxed cake mixes. But, here are a few reasons why I believe homemade is a bit better than boxed mix:
Homemade tends to be denser whereas boxed is almost unnaturally fluffy and airy because of chemicals in the mix. The homemade cake mix has a richer texture which I prefer.
The boxed mix will tend to rise a lot higher than homemade cake because of the number of leaveners and chemicals in the mix.
Homemade cake has a better flavor in my opinion because it's made with good quality ingredients like pure vanilla extract or high-quality cocoa powder. Boxed mixes normally use cheaper ingredients.
A bit of a flaw with homemade is that they don't stay as moist, so I tend to wait until I'm ready to eat them before cutting.
Box mixes can always come out the same whereas homemade can get messed up, but that's why I always find the recipe I love and stick with it. Like this one! It is a perfect beginner's recipe.
Homemade cake is way more natural in ingredients and less processed which is a HUGE reason why I like making my own recipes.
Decorating Classic Yellow Cake:
Here are some fun and tasty ways to decorate and enjoy this lovely yellow sheet cake.
I love using buttercream to frost my cake, but you can use any type that you want. You can use whipped cream frosting for a lighter and less sweet version as well.
Go wild with the fun and silly cake pans that you have and make beautifully shaped cakes with this cake mix. Use sheet pans, bread pans, bundt pans, cupcake pans, and more.
Sprinkles are a must for all cakes so don't hesitate with adding them. You can also use a bunch of other cake decorations to make it look pretty.
Use different colored frostings
Use different colored fruits to add a pop of color.
Put jam or preserves to add more flavor and color.
Have you joined the Mama Loves to Eat Facebook Group yet? Get loads of delicious recipes. Share you favorites and find new ones.
Can I Use A Different Frosting Other Than Chocolate Frosting?
YES! You can use a ton of different types of frosting for this classic yellow cake. Here are a few frostings I love to use as well as filling!!
Different flavors of Buttercream Frosting, including Chocolate Buttercream Frosting or cream cheese frosting.
Pie Filling is another great idea. I love making yellow cakes with a cherry filling or strawberry filling. You can make the yellow cake into the lemon cake by adding lemon juice to the batter, adding lemon zest, and filling it with Homemade Lemon Pie Filling Recipe.
Another good idea for filling your yellow cake is using fresh fruit like strawberries, bananas, raspberries, blueberries, etc.
Jams or Preserves are super delicious with yellow cake and add more flavor.
You can make this recipe have a chocolatey flavor by adding a layer of thick Chocolate Mousse
You can even try out custard to put as a filling. All types of flavors can be used like lemon, raspberry, berry, etc.
What Is The Size Of A Sheet Cake?
There are a few different sizes that a sheet pan can come in depending on the manufacturer, but here are the most common sizes:
Full Sheet = 12" x 18"
Half Sheet = 11" x 15"
Quarter Sheet = 9" x 13"- This is the size you will use in this Classic Yellow Cake Recipe. I chose to use a Nordic Ware® sheet cake pan because it has a metal cover. The metal cover can be used as a small sheet pan for cookies!
Other options you may see are 7" x 11", 12" x 16", and 13" x 18". The sheet pans can also range in height as well. (about 1 to 3-inches)
How Long Does Classic Yellow Sheet Cake Last?
Not going to like and say my family doesn't eat this whole cake in one sitting. But, if I for some reason have any leftovers, I like to place them into an airtight container and keep it at room temperature. It will last for about 24 hours, but I don't see it lasting that long in my house. If you want it to last longer, you can place it in the fridge to last for 3 to 4 days.
Can You Freeze Classic Yellow Sheet Cake?
If stored properly this cake mix can be placed in the freezer. If stored in an airtight container, it can last up to 3 months in the freezer.
Can You Make This Recipe Into Cupcakes?
Yes! I would totally recommend using this cake mix for cupcakes. You can prepare the batter and pour it into lined muffin tins or cupcake tins and bake.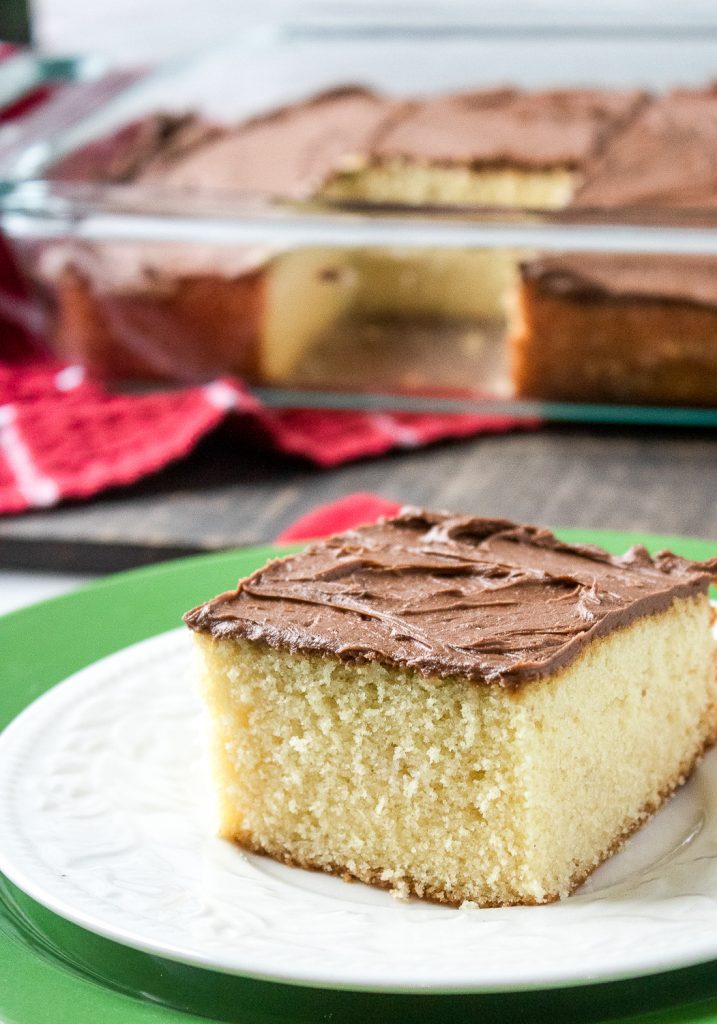 Key Ingredients You'll Need
Butter
Sugar
Eggs
Vanilla
Flour
Baking Powder
Baking Soda
Salt
Milk
How To Make Classic Yellow Cake
Step 1. Set the oven and grease your pan.
Step 2. Combine the butter and sugar before adding the remaining wet ingredients. Combine the dry and wet ingredients until fully incorporated. Slowly add the milk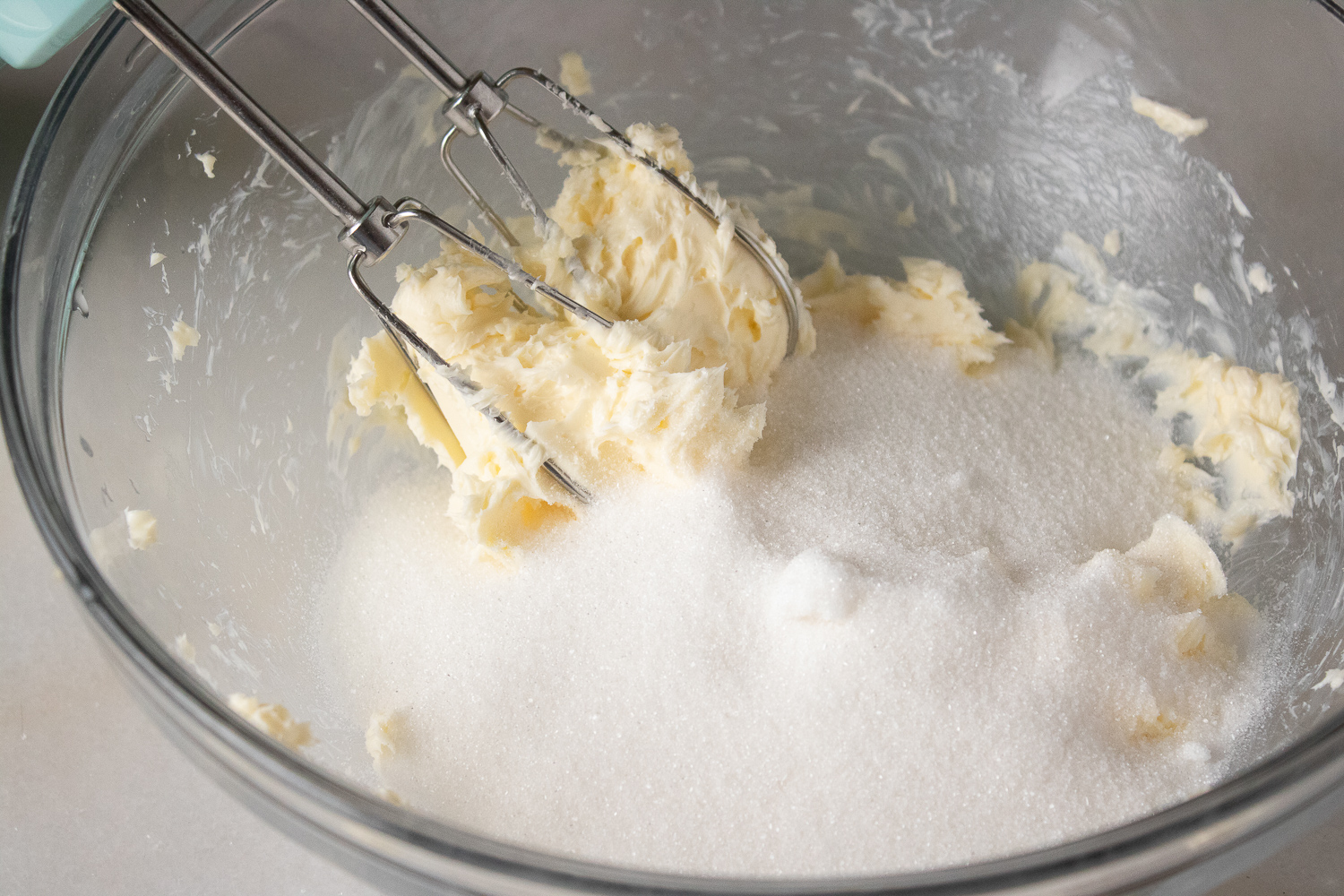 Step 3. Add the batter into the pan and bake in the oven.
Step 4. Take out of the oven and transfer to a rack to cool. Top with frosting, slice, and enjoy!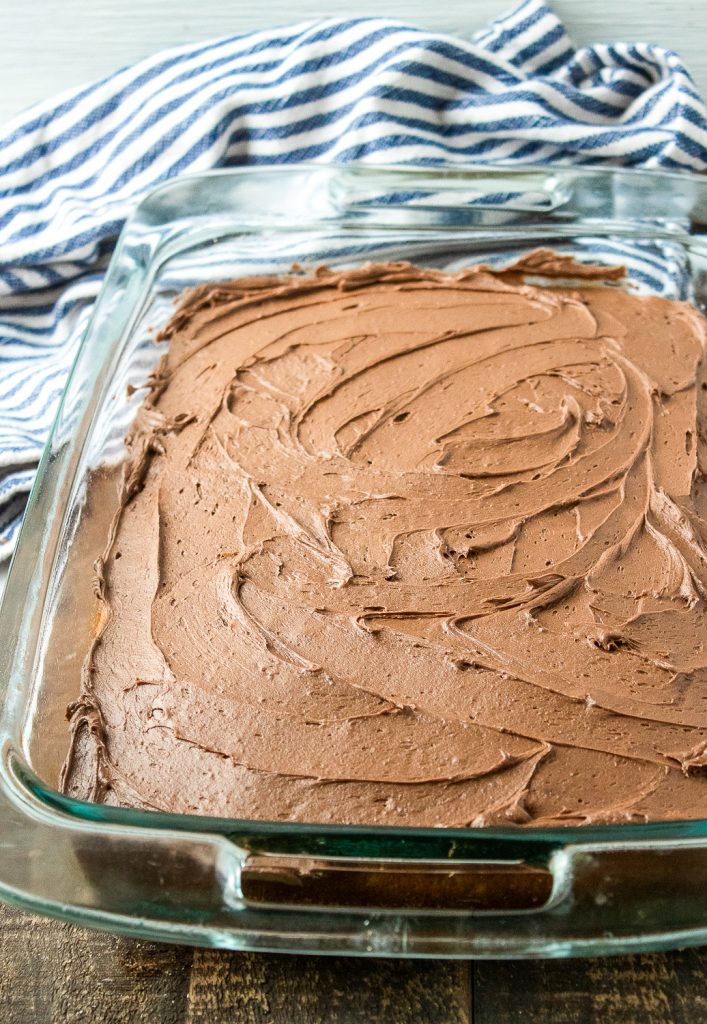 More Amazing Cake Recipes: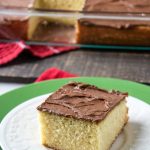 Classic Yellow Cake Recipe
This Classic Yellow Cake recipe is so delicious with a soft and moist cake topped with a tasty chocolate buttercream that just adds to the amazing flavor and texture.
Keyword:
Classic Yellow Cake
Ingredients
1½

cup

butter

unsalted, room temperature

1¼

cup

granulated sugar

2

large

eggs

room temperature

2

teaspoon

real vanilla extract

2

cup

all-purpose flour

1

teaspoon

baking powder

½

teaspoon

baking soda

½

teaspoon

salt

¾

cup

whole milk
Instructions
Set the oven to 350 degrees and use non-stick cooking spray such as Pan to grease a 9x13-inch sheet pan and set aside.

In a large mixing bowl, add in the butter and sugar and combine until fully incorporated.

Put in the eggs and vanilla and combine again.

Gradually combine the wet and dry ingredients on low until the ingredients are fully combined.

Add in the milk slowly.

Add the prepared batter into the prepped sheet pan use use a spatula to spread evenly. Bake for 30 minutes in the preheated oven or until a toothpick comes out clean of batter.

Take out and transfer to a wire rack to cool thoroughly. Top with chocolate frosting or whatever you prefer and slice right away. Enjoy!