This Classic White Cake Mix is soft, delectable, and fluffy and fits perfectly with all sorts of desserts. It can be topped with a smooth and creamy buttercream to make a delicious cake in minutes.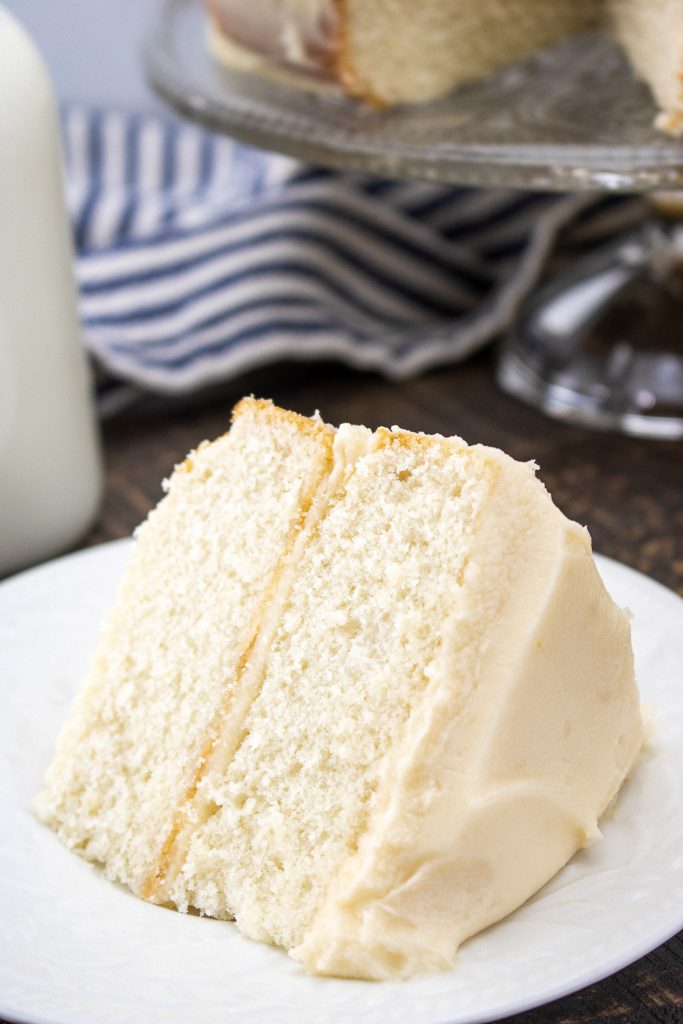 Why This Is My Best White Cake Mix Recipe
This white cake mix is my best recipe because it is the purest of white cakes and tastes incredible. This recipe can be paired with so many different ideas of frosting and filling. The texture comes out light and fluffy and melts in your mouth when paired with a delicious buttercream frosting.
What is Classic White Cake?
Classic White Cake is a simple and easy-to-make cake mix that uses ingredients like clear vanilla to create a blank canvas cake or white cake. This type of cake is perfect to use as a base for a cake recipe you have or enjoy with any kind of frosting or filling.
What Is The Difference Between White Cake Recipe And Yellow Cake Recipe?
There are a lot of people who confuse white cake for yellow cake or even vanilla cake. Even though these cakes are rather similar, they are also completely different. The biggest difference is in how the eggs are used. A white cake uses egg whites that are sometimes whipped and added to the batter or even right into the butter/sugar mixture. A yellow cake is made with yolks to add a rich and vibrant yellow color with tons of flavor. Another difference between white cake and yellow cake is that white cake is used in different recipes as a base whereas yellow cake is normally paired with chocolate buttercream or ganache and is not normally used as a base.
What kind of Filling Can I Use for Layered White Cake?
I love using buttercream frosting for white cake, but there are many different fillings that you can use. These are just a few of my other favorite filling ideas:
Different flavors of Buttercream Frosting, including Chocolate Buttercream Frosting or cream cheese frosting.
Pie Filling is another great idea. I love making white cakes with a cherry filling or strawberry filling. You can make the white cake into the lemon cake by adding lemon juice to the batter, adding lemon zest, and filling it with Homemade Lemon Pie Filling Recipe.
Another good idea for filling your white cake is using fresh fruit like strawberries, bananas, raspberries, blueberries, etc.
Jams or Preserves are super delicious with white cake mix and add more flavor.
You can make this recipe have a chocolatey flavor by adding a layer of thick Chocolate Mousse
You can even try out custard to put as a filling. All types of flavors can be used like lemon, raspberry, berry, etc.
Have you joined the Mama Loves to Eat Facebook Group yet? Get loads of delicious recipes. Share you favorites and find new ones.
What Kind Of Extract Should I Use For My White Cake Mix?
To get a pure white color for this cake recipe, I like to use clear vanilla. You can use regular vanilla, but it won't come out completely white. Some recipes use almond extract, but I'm not a huge fan of the flavor, if you like it, feel free to substitute some of the vanilla extracts with it. Almond extract is pretty potent so I don't recommend using more than 1 ½-2 teaspoons of it for this recipe.
Can You Substitute A Different Extract Flavor Besides Vanilla For White Cake Mix?
I love a simple white cake flavor because it can make me very creative with the frosting I use. However, there are a few extract substitutions that taste great with this recipe. You can use these options below:
Almond Extract
Citrus Zest
Butter Extract
Can I Replace White Sugar With Brown Sugar In Cake?
Yes, you can replace the white sugar with brown sugar. However, it will change the appearance of the cake.
Can I Use Buttermilk Instead Of Regular Milk?
I wouldn't recommend substituting buttermilk with regular milk because buttermilk is naturally acidic and can mess with the recipe.
Can I Use Almond Milk For This White Cake Mix?
Yes! You can use almond milk instead of regular milk for this recipe. You may have to change the baking time though as almond milk is more watery and tends to cook faster than using regular milk.
Could I Make This Recipe Into Cupcakes?
Yes! I would totally recommend using this cake mix for cupcakes. You can prepare the batter and pour it into lined muffin tins or cupcake tins and bake.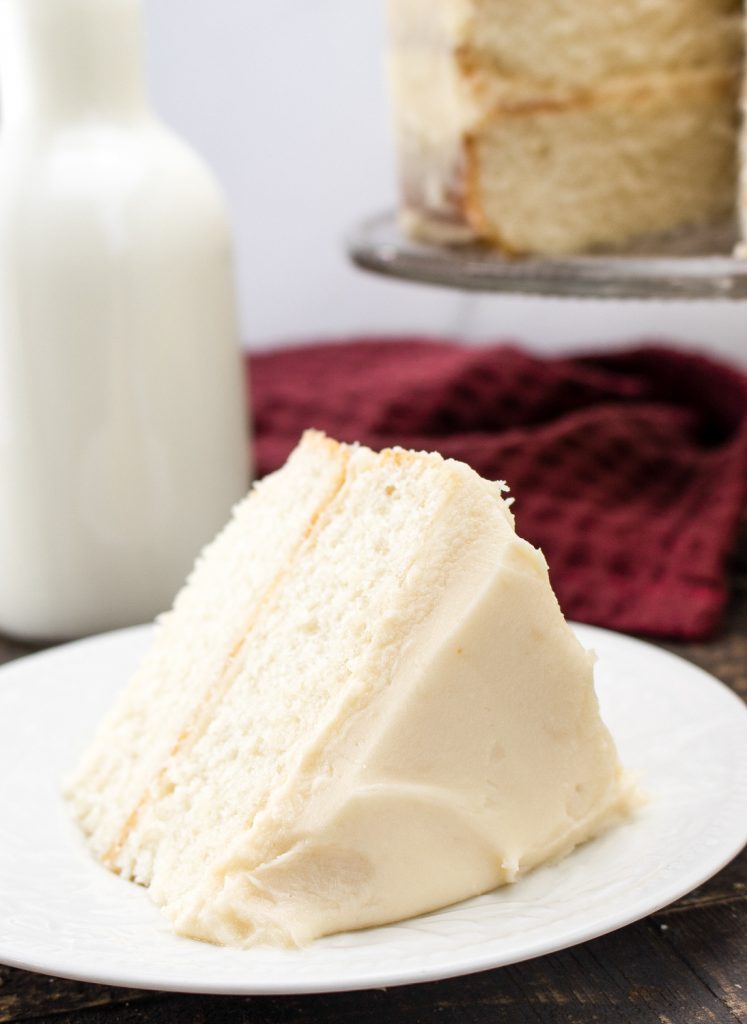 White Cake Decoration
Although this recipe can't have too many substitutions, you can have fun with all types of frostings as well as using a variety of cool cake pans. Here are some great ways to decorate your cake:
I love using buttercream to frost my cake, but you can use any type that you want. You can use whipped cream frosting for a lighter and less sweet version as well.
Go wild with the fun and silly cake pans that you have and make beautifully shaped cakes with this cake mix. Use sheet pans, bread pans, bundt pans, cupcake pans, and more.
Sprinkles are a must for all cakes so don't hesitate with adding them. You can also use a bunch of other cake decorations to make it look pretty.
How Do You Decorate A Layered Cake?
Going along with the previous question, it is quite simple to decorate a layered cake. Look at the ideas above for the top part of your cake and check out some ideas below for what to add to your layers.
Use different colored frostings
Use different colored fruits to add a pop of color.
Put jam or preserves to add more flavor and color.
How Can I Smooth Frosting On A Cake?
Here are a few steps you can follow to get the smoothest frosting on your cake:
If you are layering, make sure to level your cakes
Chill the cake in the freezer because warm or room temperature cake can start to fall apart.
Start with a thin layer of frosting, then place it in the freezer to chill before adding the rest of your frosting.
How To Store White Cake Mix?
Place the cake mix into a large air-tight container or Ziploc bag. You can keep it stored in the fridge until you are ready to use it.
Can I Freeze White Cake Mix?
If stored properly this cake mix can be placed in the freezer. If stored in an airtight container, it can last up to 3 months in the freezer.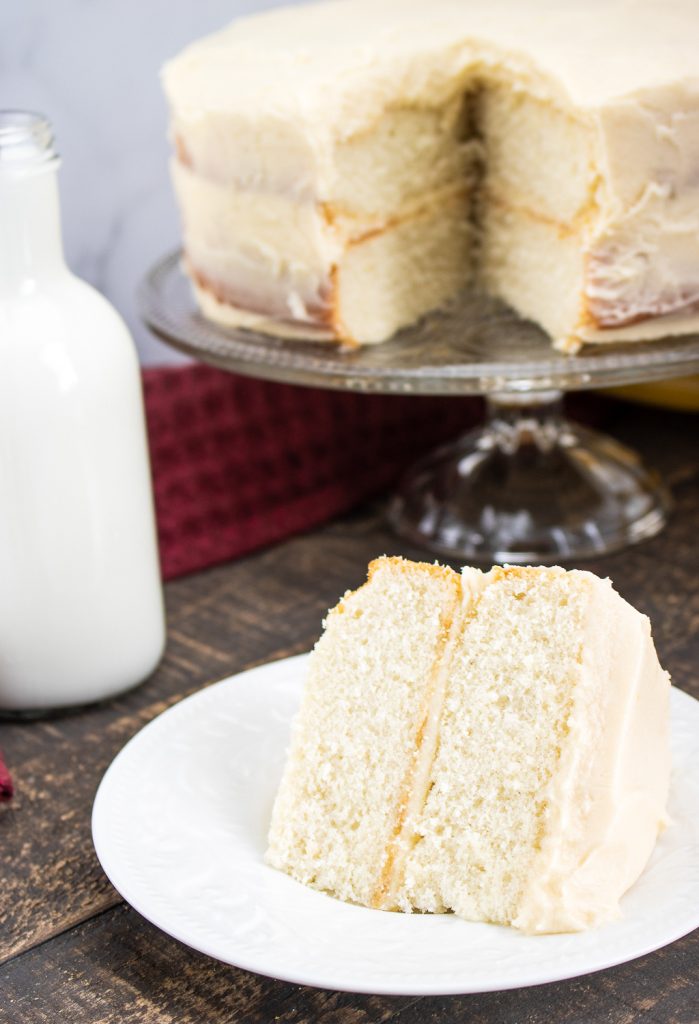 Key Ingredients You'll Need
Get the full list of ingredients, with measurements, and step-by-step directions at the bottom of the post in the printable recipe card.
Cooking Spray
Butter
Shortening
Sugar
Eggs
Vanilla
Flour
Baking Powder
Salt
Milk
How To Make White Cake Mix
This is the easiest and most simple way to get the best cake you will ever have. Follow these quick steps to get you the perfect cake in minutes.
Step 1. Set the oven to 350 degrees and position the rack in the middle. Grease the cake pans and line them with parchment paper.
Step 2. Add the butter, shortening, and sugar into a bowl and combine. Add in the egg whites and vanilla and combine. Combine the dry ingredients before adding them to the butter mixture slowly. Put in the milk and combine.
Step 3. Add the batter to the pans and bake for 30-35 minutes. Take out the cake and allow it to cool.
Frosting The Cake
Step 1. Cut off the rounded domes with a cake leveler. Apply the first layer of frosting before adding the second layer. Add the rest of the frosting to coat the top and sides of the cake.
Step 2. Decorate and cut into 2-inch pieces. Serve and Enjoy!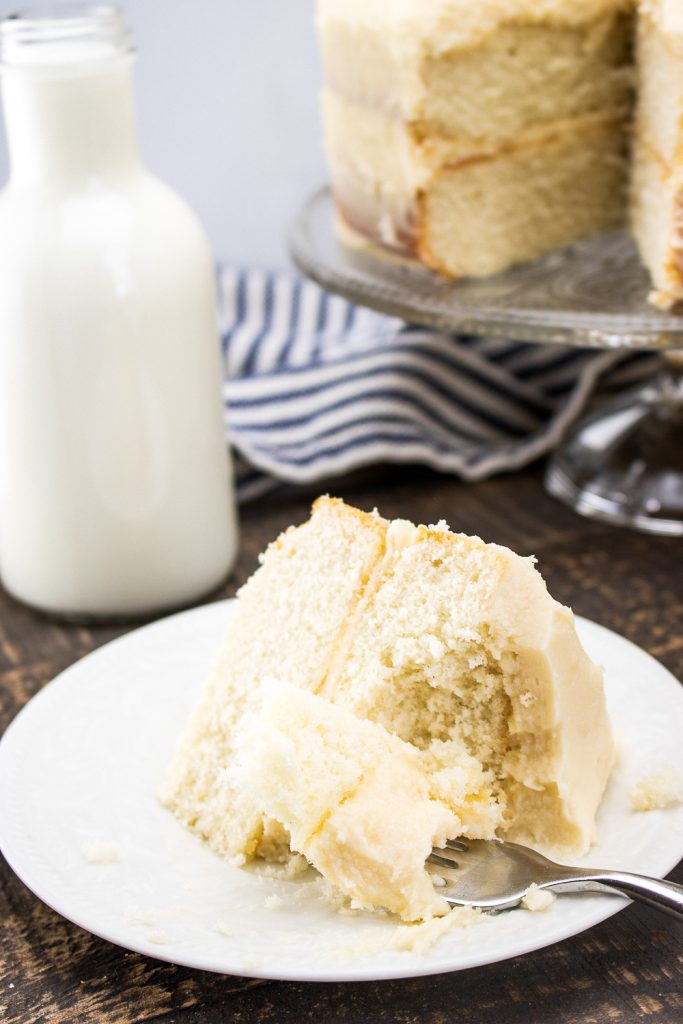 More Amazing Cake Recipes:
Classic White Cake Mix
This Classic White Cake Mix is soft, delectable, and fluffy and fits perfectly with all sorts of desserts. It can be topped with a smooth and creamy buttercream to make a delicious cake in minutes.
Ingredients
cooking spray

Non-stick

½

cup

butter

unsalted, room temperature

½

cup

vegetable shortening

2

cup

granulated sugar

8

large

egg whites

room temperature

1

Tbps

real vanilla extract

3

cup

all-purpose flour

1

tablespoon

baking powder

¼

teaspoon

salt

1

cup

whole milk
Instructions
Set the oven to 350 degrees and set the top oven rack in the middle position in the oven. Use a non-stick cooking spray to grease two 8-inch round cake pans or the pans you prefer. Cut out parchment paper to line the pan and fit the bottom, then set it aside.

In a large mixing bowl, add the butter, shortening, and sugar and combine. Put in the egg whites and vanilla and combine again until smooth.

Add the flour, baking powder, and salt into another bowl and combine. Gradually add the flour mixture into the butter mixture and combine until fully incorporated. Slowly add in the milk and combine until smooth.

Separate the batter into even portions in the prepped baking pans. Put into the preheated oven for 30-35 minutes, or until you place a toothpick in the center and it comes out clean. Take it out of the oven and allow it to cool thoroughly.
Frosting The Cake
Use a cake leveler to cut off the domes of the cakes and place the level side down on a cake plate. Place a thin layer of buttercream on the opposite side of the cake.

Place the top side down of the second layer and frost with the rest of the buttercream. Make sure to work the frosting from the center of the cake to the edges. Use the edges of the cake to grab some frosting and add a thin layer on the sides of the cake. Slice into 2-inch pieces and serve right away. Enjoy!