This incredible Slow Cooker Lava Cake Recipe is a soft and rich chocolate cake with chunks of melted chocolate in every bite. This recipe is every chocolate lover's dream!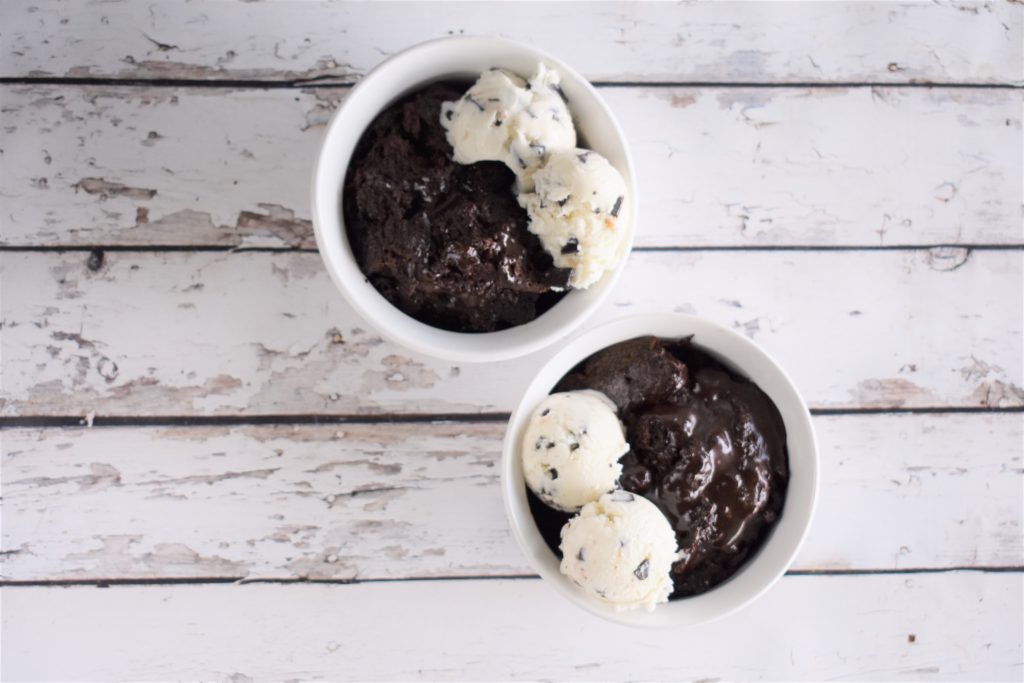 Gooey Chocolate Cake
This Slow Cooker Chocolate Cake is so simple to make and super delicious. You only need a small list of ingredients to get that perfect melt in your mouth texture. This recipe is a great after-dinner recipe to serve with ice cream or can be made for any other occasion and it is sure to be a hit!
What Is A Gooey Chocolate Cake?
Gooey chocolate cake is a simple recipe that is made with a store-bought or homemade chocolate cake. There are chunks of chocolate in the cake that when heated become melted and gooey.
Is Chocolate Lava Cake Safe To Eat?
Yes! It is more than safe to eat! The cake isn't cooked all the way through, but it's cooked just long enough to cook the eggs in the recipe.
Tips & Tricks For The Best Slow Cooker Lava Cake
Here are some of my favorite tips and tricks for making the best gooey chocolate cake:
It is very important to grease the slow cooker to avoid the recipe from getting too sticky. Lining the crockpot is good too!
Chocolate cake isn't like the rest because you won't be able to fully remove it from the slow cooker. Take individual portions and scoop them onto plates.
Crockpots cook at different times depending on the one you have. The basic guidelines of cooking may need to be tweaked to your needs and tested beforehand.
Variations For Slow Cooker Lava Cake:
I love using different variations to enhance the flavor and texture of desserts. Here are a few different variations you can use for this slow cooker chocolate cake:
Use dark chocolate chips or toffee bits to replace the chocolate chunks.
Add peanut butter and use a knife to swirl it into the cake mix before cooking.
Top the cake batter with some chocolate chips to add more of a gooey texture.
Have you joined the Mama Loves to Eat Facebook Group yet? Get loads of delicious recipes. Share you favorites and find new ones.
Add-Ins For Slow Cooker Lava Cake:
Here is a list of choices for add-ins to make this lava cake even better!
Chocolate chips: You can use peanut butter, white chocolate, dark chocolate, or caramel chips.
Bits: You can use toffee bits, brownie bits, or cookie bits.
Candies: Add in some M&M's, Reeses Cups, or Chocolate Clusters for a crunchy and gooey texture!
What Are Some Good Toppings For Slow Cooker Chocolate Cake?
You can pretty much turn this recipe into a sundae with ice cream and top with all sorts of things like:
Whipped Cream
Chocolate Syrup
Sprinkles
Caramel
Fruits
Can You Use Any Cake Mix For Gooey Chocolate Cake?
Yes! you can use cake mix for gooey chocolate cake. Choose your preferred chocolate cake mix and follow the instructions on the box to mix. The remaining steps should stay the same.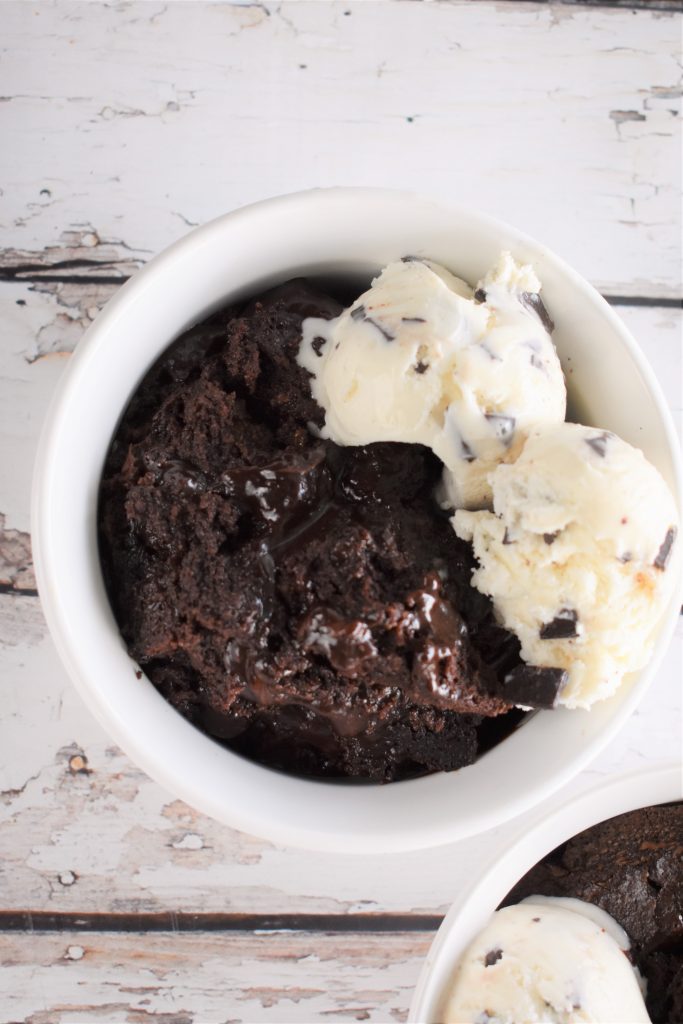 How To Make Eggless Gooey Chocolate Cake?
To make an eggless chocolate cake, you will be needing a few extra ingredients in your cake batter. You will need to add an additional ½ teaspoon of xantham gum, 1 teaspoon of Apple Cider Vinegar, 2 heaping teaspoon of Greek Yogurt, 1 tablespoon of Olive Oil, and ¼ cup of hot water. Combine all these extra ingredients into the batter and follow the remaining steps.
Can You Double This Slow Cooker Chocolate Cake?
Yes! If you need to make more or this recipe for a larger group of people, you can double it. You may need a larger crockpot depending on how much you need.
What Is The Best Way To Serve Slow Cooker Lava Cake?
I love serving this recipe right out of the slow cooker! This makes sure that it's nice and warm. To make sure it stays warm, you need to turn off the crockpot to keep it from burning. I like to top this recipe with whipped cream and a scoop of banana ice cream or you can use any type you like. I like to garnish this recipe with sliced fruits like strawberries.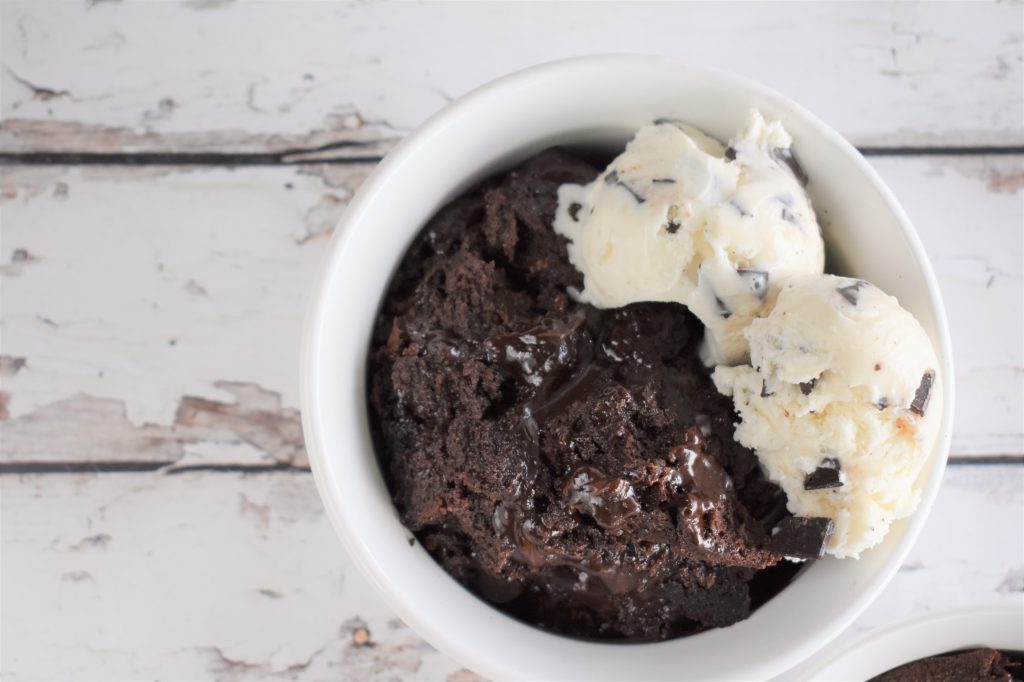 What Is The Best Crock Pot To Use For Slow Cooker Chocolate Cake?
I like to use this Hamilton Beach 6-Quart Crockpot Set. Not only is this just a quality slow cooker, but it also has a temperature probe to make sure your recipes are cooking to the right internal temperature
Does Slow Cooker Chocolate Cake Need To Be Refrigerated?
No! Gooey chocolate cake doesn't need to be put into the fridge. But, it won't last as long at room temperature.
How To Store Slow Cooker Lava Cake?
Although, this gooey chocolate cake can be kept at room temperature, storing it in the fridge can make it last longer. You will need to place the chocolate cake into an air-tight container.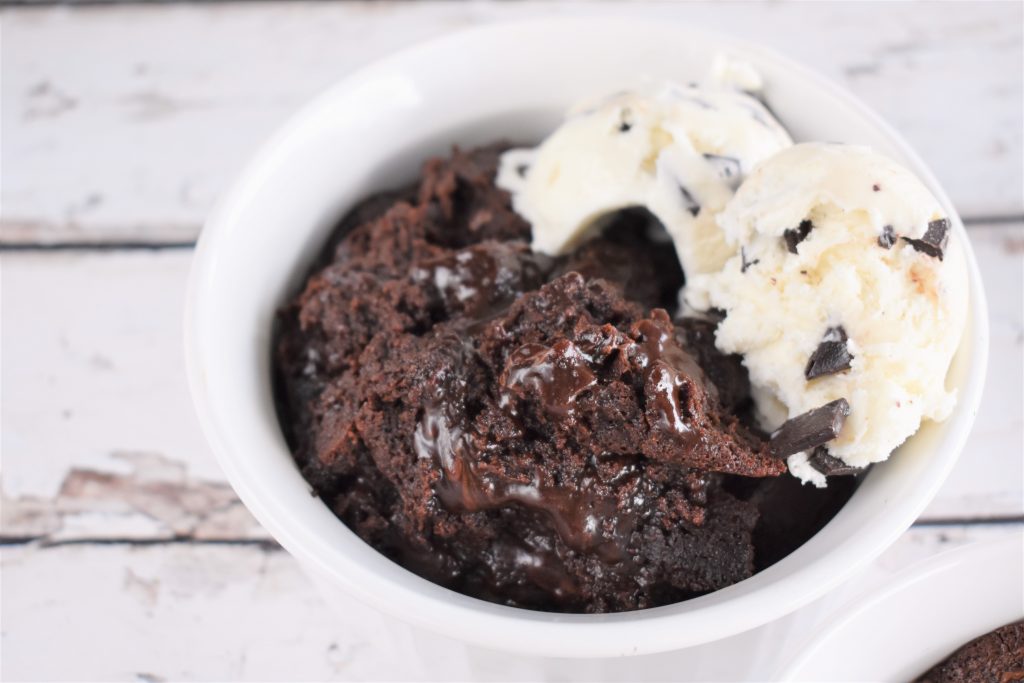 How Long Is Gooey Chocolate Cake Good For?
How long this recipe lasts depends on where and how it is stored. It can last about 2-3 days in the fridge. If left at room temperature, it will only last about 2 hours.
Can You Eat Slow Cooker Chocolate Cake Cold?
Lava cake tastes the best when it is served warm! The chocolate chunks are meant to melt and make the texture of the cake super gooey and delicious.
Can You Reheat Gooey Lava Cake?
Yes! You can have this stored recipe back to its warm and gooey self in no time. Place the leftovers into the microwave and heat for about 30 seconds or more if needed.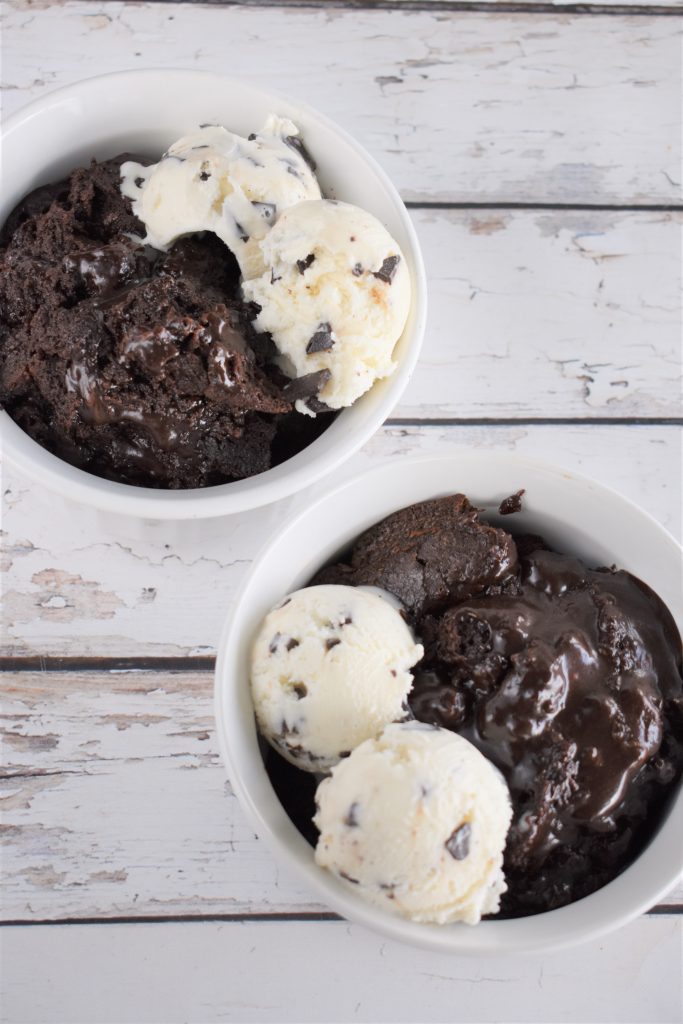 Key Ingredients You'll Need
Get the full list of ingredients, with measurements, and step-by-step directions at the bottom of the post in the printable recipe card.
Butter
Sugar
Unsweetened Cocoa Powder
Espresso Powder
All-Purpose Flour
Eggs
Vanilla Extract
Salt
Semi-Sweet Chocolate Chunks
Ice Cream
How To Make Chocolate Cake In A Slow Cooker
This is the easiest and most simple way to get the best chocolate cake you will ever have. Follow these quick steps to get you the perfect chocolate cake in no time.
Step 1. Line and grease a 6-qt slow cooker. Add all the ingredients into a medium bowl and combine.
Step 2. Add in the chocolate chunks and use a spatula to combine. Cover and cooker for 3 hours on low.
Step 3. Put into bowls and serve with ice cream.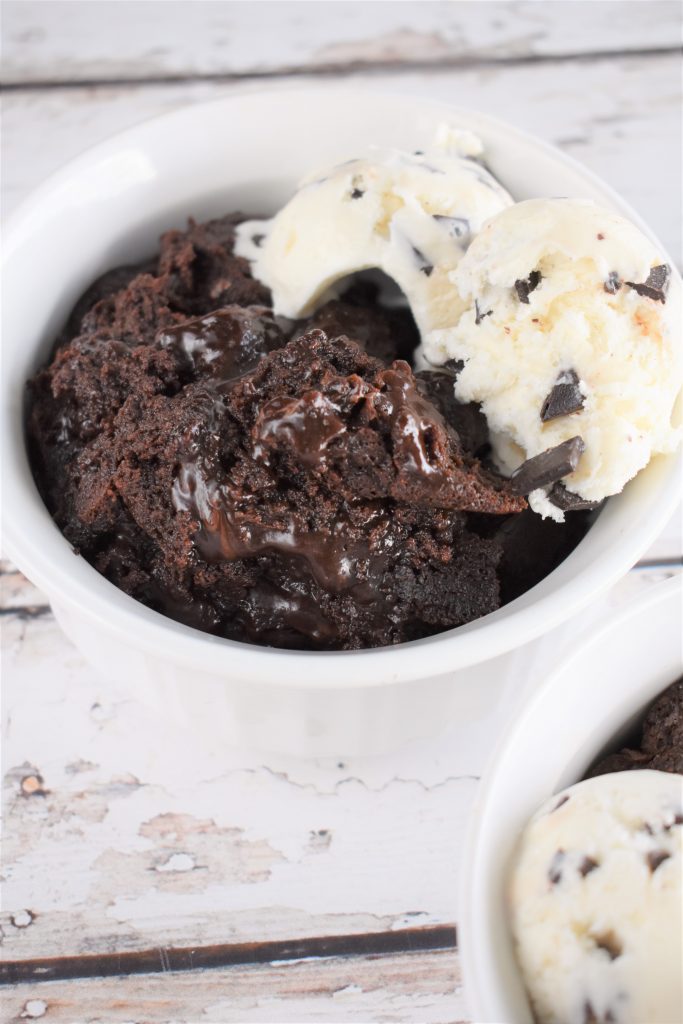 More Amazing Dessert Recipes: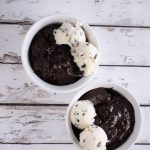 Slow Cooker Lava Cake Recipe
Keyword:
Slow Cooker Chocolate Cake
Ingredients
1 ½

sticks

butter

unsalted, melted

1 ½

cups

sugar

⅔

cup

cocoa powder

unsweetened

1 ½

teaspoon

espresso powder

⅓

cup

all-purpose flour

3

large

eggs

lightly beaten

1

teaspoon

vanilla extract

Salt

½

cup

chocolate chunks

semi-sweet

Ice cream

for serving
Instructions
Use foil or a disposable liner to line a 6-qt slow cooker. Then, use cooking spray or butter to grease the slow cooker.

Add the butter, sugar, cocoa powder, flour, eggs, vanilla, and salt into a medium bowl and combine using a whisk.

Add in the chocolate chunks and use a spatula to fold in and combine. While combining, use the spatula to scrape the bowl as needed.

Seal with a lid and set the slow cooker to low and cook for 3 hours.

In separate serving bowls, put in the chocolate cake and serve with ice cream.