Pineapple Avocado Smoothie is an incredible smoothie worth making in the morning. This smoothie is a healthy mash-up of ingredients like pineapple, coconut, avocado, milk, and honey to create a thick and delicious smoothie in minutes.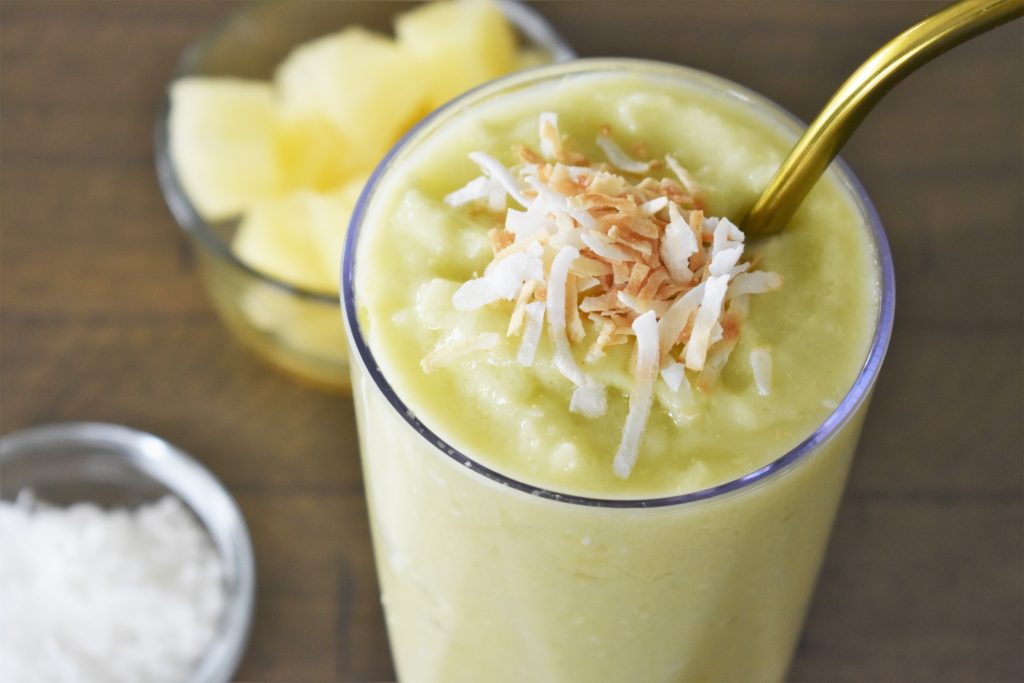 Pineapple Coconut Smoothie with Avocado
Smoothies are packed with so many benefits that will give you so much energy in the morning. You get your vitamins, protein, and antioxidants that will leave you feeling amazing all day. You can drink this with your breakfast or can use this as a meal replacement. This smoothie is thick and creamy with a sweet and tangy flavor. A healthy smoothie with a fantastic flavor? You can't get any better than that!
Is Avocado Good In Smoothies?
Avocados are one of those power fruits that have a TON of benefits and are great for smoothies. They are rich in nutrients and an incredible fruit for your heart, eyes, and digestion. So, yes, avocado is amazing!!
Can You Taste The Avocado?
You may find yourself thinking that an avocado smoothie is strange, but I swear it's so good! The flavors of each ingredient blend so well together. You will want one of these smoothies every single day!
Have you joined the Mama Loves to Eat Facebook Group yet? Get loads of delicious recipes. Share you favorites and find new ones.
Do You Peel Avocados For Smoothies?
Yes! Absolutely! You definitely want to peel avocados before adding them to your smoothies. Why? Well, if you decided to keep the skin on, you would taint the flavor of the entire smoothie. If you have ever accidentally tasted lemon or orange skin, well, that's what your smoothie would taste like with avocado skin!
Can You Use Frozen Avocado?
Yes, you can use frozen avocado for this pineapple smoothie. Using frozen avocado is actually a great way to get a really creamy and thick smoothie.
Should I Use Fresh Or Frozen Pineapple?
You can use pineapple in both forms. However, I love using frozen fruits because it is great for the texture of your smoothies. You can use ice and fresh fruits, but the texture is a lot thicker in consistency when you use frozen fruits.
Can You Freeze Avocado Smoothies?
Yes, you can freeze these avocado smoothies. You will want to the freezer it as a smoothie. Also, an extra idea is to turn this recipe into popsicles! I absolutely love smoothies turned into popsicles because they are super tasty and last a while. Grab these popsicle molds.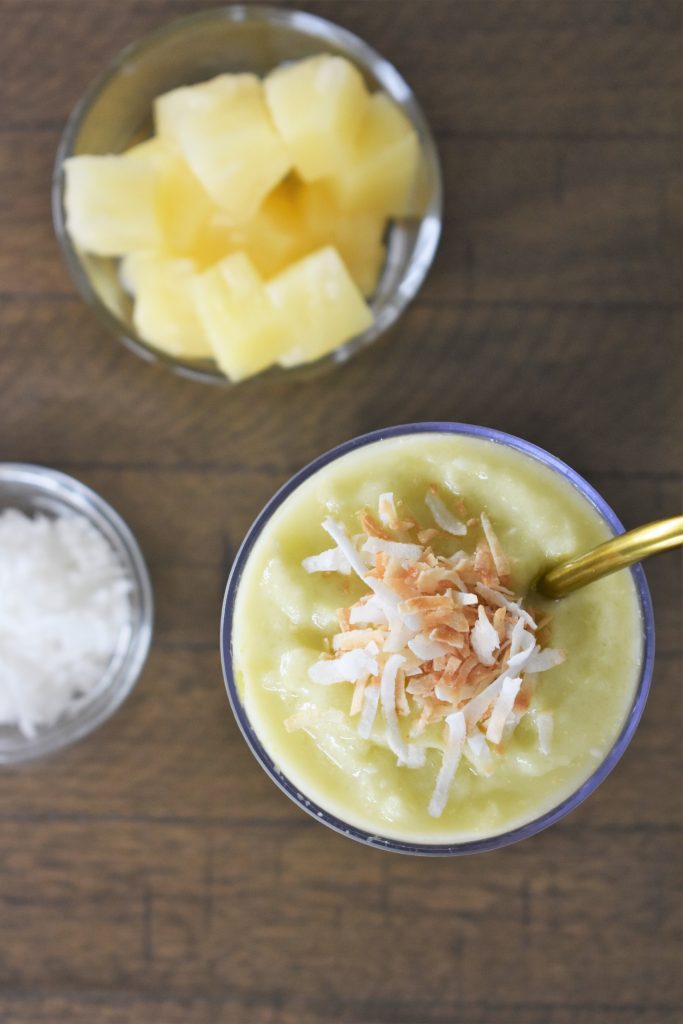 Can You Add Other Fruit?
This Avocado smoothie has pineapple to give the recipe a tangy and slightly sour flavor plus a sweet flavor from the honey. I will always recommend trying out this smoothie before adding additional fruits. However, you can add additional fruits and even veggies if you desire.
What Fruit Mixes Well With Pineapple And Avocado?
Some amazing fruits you can enjoy along with pineapple and avocados in this smoothies are the following:
Bananas
Strawberries
Oranges
Kiwi
Blueberries
Watermelon
Mango
How Do I Make This Pineapple Avocado Smoothie Dairy-Free?
This Avocado smoothie actually uses coconut milk and doesn't use any dairy ingredients. If you ever find yourself needing a dairy-free smoothie, you can replace the milk or yogurt with almond or soy milk or dairy-free greek yogurt.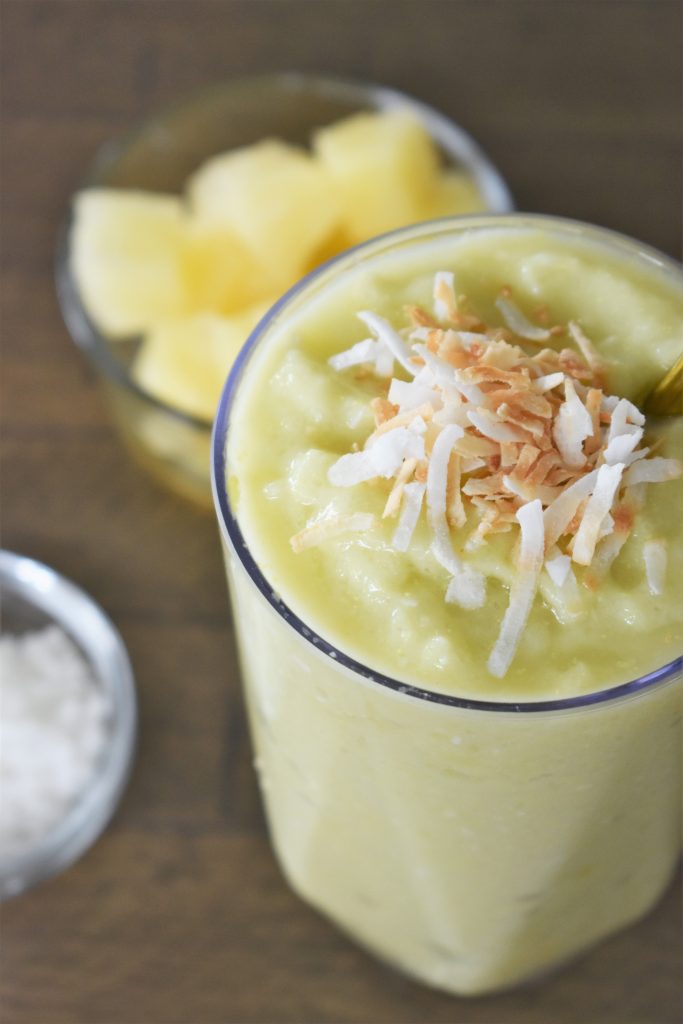 How Can I Add More Sweetness To This Smoothie Without Adding More Honey?
One of the best ways to make this avocado smoothie sweeter without any additional sweeteners is by using VERY sweet fruits. Some great options are the following:
Dried Dates
Blackberries
Pears
Red Grapes
Tips For Blending An Pineapple Avocado Smoothie:
A great tip for blending this pineapple avocado smoothie or technically any smoothie recipe is the following:
Begin with the soft and room-temperature ingredients first. An example of this recipe is the avocado. For other recipes, it may be green apples, bananas, or greens. Combine the soft ingredients with water.
Next, put in the frozen ingredients and blend until pureed. Doing this will keep any chunks of the frozen fruit or ice getting stuck under the blades.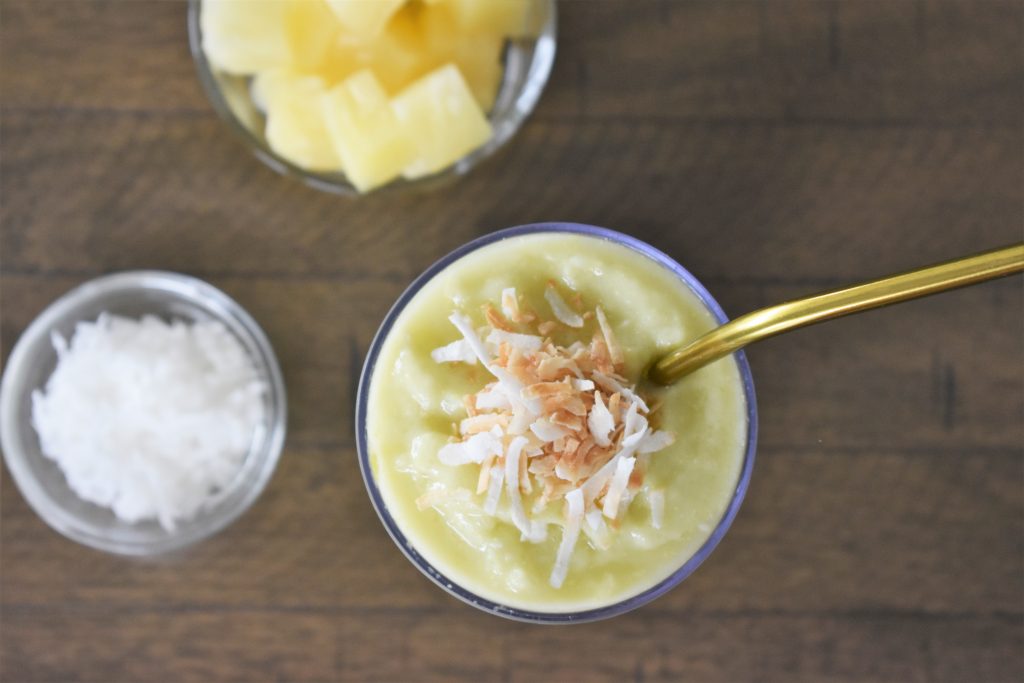 Key Ingredients You'll Need
Pineapple Chunks
Frozen Avocado
Coconut Milk
Coconut Flakes
Ice
Raw Honey
Toasted Coconut
How To Make Pineapple Avocado Smoothie
Step 1. In a blender, add all your ingredients and combine until smooth. Add more coconut milk for a thinner consistency.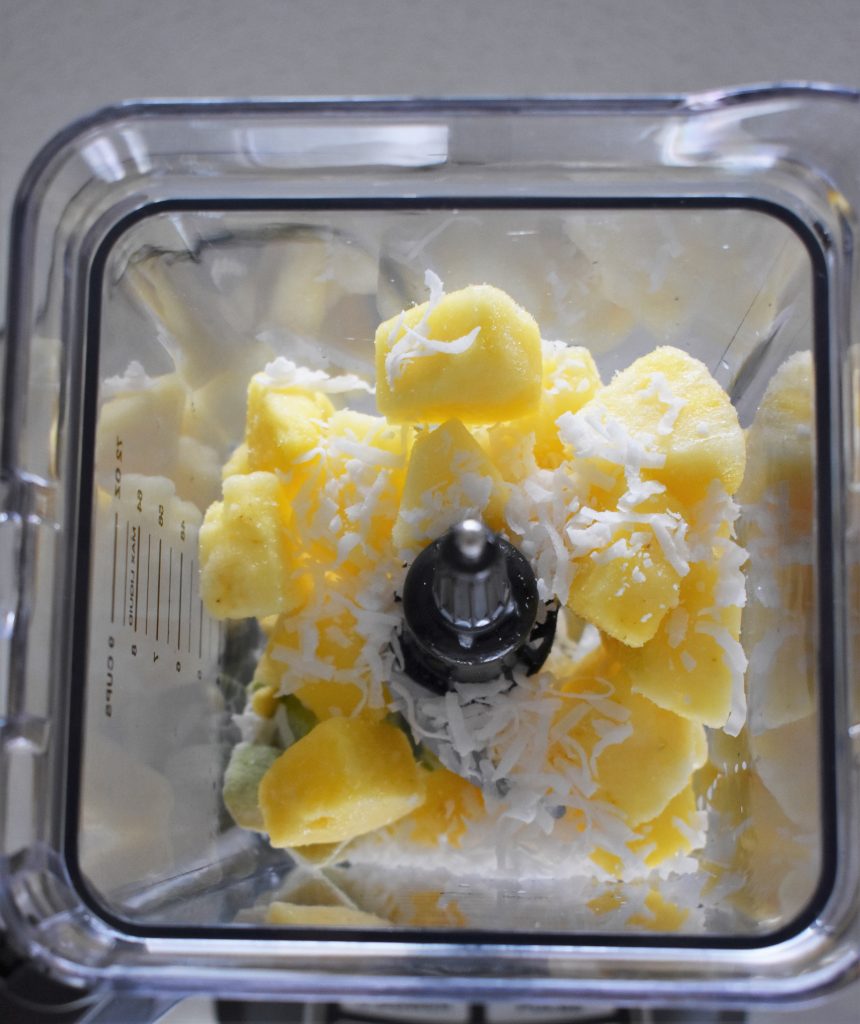 Step 2. Pour into glasses and garnish.
Step 3. Serve and Enjoy!
More Smoothie Recipes: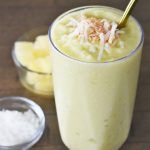 Pineapple Avocado Smoothie
Pineapple Avocado Smoothie is an incredible smoothie worth making in the morning. This smoothie is a healthy mash-up of ingredients like pineapple, coconut, avocado, milk, and honey to create a thick and delicious smoothie in minutes.
Ingredients
2

cups

pineapple chunks

½

cup

avocado

frozen

½

cup

coconut milk

2

Tbsp

coconut flakes

1

cup

ice

1

Tbsp

raw honey

Toasted coconut

for garnish
Instructions
In a blender, add in the pineapple, coconut milk, avocado, coconut flakes, and ice and combine until smooth.

Pour in more coconut milk if you want the consistency to be a little thinner.

Prepare two glasses and pour in the mixture. Garnish and enjoy!