Are you craving warm soup on a cold day? This Instant Pot Stuffed Pepper Soup has all of the flavors of stuffed peppers with a kick in a delicious soup.
Instant Pot Stuffed Pepper Soup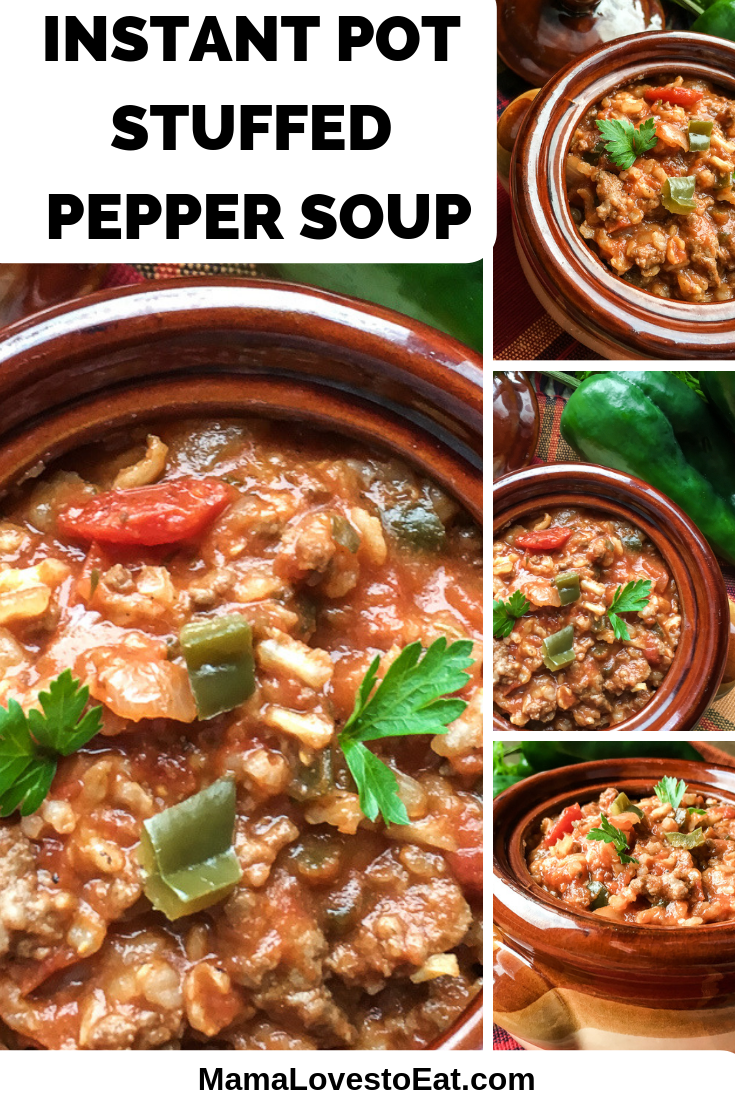 Table of contents
❤️ Why you'll love it
I love soup. I can seriously eat it every day. Stuffed peppers are a classic comfort food that tastes fantastic. When you take the delicious flavors of stuffed peppers and turn them into a soup, Instant Pot Stuffed Pepper Soup becomes a tasty soup that doubles as a comfort meal.
🧾 Ingredients
Get the full list of ingredients, with measurements, and step-by-step instructions at the bottom of the post in the printable recipe card.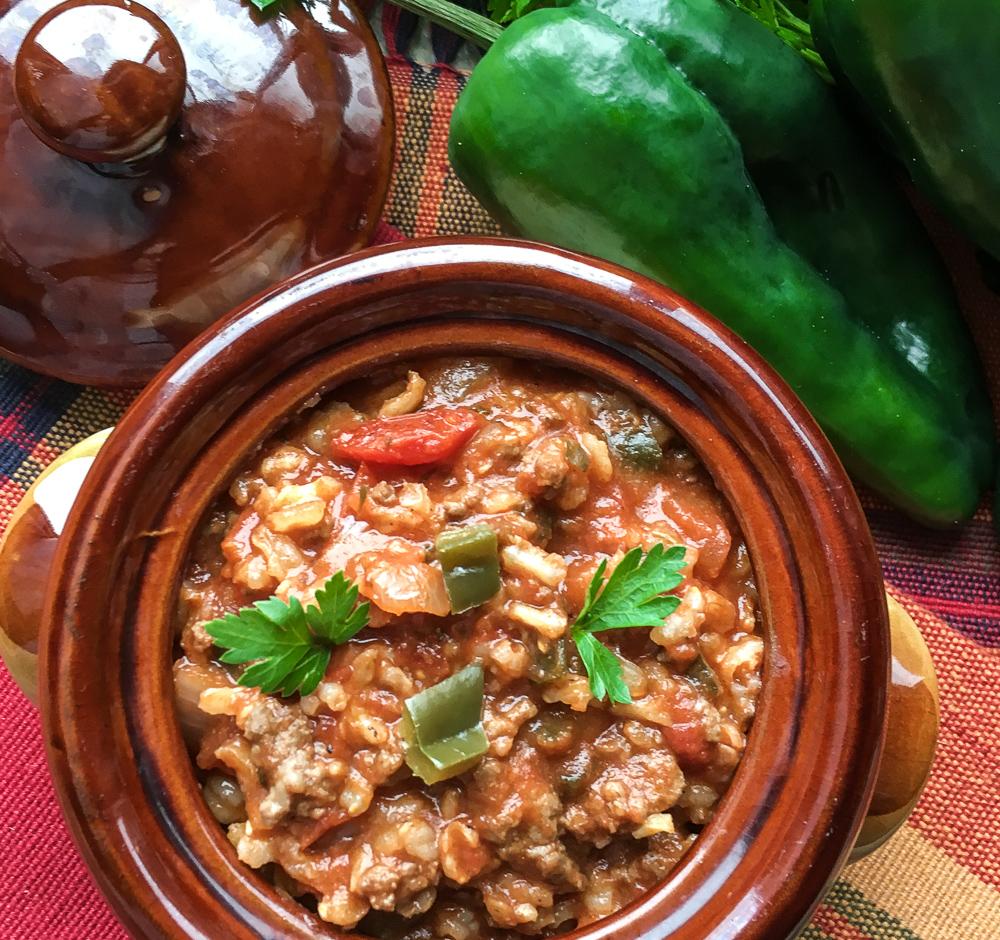 Extra virgin olive oil
Red onion
Poblano peppers
Garlic powder
Italian seasoning
Sea salt and black pepper
Ground beef
Beef or chicken broth or homemade vegetable stock
Crushed tomatoes
long-grain brown rice or Cauliflower rice
Parsley
🍳 How to Make
Get the full list of ingredients, with measurements, and step-by-step instructions at the bottom of the post in the printable recipe card.
Step 1. Set your Instant Pot to 'SAUTÉ and add in the olive oil. Set to high and add in the vegetables and seasonings. Mix until tender for about 4-5 minutes. Place the veggies in a bowl and cook the ground beef. Turn off the IP and drain the fat. Place the veggies on top of the cooked beef before adding in the broth, tomatoes, and rice. Mix to combine.
Step 2. Set the valve to 'SEALING' and place it on 'MANUAL' cooking on high and cook for 20 minutes, then naturally release the pressure for 10 minutes. Place in bowls and garnish. Enjoy!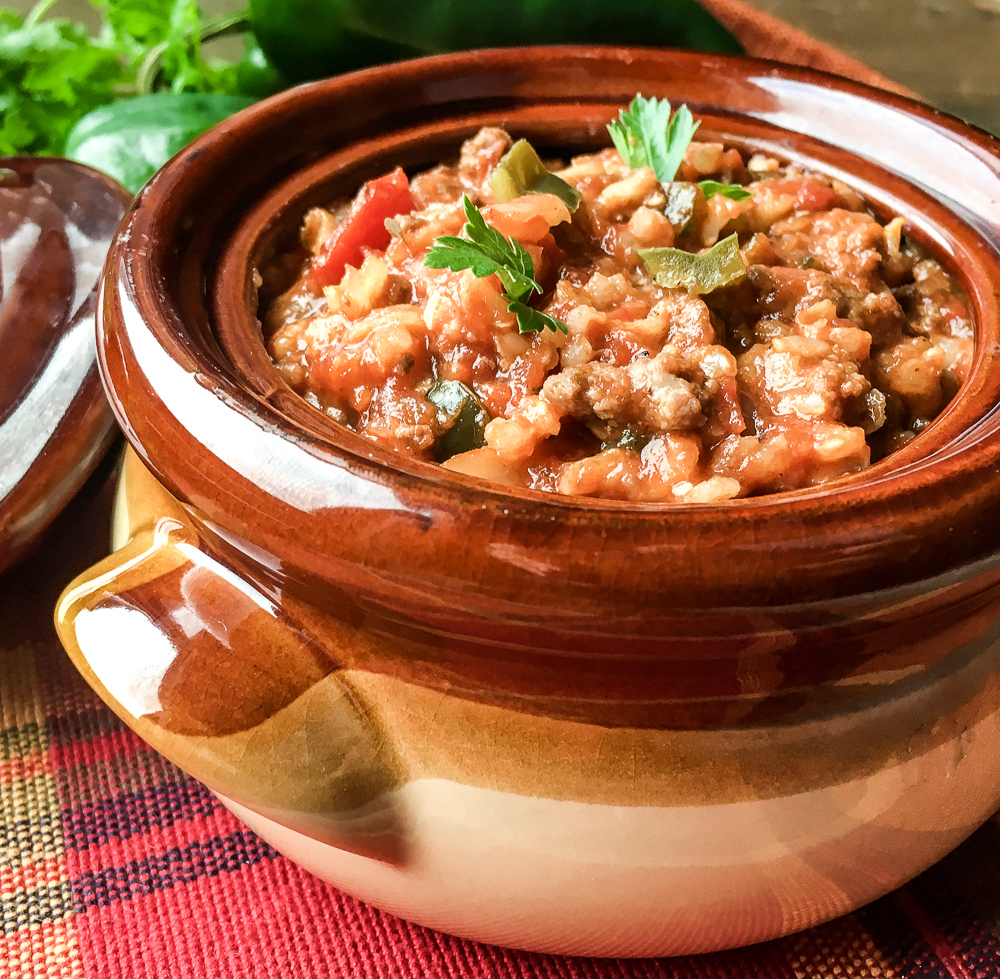 Hint: After the ingredients have been prepared, you can add more seasoning for taste. I like to use additional salt and pepper to taste.
🥄 Variations
You can use some of the options below to make this soup how you like or to try something different:
You can use other types of vegetables or take certain vegetables out that you don't like and substitute them. Ex: Red onions could be substituted for sweet yellow onions or white onions for a stronger flavor.
Meats: You can use ground turkey or chicken instead of beef.
🍽️ What to Serve With
I love enjoying this soup with other sides to make it more filling and delicious. Enjoy this soup with:
Is Stuffed Pepper Soup Keto?
You can easily make this stuffed pepper soup keto. Simply swap the rice for cauliflower rice and the rest of the recipe is keto-approved.
🍶 Storing
You can store the leftovers in an airtight container for the best storage method. This will make sure the recipe lasts the longest.
Refrigerator Storage: You can store this recipe in the fridge for up to 3 days.
Reheat: You can reheat this recipe in the microwave, Instant Pot, or on the stove.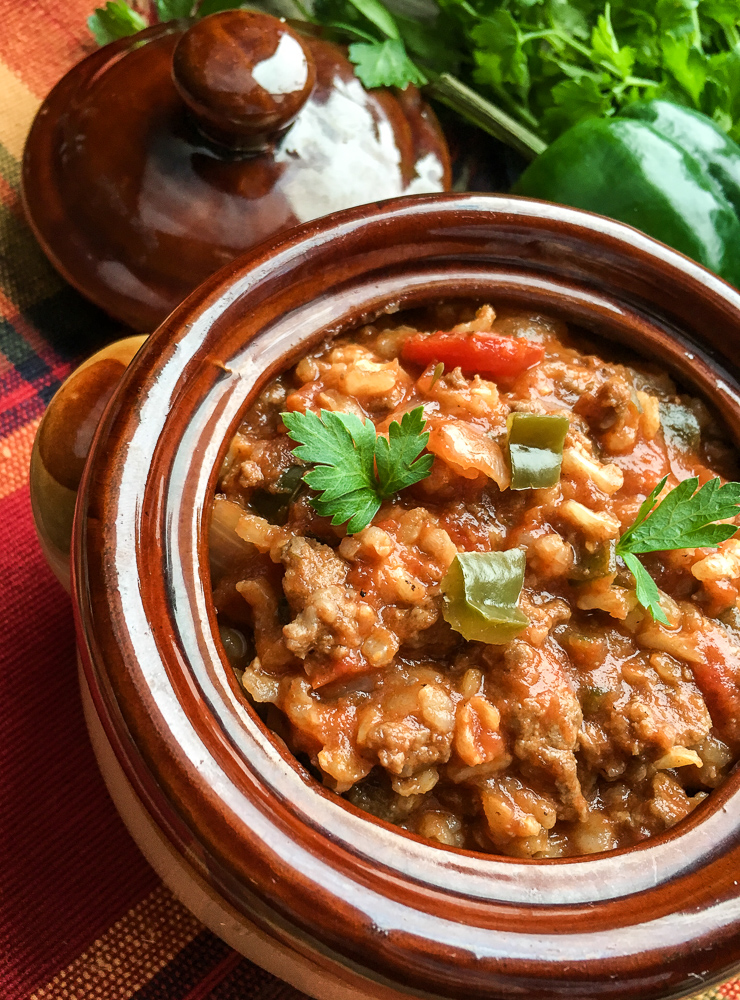 💭Tip for Making the Perfect
When making stuffed peppers or stuffed pepper soup, you want to brown the meat first. You do not want to put raw meat in either. If the meat is cooked in the soup, there is a lot of fat and the meat tends to clump together. When adding raw meat to the stuffed peppers, the peppers would get mushy and overcooked before the meat would cook through.
Making stuffed pepper soup in a crock pot or slow cooker is the same as making it in a pressure cooker. When you reach the pressure cooker stage, you will set the slow cooker on low and cook for 6 hours or on low for about 4 hours on high.
When you want to make stuffed pepper soup on the stove, simply take this recipe and change the cooking time. When making stuffed pepper soup, the cooking time will change. Follow each step up until the pressure cooker stage and then cook until the ingredients are done and the soup has the desired taste.
❔FAQs
What is Instant Pot stuffed pepper soup?
Stuffed pepper soup is all the ingredients and flavors of stuffed peppers in a soup form. Creating stuffed pepper soup is the same as creating stuffed peppers except instead of stuffing the peppers, you cut them the peppers up for the soup.
How do you make stuffed bell pepper soup?
When making soup, it usually takes a long time to simmer on the stovetop. Simmering the soup gives it a rich, deep flavor that takes the taste of the soup over the top. But who has time to stand over the stove all day making soup? Or if you want soup fast, you don't want to cook it all day. Making soup in the Instant Pot takes the work out of spending all day making soup. Instant Pot Stuffed Pepper soup comes together in almost time 25-30 minutes, excluding the time it takes to come to pressure and natural release time.
Is this Stuffed Pepper Soup Spicy?
This recipe uses poblano peppers. This gives the soup a slight kick but it is not too hot for people who do not like heat. It only gives flavor. You can easily swap the poblano peppers for regular green peppers. If you want to you can also use 1 green pepper and 1 poblano pepper.
📖More Recipes
Love Recipes? Join our Facebook Group, The Best Recipes Because Mama Loves to Eat
Need to change the number of servings? You can click on the number of servings and change the number. This will adjust the ingredient measurements to what you need.
If you love this recipe, come back and give it 5 stars! ⭐️⭐️⭐️⭐️⭐️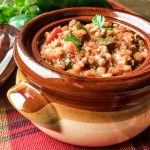 Instant pot Stuffed Pepper Soup
Are you craving warm soup on a cold day? This Instant Pot stuffed pepper soup has all of the flavors of stuffed peppers with a kick in a delicious soup.
Keyword:
Instant Pot Stuffed Pepper Soup
Ingredients
1

T.

extra virgin olive oil

½

medium red onion

diced

2

large Poblano peppers

seeded and diced, or 1 poblano and 1 green pepper

2

t.

garlic powder

minced

1

T.

Italian seasoning

Sea salt and black pepper

to taste

2

lbs.

lean ground beef

3½

c.

beef or chicken broth

preferably organic

1 28-

oz.

can crushed tomatoes

with liquid

1

c.

long-grain brown rice

uncooked

3

T.

fresh parsley

chopped
Instructions
Add olive oil to Instant Pot® and select the Sauté function. Set to high and once the display reads "hot," add red onion, Poblano peppers, garlic powder, and Italian seasoning. Season with salt and black pepper, to taste, and cook, stirring continually, until the onions and pepper soften and develop a bit of color, approximately 4-5 minutes.

Transfer veggie mixture to a medium bowl. Add ground beef and brown for 3-4 minutes, or until no longer pink inside, stirring occasionally. Turn the unit off and carefully drain any excess fat from the container.

Pour sautéed veggies on top of the browned beef. Add broth, crushed tomatoes, and brown rice. Stir to combine and season with salt and black pepper, as desired.

Add the lid and set the pressure valve to "sealing." Select the "Manual" cooking option on the high setting and set cook time to 20 minutes. When done cooking, allow the pressure to release naturally for 10 minutes, and then do a quick release for any remaining pressure.

To serve, transfer soup to individual bowls and garnish with fresh chopped parsley, if desired. Enjoy!