This Amazing Pumpkin Bar Recipe with Streusel Topping is going to become your favorite fall treat. So easy to make, these pumpkin bars are perfect for a get together, weeknight dinner or fall bake sale.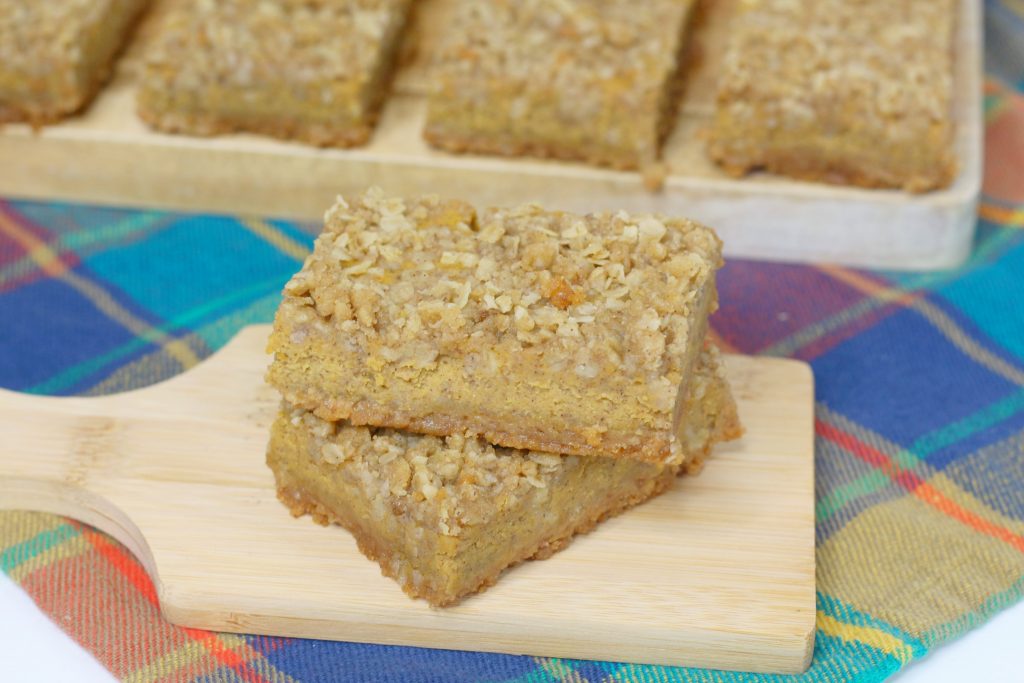 Pumpkin Bar Recipe with Streusel Topping
These pumpkin bars has a rich and creamy pumpkin filling with a crunchy bottom. These are the perfect fall treat and you are sure to love them.
This Pumpkin Bars recipe is made even better with a simple Streusel Topping. It is a great way to enjoy pumpkin flavor any time of year. These moist, soft cake like, cookie like, bars are topped with a sweet streusel topping that has the addition of cinnamon for an even better taste!
Pumpkin Bar Recipe with Streusel Topping
This Amazing Pumpkin Bar Recipe with Streusel Topping is going to become your favorite fall treat. So easy to make, these pumpkin bars are perfect for a get together, weeknight dinner or fall bake sale.
What are Pumpkin Bars?
Pumpkin bars are a combination of a cake and cookie like treat. Baked sort of like a cake, these bars are then cut into squares. These bars are topped with a streusel, unlike a cake or a cookie, and this gives it an even better flavor than traditional bars.
Are pumpkin pie bars a cookie
These pumpkin bars are more like a cookie than a cake. There is not much flour in the recipe, so it has sort of a sticky texture to it. The way they taste though, you would never know they were a hybrid!
What Type of Pumpkin Do You Use?
You have to make sure you are using pumpkin puree and not grabbing pumpkin pie mix. The pumpkin puree is simply pumpkin that has been baked and pureed making a usable pumpkin product. The pumpkin pie mix is a combination of pumpkin puree, sugar and other ingredients. The pie mix will not work in this pumpkin bars recipe.
Do These Have to Have a Streusel Topping?
These pumpkin bars use a streusel crust and has a light streusel topping. You can add a larger amount of topping or you can take it away completely.
How long do pumpkin pie bars keep
Since these Pumpkin Bars use pumpkin, they will be good for a few days after they are made. If you are planning on giving them as a gift or take-along treat, place the bars in an air tight container and keep at room temperature for up to three days. If you make the pumpkin bars ahead of time, cover tightly with plastic wrap and store in the refrigerator for up to two days. The pumpkin bars can be frozen as well.
Do pumpkin pie bars need to be refrigerated
You can store these pumpkin bars at room temperature. Make sure that they are tightly covered to prevent them from drying out or sticking together. Some people choose to refrigerate the pumpkin bars, which is fine as well.
Can you freeze these bars?
I have frozen the bars and they freeze well. The bars keep their shape beautifully and you can cut them before freezing for a perfect square each time. Thaw out in the refrigerator for a couple of hours just prior to serving.
If you do freeze them, make sure that you wrap them very securely so they don't come in contact with each other.
Are pumpkin bars healthy
While these are made with pumpkin, they are not considered healthy. These are loaded with butter, brown sugar , cream cheese and more ingredients that make them bad for you. With that being said, these pumpkin bars are a nice treat to have once in awhile and if you feel like splurging on dessert!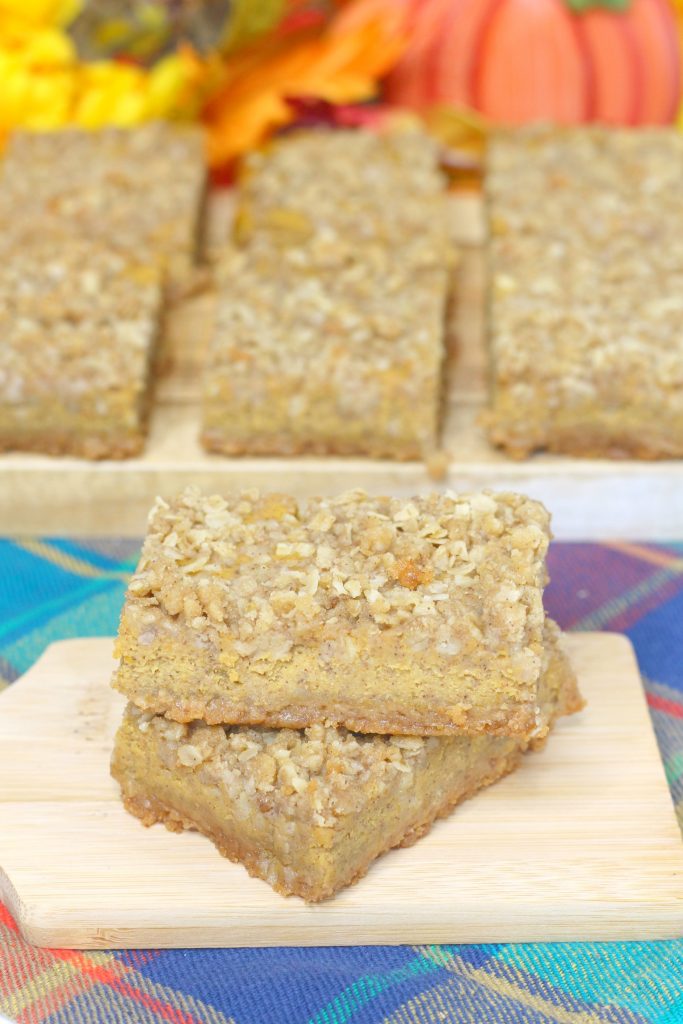 Can i make pumpkin bars with cake mix
I have seen these bars made with cake mix instead of all of the from scratch ingredients. I have found that it doesn't save much time using a mix and I can control everything in my pumpkin pie bars when I make it myself.
How to cut pumpkin bars
The easiest way to cut these pumpkin bars is with a kitchen knife. Make sure that your knife is very clean and dry before cutting them. Cut the pumpkin bars into squares or rectangles, you decide. I prefer to cut mine like a large brownie because I love the look of the pretty squares! I cut them into 16 bars. You may choose to make smaller or larger squares.
Why did my pumpkin bars sink in the middle?
There are several reasons why these bars sink in the middle. You may have over mixed the batter, so it isn't fluffy and light. Another reason could be that they were baked too long, if you see them begin to rise up but then go flat, then you know this was a problem. Lastly, sometimes your oven temperature is off and causes the bars to lose their structure and sink in the middle. Make sure you are using a good oven thermometer to check your oven's accuracy. If it needs calibration, then make sure that gets done !
Variations to This Pumpkin Bars Recipe
Change up the spices in these bars by using different flavorings. Add some nutmeg, cloves or ginger to spice things up! Adding orange zest is another great addition.
If you want a more decadent bar, then try adding some chocolate chips and white chocolate chips to the batter too. This is a good way to get rid of extra chips that you have laying around your house.
Can I Use a Cream Cheese Frosting? If you want to use a frosting instead of the streusel, you can top these bars with a cream cheese frosting.
Can you add nuts or raisins to the pumpkin bar recipe- You can certainly add nuts or raisins. Be sure to cut the buts into very small pieces and add it to the top of the bars, in with the streusel.
Can I make Pumpkin Bars Gluten free?
I have never tried making these gluten free so I am not sure if it is possible. You can try using gluten free flour, but you may need to add more liquid.
Love Recipes? Join our Facebook Group, The Best Recipes Because Mama Loves to Eat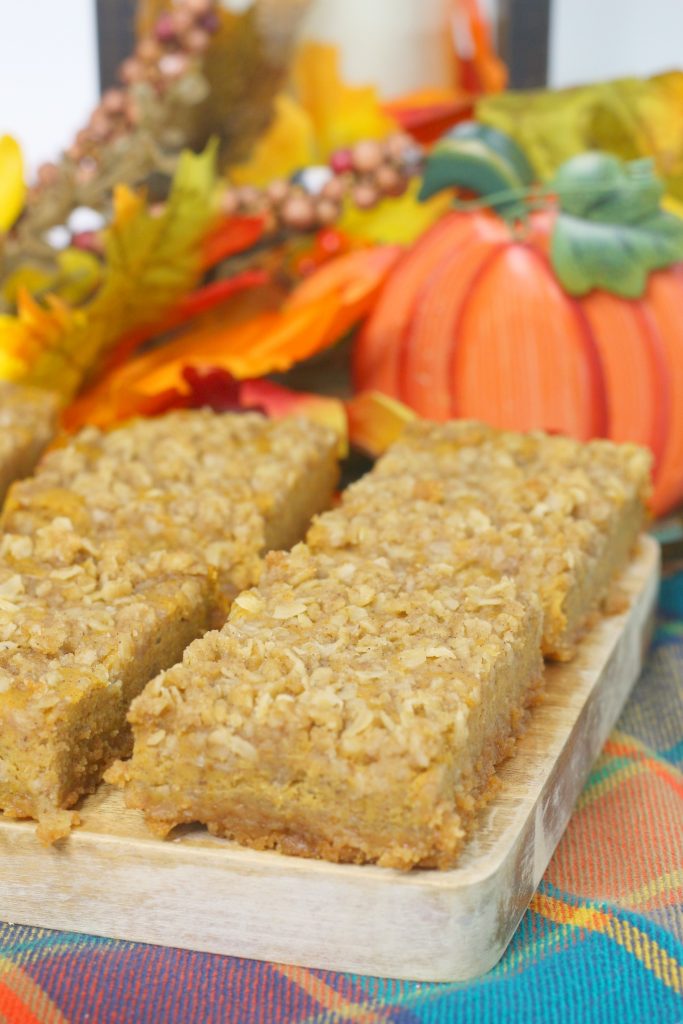 Ingredients
Get the full list of ingredients at the bottom of the post in the printable recipe card.
Oats
Flour
Light brown sugar
Ground cinnamon
Kosher salt
Unsalted butter
Cream cheese
Sugar
Pumpkin Puree
Pumpkin pie spice
Whole milk
Eggs
How to Make Pumpkin Bar Recipe with Streusel Topping
Line a 9x13 baking dish with parchment paper and preheat oven to 350 degrees
Using a large bowl, whisk together the flour, brown sugar, oats, ground cinnamon and salt
Cut the butter into cubes
Using your fingers, work the butter into the dry mixture to create a sand like crumble
Press half of the crumble mixture into the bottom of the pan
Set aside other half
Using a large bowl, beat together the cream cheese and sugar until smooth
Beat in the pumpkin, pumpkin pie spice and flour until combined
Next, beat in the eggs, one at a time until combined
Then, beat in the milk until combined
Pour batter over crust and sprinkle remaining crumble mixture
Bake in the oven for 35-45 minutes or until the center is set
Allow to cool completely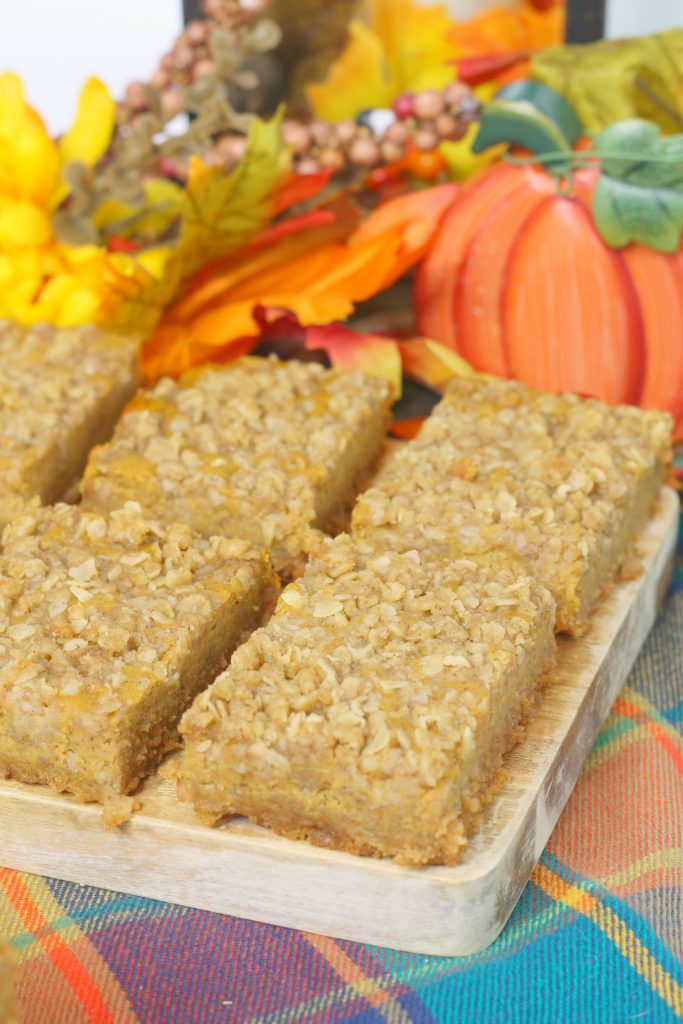 More Pumpkin Recipes
Pumpkin Bar Recipe with Streusel Topping
Keyword:
pumpkin bars recipe
Ingredients
For the streusel crust layer
1

cup

oats

3

cup

flour

3

cup

light brown sugar

2

teaspoon

ground cinnamon

1

teaspoon

kosher salt

1 ½

cup

butter

unsalted, softened
Pumpkin Filling
2

8 oz packages

cream cheese

softened

1

cup

Sugar

1

cup

Pumpkin Puree

2

tablespoon

flour

2

teaspoon

pumpkin pie spice

2

tablespoon

whole milk

2

large

eggs
Instructions
Line a 9x13 baking dish with parchment paper and preheat oven to 350 degrees

Using a large bowl, whisk together the flour, brown sugar, oats, ground cinnamon and salt

Cut the butter into cubes

Using your fingers, work the butter into the dry mixture to create a sand like crumble

Press half of the crumble mixture into the bottom of the pan

Set aside other half

Using a large bowl, beat together the cream cheese and sugar until smooth

Beat in the pumpkin, pumpkin pie spice and flour until combined

Beat in the eggs, one at a time until combined

Beat in the milk until combined

Pour batter over crust and sprinkle remaining crumble mixture

Bake in the oven for 35-45 minutes or until the center is set

Allow to cool completely